DATE
TAGS
AUTHOR
VIEWS
The Best Ways to Cross Sell and Upsell with Live Chat Services
"Here is a simple but powerful rule – always give people more than they expect to get." – Nelson Boswell.
Cross and Upselling
Cross selling and upselling work closely together, however the difference is; to cross sell means to present items that complement the product in question, and to upsell means to offer higher-end, comparable products. For example: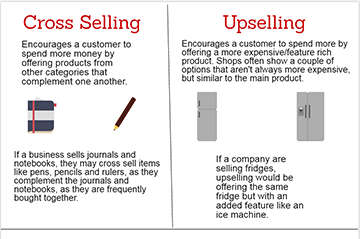 © Rae Boyling
Sometimes it's best for companies to increase the average customer value, rather than draw in new customers. Customer service representatives can do this physically while the consumer is purchasing. But what about digitally?
Cross and Upsell with the help of Click4Assistance Live Chat Service
Click4Assistance Live Chat software isn't just a customer service tool for businesses. Once the solution has been configured, companies can make full use of the functionality to cross and upsell their products.
What Your Chat Agents Can Do
The auto navigation system as a whole, is a feature that allows operators to direct visitors to areas of the website, should they be experiencing difficulty navigating.
In terms of up and cross selling use, operators can direct the visitor to pages where different items are shown, that complement their initial product selection.
Using the co-browsing feature allows representatives to identify pages the visitors are viewing. This is useful when providing support – especially at product selection, form completion and checkout.
Proactive invitations can be displayed to the visitor in real time, allowing operators to engage with the potential customer in order to cross or upsell other items related to products visitors have recently viewed.
Why Should Businesses Cross and Upsell?
Works great with existing customers
The probability of selling to an existing customer is 60-70% and selling to a new prospect is only 5-20%!
Raise regular order totals

Boost conversion rates

More items of various types are exposed – i.e bestsellers and items with best reviews

Overall customer satisfaction increases
Where Should this be Used?
Either the product or category page, and sometimes on the sidebar of the website.
Shopping cart or checkout process (displaying products at this stage increases sales by 3 %!)
Businesses that send follow up emails, thanking their customers for purchasing, can include products to cross and upsell.
Top Tips for Cross and Upselling
Get Prepared
Businesses should ensure they have a range of products that complement each other. If you sell notebooks, make sure you've got good quality fine liners to accompany it. Or sell them as a bundle; a beginner's guide to journalism, for instance.
Position Wisely
Industries such as supermarkets and newsagents always have things like chocolate or chewing gum at the till as if to say, 'you're paying now so you might as well…' This was mentioned in our blog about the psychology behind the product, where customers were categorised as 'Impulsive Shoppers'.
The position of products shown on a website are just as significant as they would be in store. It may be worth planning where you want additional products to be presented during the purchase process.
Working with Data
You'll find yourself working from so much data when cross selling online. Cross selling opportunities can be automated by using data based on what other consumers have bought. If someone searches for journals, offer a suitable pack of pens that accompany it. Amazon are an example who use this strategy.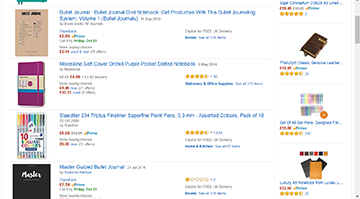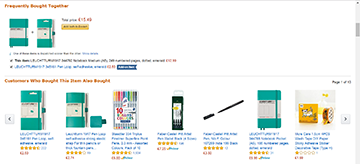 'Frequently bought together' is a good non-obligatory option to present to the customer. It gives them an idea of what products complement each other.
It's vital to get the cross selling at the right time. For example, if you're picking out some flowers to buy in store and the person on the till comes over and says 'do you want to buy this magazine once you get to paying at the till?' That would be odd! Same goes for cross selling digitally. Why push them to buy a mouse and case when they haven't even found a laptop yet?
Cross selling should occur when customers are likely to be receptive to it i.e. when they've found a specific product, or before they start the purchase process. If either cross or upselling occurs too early, distraction from the initial item can take over. Being too late can jar the customer and lead to cart abandonment!
Show a range, but don't overflow with ideas
Showing too many items can just lead to confusion. And possible cart abandonment.
Keep upsells relevant
Different products can't be upsells as well. For example, a company that's selling laptops shouldn't upsell a refrigerator! The brand should also stay the same: a Samsung can't be an upsell when presenting an iPhone.
Allow to buy separate products in bundles
Companies that give the option to buy products in bundles are likely to see their sales soar. Especially if they include a discount. For instance: a company who sells guitars might sell a bundle that includes a guitar, three picks plus a beginner's handbook, all for £XXX. Customers are likely to buy things together rather than several things individually. It may be that buying individual products will cost them more.
Don't just stick to the price
"The reason it seems that price is all your customers care about, is that you haven't given them anything else to care about." – Seth Godin.
Cost plays a large part in the decision making of product buying while also considering; good reviews, discount codes and the shipping fees. If a product with a higher cost still meets the customer's needs, there's a possibility they could continue to make a purchase.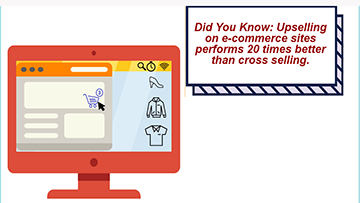 © Rae Boyling
Why not consider a Live Chat solution to improve your cross and upsell strategies? For more information, contact us on 0845 123 5871 or drop us an email at theteam@click4assistance.co.uk.
Author:
Rae Boyling
Rae is the Marketing Assistant for
UK live chat software provider
, Click4Assistance. Rae produces content for articles appearing on the Click4Assistance website and email campaigns.