Best Live Chat Software For Business Use
Do you want to invest in live chat software for your business? If so, then you have come to the right place. Here you can find out everything you need to know about the best live chat software for business use while also being able to find out what features you're able to take advantage of.
After some in-depth research we have complied a list of live chat software provides from across the global, highlighting their pros and cons.
The best live chat software providers
1. Click4Assistance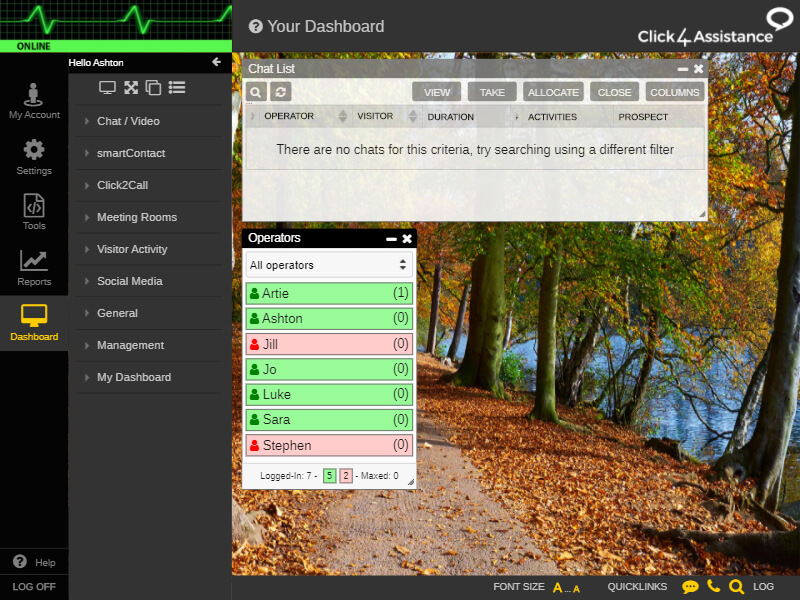 Click4Assistance is the best live chat for website use. The company have over 15 years' worth of experience and predominantly focuses on the UK marketing. They provide AI chatbots and it can be integrated seamlessly with WhatsApp or even Facebook. The uptime of the software is 99.98% and the client retention rate stands at 98.34%. So what else do you need to know about Click4Assistance?
You should know that they offer a customisable solution, and this means that your windows and buttons look good, and reflect your brand. Click4Assistance make sure that your visitors have confidence when going through your service and they also give you the chance to cater the software to meet the needs of your brand.
It doesn't matter whether you use a reactive button to encourage your visitors to engage or whether you use a pop-up window template because you can tweak the design using the customisable tool or you can do it by using the HTML or CSS, where you can create your own design. The colours from your brand can be incorporated and you can add an operator photo if you want. This ultimately means that your visitors know who they are talking to, every step of the way. All in all, Click4Assistance is one of the best website chat software services on the market, and the benefits speak for themselves. They have tiered solutions available for small, medium and large enterprises and they're always expanding too, so if you don't see what you need, you know you can count on them to come up with a tailored solution for you.
Pros of Click4Assistance
Cons of Click4Assistance
Catered more for the UK market
Get 30 days with no obligations or payment details required
For security, a business email address must be provided. If you have a business website and use a public address such as gmail, hotmail etc. please contact 0845 123 5871 and speak to an account manager who will be able to help.
2. LiveChat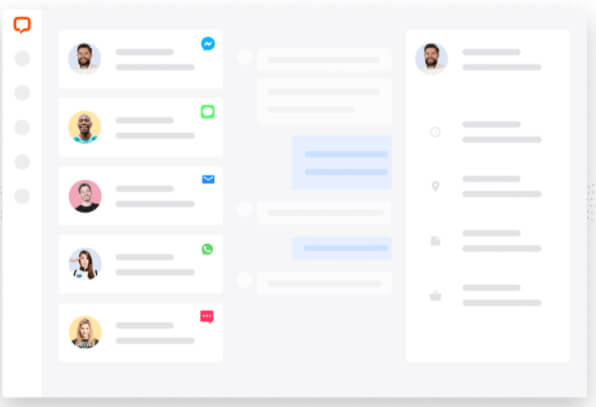 LiveChat offer the second-best live chat software for business use. The main benefit that you get with this software is that you can easily integrate it with your WordPress site. It comes with a plugin and this makes the transition seamless for your customer service and website development team. LiveChat offer a range of live support apps and this means that your agents can access what they need on their laptop, mobile device or even tablet. You can chat with your customers on the go and you don't need to login to your WordPress dashboard to access your support. When people search for the best live chat for website use, they tend to look out for features such as survey forms, and that's why LiveChat offer it with their package. When your customers have completed the chat, they will be offered the chance to rate your operator so you can see how your team are doing. If your customer happens to message outside of your working hours, then they will be given the option to file a support ticket instead. LiveChat integrates well with other services such as Google Analytics, Zendesk and more. This will save you a lot of time because you don't need to type in your customer details manually.
Some of the other features include the fact that the service and loading times are super-fast. The chat window loads up in hardly any time at all and it works across any device. It also offers you a much better user experience when compared to even the best website chat software options out there. If you want to find out more about LiveChat or if you want to see if it is a good option for you, then the only thing that you need to do is take a look below.
Pros of LiveChat
Fast loading
Seamless integration
Package details
Cross-compatibility across devices
WordPress plugins
And more
Cons of LiveChat
Bit pricier when compared to other software
Lack of customisability
3. ChatBot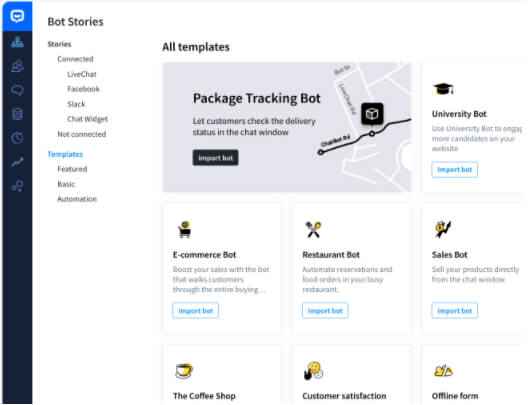 If you have searched for the best live chat for website use then there's a high chance that you will have come across ChatBot before. ChatBot gives you the chance to engage with your customers 24 hours a day, 7 days a week. It also uses AI to try and help you to grow your business. The drag and drop interface means, that you can easily create your own ChatBot as well. With dozens of templates ready-made, it's safe to say that you can easily come up with custom conversations that will fit the need of your business right now. For example, you can easily use the Bot template to walk your customers through the whole buying process. You can also use the lead-generation tool to power your book calls and your sales. The sales bot template gives you the chance to sell right through the software putting this at number 3 of the top 10 best website chat software options on the market.
The other bot templates which are available include package tracking bot, restaurant bot, customer service bot and more. The chatbot templates are one of the best things about this software and it gives you the chance to add real-time communication too. If someone does want to talk with someone then you can seamlessly forward them to an agent through Facebook messenger or through the chat system itself. It integrates seamlessly with WooCommerce or WordPress and they have plans suitable for a huge range of business sizes. If you want to know some of the benefits of using this best live chat support software then take a look below.
Pros of ChatBot
WooCommerce and WordPress integration
AI solutions with real-time support
Various plans available
Custom templates for restaurants
24/7 support
Cons of ChatBot
AI support can be clunky
Expensive starting packages
Number of chats are limited depending on the price you pay
4. Live Person
Live Person is another one of the best website chat software options out there. The service makes it possible for you to understand the intentions of your customers in real-time. You can also find out more about how you are fulfilling customer enquiries, and this can all be fully automated. Some say that this is one of the best live chat solutions for websites because it is powered by AI. You can have more brand-to-consumer conversations and you can also make it easier for your customers to ask questions as well. It's even possible for you to design and scale your own conversations, and build AI-powered chatbots too. If you want, you can even create automated conversation flows by using the conversation builder. This helps you to engage with consumers and manage conversations with ease. If you want to take things to that next level, then you'll be glad to know that the dynamic workspace is available on desktop and mobile.
Live Person gives you the chance to use conversation analytics too. This helps you to monitor your marketing, your customer care and your sales in real-time. Your operations can be optimised, and you can also measure the conversational cloud investment too. With enterprise-grade security and compliance, it's safe to say that this is one of the most trusted live chat options on the internet. Want to find out more? Take a look below to see some pros and cons of using Live Person.
Pros of Live Person
Automate conversations
AI-powered chatbot
Dynamic workspace
Conversion analytics
Enterprise-grade security
Cons of Live Person
AI isn't accurate unless you program it correctly
Not as many features as other live chat options
5. ZenDesk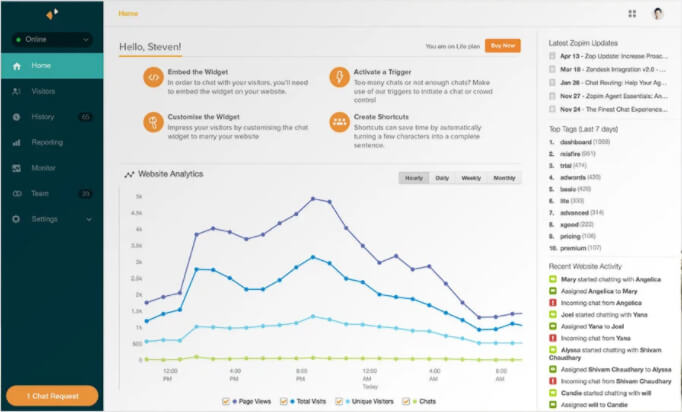 ZenDesk comes with a centralised support option so you can deal with general enquiries and sales in the same place. This is great because it promotes togetherness, conclusiveness and even customer attentiveness. This contributes to a much higher level of efficiency and you may even find that your customer satisfaction is increased too. On top of this, you also have the ability to create rules which automatically file your requests or emails into different groups or departments. This is, of course, based on the number of groups or departments you have. This enhances the speed in catering for customers and it also promotes efficiency too. This is ideal because it creates a level of branded knowledge for your users, customers and knowledge base.
Another thing that you should know about ZenDesk is that it integrates with a huge number of apps. It's great for integrating with WooCommerce, Shopify, TrustPilot and even Mailchimp. This gives you a very wide platform for efficiency and it also gives you full accessibility on demand. The powerful reporting option is not to be missed and you can also give your customers surveys so you can find out if they were happy with the service that they have been given. You can easily eliminate the need for emails and the messages are very easy to filter. If you would rather automate your customer support through third-party apps then you can do this with ease. Apps like Jatana are ideal here, if you want to look into that. There are however some cons to using Zendesk. Some of them include the fact that you need to train up in order to use the program and that it does have a very technical setup. This can hold you back if you want a solution that you can just set up and roll with.
Pros of ZenDesk
Integrates with a huge number of apps
Customer surveys
Filter messages with ease
Centralised support
Automatically categorise emails
Cons of ZenDesk
Expensive if you want all the features
Training is required
Technical setup
6. Tawk.to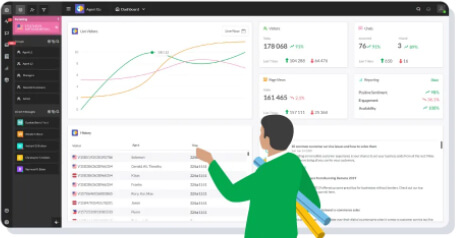 If you talk to a Tawk.to customer then they will probably tell you that it is the best live chat solution. This is understandable, as it's rich in features. That being said, it's not really the best live chat support software on the market because it's lacking in versatility. If you're a small business however, then this probably won't bother you at all. Although there are features missing, it's free. You will also find that all of the available features are crammed into a single package, so there are no better, or worse options. It's a single software package and this is ideal for those who just want something straightforward without the worry. Some of the many features that are available include the fact that there are unlimited agents, integrations, tickets and file transfers. You also have real-time monitoring, automated triggers and customisable widgets. If you want to download the best website chat app or if you want to get access to best website chat service without all of the fuss and complexity, then this would be a good option for you.
Some of the other features you can look into include the ability to remove branding and canned shortcuts. You have 100+ integrations and it is possible for you to download the app in over 27 languages. You will always look your best when you have this app downloaded and the attention-grabbing bubbles that are available essentially gives you the chance to completely customise your widget so that it meets your brand perfectly. If you want to design your own branded widget then custom bubbles are an option with this version of the best online chat software. If you want to add some fun or personality to your brand, then you can say it with emojis. You will never be lost for words when you have over 1800+ available.
Pros of Tawk.to
Access to Emojis
Automated triggers
Customisable widgets
Real-time monitoring
File transfers
Integrations
And more
Cons of Tawk.to
Very simple in terms of features
Not as suited to big enterprises
7. Intercom

Intercom is another one of the best live chat solutions for websites. The great thing about Intercom is that they give you the chance to grow your business across the entire customer lifecycle. It also gives you the chance to target different audiences by providing them with tailored messages. As if this wasn't enough, you can easily support your customers and you can also give them real-time support with the collaborative inbox automation feature. When you combine all of this with proactive self-service, you will soon find that it is one of the best live chat solutions for websites out there.
Another thing that you need to know about Intercom is that you can activate and retain your customers through targeted messages and even interactive tours. This helps you to get the most out of your product and it also gives you the chance to qualify any leads that you get, automatically. This ultimately leads to you to closing more deals around the clock thanks to live chat and chatbots. A lot of people rate Intercom as offering the best live chat support for website use because it's simple but socially intuitive. You don't need to worry about working out a complicated interface and you don't have to worry about spending hours coding either. It's all very easy and you would be surprised at how easy it is for you to not only get the best result out of it, but to also capitalise on the results that it is able to offer in general.
Pros of Intercom
Modern live chat solutions
Easy to navigate
GIFs and Emojis supported
Typing indicators
Communication routing
Collaborative inboxes
And more
Cons of Intercom
More suited to sales professionals
Limited features for big businesses
There are cheaper options out there
8. SendInBlue
SendinBlue offers a powerful live chat service that is more than suitable for beginners. The great thing about this service is that you can easily set up your live chat software under your own account, and then add it to your website via the WordPress plugin. SendInBlue gives you the chance to convert your website visitors into customers. You can ask questions through live chat and the chat also integrates with the Marketing Automation option. This makes it easier for you to capture even more leads. It comes with built-in marketing integration and this gives you the chance to retarget all of your Facebook ads and it also helps you with complete marketing automation too. SendInBlue offers you a complete marketing package that comes complete with CRM, SMS and even email marketing too. On top of that, you can also create landing pages. The powerful toolkit gives you the chance to convert even more as well, so keep that in mind. SendInBlue offers various pricing plans but you will need to pay for the Premium plan if you want to access the chat feature. You can then include 10 team members. Take a look below to see if this is the best live chat support software for you.
Pros of SendInBlue
WordPress plugins
Easy to use
Answer questions through live chat
Marketing integration
Cons of SendInBlue
You need to use SendInBlue's own marketing feature to capitalise on the benefits
It is more expensive when compared to other options out there
Not as many features as the other best live chat support software options
Limited to 10 team members
9. Olark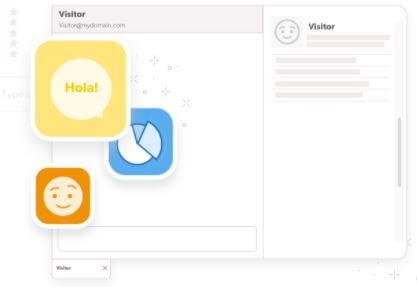 Olark is a very popular live chat solution if you run an online business. It's super easy to use and if you add Olark to your WordPress site then you will soon find that this is super easy to do. The only thing that you really have to do is copy and paste a snippet into your widget or even into your child theme. If you would much rather not work with code then you should know that there is also the Olark Live Chat plugin, which makes it way easier. This is one of the many reasons why it is known for being one of the best live chat support software options for website providers, not to mention that it is also very affordable too.
Olark is also easy to integrate with various other services and this includes Zendesk, Highrise and Salesforce. There are third-party mobile applications which give you the chance to connect with the Olark chat and you can do this from almost any IOS or even Android device. This is great because it means that you can chat with customers while on the go. Olark is very affordable and if you do choose to go with the annual billing option then you will get a discount. This doubles if you take out two-year billing, meaning that it is one of the best live chat support software options out there.
Pros of Olark
Integrate with other services
Access chat on mobile devices
Live chat plugins for additional functionality
Discounts available for those who want to commit
Cons of Olark
You pay per agent which can be costly for bigger businesses
Not too many features or extra options
10. Live Agent

Live Agent is one of the best live chat solution options out there. They offer a huge range of options and this includes email ticketing, time tracking, live chat, call centres and more. If you do not have any kind of support desk already then you can use the Live Agent suite to make things easier on yourself. It's an all-in-one platform that is very similar to Zendesk. The great thing about Live Agent is that it offers you a seamless level of integration with sites such as WordPress. It also integrates with marketing platforms and email services too, so you don't have anything to worry about there.
People say that Live Agent is one of the best live chat solution providers because they offer a wide range of features and they also help you to connect with your customers on a higher level. There are various pros and cons to using Live Agent, some of which can be found below.
Pros of Live Agent
Time tracking
Live chat
Call centres
Support desks
And more
Cons of Live Agent
Not the cheapest
Low level of integration
Final words for choosing the best live chat software
Benefits that live chat software offer businesses are apparent, but choosing the correct provider can be a mine field.
Not only should you ensure the features you require are included, with messaging becoming on the biggest communication methods, ensure the chat software is scalable and integrates with Facebook and WhatsApp.
It's also your responsibility to ensure that the chat data is secure, therefore carry out due diligence on each provider, ask where you data is stored ensuring its in-line with you counties regulation (GDPR if you're in the UK etc)
We hope this comparison guide helps you narrow down your choice of a few live chat providers, most offer a free trial, so jump in and add live chat software to your website today!