DATE
TAGS
AUTHOR
VIEWS
Best practices when working from home (Part two)
When you're working from home, as is the reality of many of us after COVID-19's social distancing measures, it presents with its own level of challenges. But fear not, we at Click4Assistance have some helpful tips for you to get through working from home easily.
Be sure to read part one of this series to get all the tips.
Don't start your work day in pyjamas
It may seem obvious, but maintaining your routine before you start work, as you would on a normal work day if you were going to the office, is very important for maintaining a work mindset. While it's easier to roll out of bed, grab a cup of coffee or tea and open your laptop to slowly start working, it's best to avoid this. When you wake up, have a shower and get dressed first, as it wakes your body up and prepares you for work. It's easy to slip into some comfortable loungewear, but experts recommend getting dressed as you will subconsciously be prepared for productivity.
Reward yourself to keep focused
It's sometimes hard to focus when the sofa and Netflix are so near, but the work must go on. An easy way to get through the work day is to set smaller achievements throughout the day which match the tasks at hand. It can be as small as a piece of chocolate after sending all of those emails, or only watching that episode after you finish a work task. Setting achievements will encourage you to work more productively and you will find that if you respect the limits, then you will achieve a lot more since you are motivated.
Have a set work day
You have a strict routine when you're at the office. You are up by 6am, commuting by 7am and in the office by 8am. You work with one or two coffees until your lunch break, and then you power through the afternoon with a few more coffees until 5pm when it's time to go home. Your work from home day does not look like this, so it's important to structure your day to look as close to this as possible. Try starting your day with a cool shower and a good breakfast, beginning work at 8am and ending at 5pm as you normally would. You've gained an hour or more of your day because you now do not have to commute so you can use that time to relax and unwind after a long day.
Remember to take regular breaks in between your day as you would at the office to prevent burnout and eye strain. At the office, people may come to speak to you, so your eyes were not glued to a screen for eight hours a day. Be kind to your mind and your body, and find ways to manage stress by playing music while you work, or stretching your body regularly to keep your bloody flowing throughout your body. Even walking around your home while on a call if possible helps.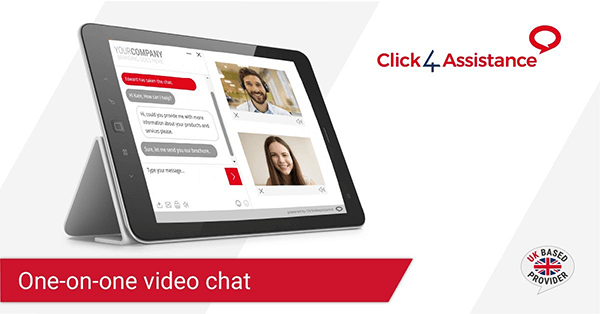 Use headphones
Headphones are a godsend for those who are easily distracted or live in an environment which is prone to distraction. Let others around you know that headphones on means that you are not available to speak until a certain time. Studies also show that listening to instrumental, lyric free music boosts concentration, which in turn increases productivity.
Speaking of productivity, how productive is your customer service team working remotely? Click4Assistance is the leading customer service communications software solution in the UK, keeping your business online and giving your customers a way of contacting you if your team is working remotely. With the best live chat, video calling, AI chatbot, social media integration and more, Click4Assistance's software is robust, reliable and completely secure.
If you're interested in deploying Click4Assistance, the UK's premier GDPR compliant live chat software solution, to increase your business' productivity for 2020, give us a call on 08451235871 or send an email to theteam@click4assistance.co.uk and one of our experts will be with you right away. Not ready to reach out yet? Discover how it works, try a demo, or better yet, try Click4Assistance completely free for 21 days.