DATE
TAGS
AUTHOR
VIEWS
Budgeting for Live Chat for Website in the New Year
A new year is upon us, we hope you had a great time over the holidays. But now the return to work can bring about exciting projects for 2018.
Recently released, 'Experiences' by Click4Assistance provides the ultimate collection of customer engagement tools; aiding online visitors to get the answers they seek to financial enquiries to help them purchase products or services.
Making a financial decision can be daunting for some consumers, therefore when they have questions they need to have them answered quickly, rather than putting them off as they can feel enquiring by telephone or email will take too long. Therefore, 'Experiences' by Click4Assistance provides direct communication tools that help visitors to receive their answers via your website.
Live Chat for Website
A visitor can use live chat to start an instant conversation with a representative. They can gain advice and have their questions answered via text based messages that are sent in real time.
Representatives can decrease their response rate by using functionality that is available during the chat.
Firstly, whilst the visitor is typing the operator will be able to see their 'Ghost Text' this helps them to gain an understanding of what the enquiry regards. From there they can start forming their response or see if there is an applicable answer within the Predefined Reply library, if a response is selected this can be edited before sending to the visitor, ensuring their reply is accurate for the enquiry.
For answers that are available on the company's website, operators can automatically redirect the visitor's browser to open the page of interest with the use of Auto Navigation. Representatives can select from a pre-entered list or copy and paste the specific URL straight into the system. If an operator is unsure of the answer they can invite their colleague into chat for help or can privately ask them in the Training Room for the response.
Video Chat
Organisations can use video chat to have a one-to-one digital meeting; this allows companies to provide the service they would in a branch. They can also build trust with the enquirer as they are able to see the representative as they discuss the financial options available. Video chat includes the text based functionality of live chat, that allows your visitors to communicate via the channel if they are having connectivity issues or simply do not want to use a web cam.
smartContact
Your representatives will not be available all the time. smartContact allows your visitors to request information or book an appointment by submitting their details. smartContact forms are easy to add to your website and do not need an expensive web development service to be involved.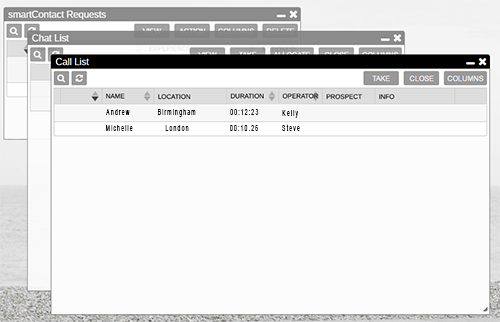 Click2Call
Not many UK consumers nowadays have a landline in their house; therefore most calls are made from a mobile. When calling organisations it can be costly as there are charges for mobile, or call centres are oversees therefore there is an international expense. With Click2Call visitors can request a free call with the organisation. Representatives are alerted that a call has been requested and will connect their phone to the visitor's as soon as they accept it via the system. This also reduces the time an individual could queue for if they make the outbound call.
Promotions
When a visitor browses for a certain duration or on specific pages, a promotion can automatically be set to display. This is an image that presents on the website showing important information, promotional offers or latest news. A URL can be assigned to the Promotion which when clicked, the visitor is automatically redirected to the selected page for further information. Finance companies can use promotions to show their newest products or services.
'Experiences' by Click4Assistance
Click4Assistance has been working with the finance industry for over 10 years helping companies to improve visitor engagement and satisfaction to achieve more conversions.
For more information regarding how 'Experiences' can help your finance organisation, contact our team on 01268 524628 or email theteam@click4assistance.co.uk.
Author:
Gemma Baker
Gemma is the Marketing Executive for
UK live chat software provider
, Click4Assistance, with a range of digital knowledge within PPC advertising, SEO practices, email campaigns and social media.