DATE
TAGS
AUTHOR
VIEWS
Can live chat software make your healthcare practice more efficient?
We live in a world on the move. Mobile technology has completely revolutionised the way we communicate and work, changing appointments from long telephone calls to instant live chat, and physical follow up appointments in the practice to virtual video chat on the sofa. We no longer have to wait in long queues, physically go shopping or in some cases, we don't even have to go to the office or fly across the world for meetings. We can live in a virtual world where you can leave the house when you need or want to, making us more productive than ever. So why not revolutionise your healthcare practice's customer service?
Live chat for websites is convenient and patients love it
Live chat software is massively convenient for your patients and will dramatically improve your healthcare practice's customer service experience. Patients know that should they need to contact their practice, it mostly means waiting in a telephone queue indefinitely, often to be told there are no available appointments left for the day, leaving them feeling deflated and frustrated, possibly exasperating the issue at hand. Many healthcare practices have begun digitally transforming, accommodating online appointment bookings and repeat prescription requests, yet many haven't tackled their communication. Live chat for websites is convenient for your patients. They can simply go to your website, then immediately connect with a customer service agent who can assist them. It's a familiar platform and widely used method of communication, so there is no learning curve or complicated hoops to jump through. Live chat is arguably much more convenient than sitting on hold indefinitely.
Boost your internal productivity
While we're waiting on hold, your customer service agents are busy with patients on the phone, and there are team members at larger practices who solely speak with patients over the phone all day long. The major obstacle with telephone calls is that they are strictly one on one, so your agents can only speak with one person at a time which can be quite unproductive. With live chat for websites, your customer service team can speak with multiple people simultaneously, making them vastly more productive in an instant. The other positive benefit is your call volume. Since patients will have the option of using the online chat software as well as ringing in, your practice will find your call volume drastically reducing, thus lowering your average hold time and ensuring that patients can contact your practice using a method that is convenient to them, improving your customer service experience and satisfaction.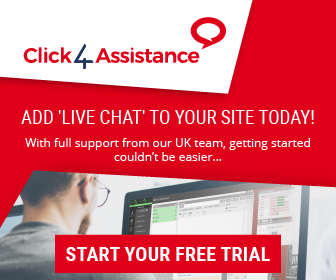 Not just a live chat for websites
When you think of live chat software in the UK, Click4Assistance is one of the more commonly thought of names, but it's not only live chat software. Video chat and Click2Call allow your customer service agents to connect with a customer with a single click, allowing them to easily transfer from a live chat to a support call or a virtual appointment. Social media direct messages integration gives your customer service team the ability to receive and send messages through WhatsApp and Facebook Messenger right from the dashboard. And the Click4Assistance dashboard is the home for everything available. Fully customisable for the agents, all the distractions can be hidden and they can customise their workflow, making them much more productive. In true digital transformation fashion, Click4Assistance's dashboard is accessible remotely, allowing your team members to seamlessly work from home should they need to from any laptop or desktop computer with a Chrome browser, and they have access to everything they need as though they were in your practice.
If you're interested in deploying Click4Assistance, the UK's premier GDPR compliant live chat software solution, to digitally transform your health practice, give us a call on 0845 123 5871 or send an email to theteam@click4assistance.co.uk and one of our experts will be with you right away. Not ready to reach out yet? Discover how it works, try a demo, or better yet, try Click4Assistance completely free for 21 days.