DATE
TAGS
AUTHOR
VIEWS
Online Chat Software: Video chat can transform your patient communication
With the rise of contagious disease in 2020, our post-pandemic world is focused on finding ways that we can slow and stop the spread of disease throughout our daily life, until a reliable cure is found. While it would be nice for us to all stay indoors and wait out the storm, many have to return to work to keep the economy alive, increasing the potential of infection and spread. It's an unavoidable and vicious cycle, so we have industriously cultivated ways to keep contact minimal by remote working where possible and replacing meetings with video chat. This is the next generation of our work life.
Reduce contagion spread and walk-in traffic to your practice
The global highlight of 2020 will go down in history as the year of the coronavirus outbreak, and we will look back at this as we do the Spanish Flu of 1918. Our response to this pandemic has been revolutionary for many industries as we rethink communication across every industry including healthcare. One of the massive benefits of replacing follow up appointments with video chat appointments is the reduction of foot traffic in your practice, massively reducing the risk of any spread for those who are feeling unwell. It also allows patients who are self-isolating to still have virtual appointments through online chat software.
Improve doctor's work day
There is no doubt about how busy a doctor's day is. 15 minute appointments around the clock, out of office call-outs and for some, hospital rotations make up the work day calendar that doctors have to balance with daily life. But even the busy schedule doesn't indicate the scale of administrative work doctors have. Take communication for instance; is your healthcare practice being productive and efficient in this area? Switching over to video calls for appointments that do not require a physical assessment is one of the quickest, most cost effective ways to increase productivity. It allows your healthcare practice to work remotely if needed, and gives doctors the flexibility of having follow up appointments on the go, where it's convenient to do so, allowing them to keep some appointments if they are not physically at the practice.
Improve your patients' days too
This is massively productive for the patients as well, since they no longer need to go to a follow up appointment unless it's a physical assessment, increasing patient attendance and allowing more comprehensive notes following treatments. Video chat supports those patients who have difficulty with travelling or mobility, providing a much easier method of hosting appointments as opposed to the traditional alternative. It also shows that your healthcare practice is considering their difficulties as well as improving the flow of communication. This immediately gives your healthcare practice a competitive edge and increases your patient satisfaction rate.
The best online chat software on the market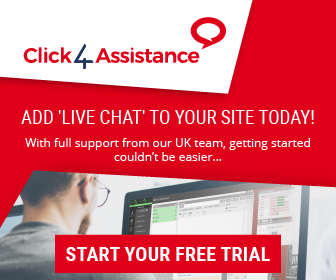 Click4Assistance has been supporting healthcare practices just like yours for over 15 years. Our experience and expertise position us at the top of market. We are registered with the NHS Data Security and Protection Toolkit and classified as 'exceeds expectations' for security protocols, making Click4Assistance one of the most secure online chat software solutions available in the UK market.
Since the fall of Privacy Shield, companies now need to be mindful about the ramifications of transatlantic data transfers and how protected your data is. Click4Assistance eliminates that worry about the protection of your data overseas as our entire operation, including development and storage, is all based right here in the UK. We're the only online chat software provider that's completely UK based, fully GDPR compliant and registered with the NHS Data Security and Protection Toolkit.
The bonuses achieved when switching from regular physical appointments to video chats are enormous, and no other communication switch will yield that result. With Click4Assistance, you have everything in one place: video chat, live chat, social media direct messages, Click2Call and even your patient CRM integrated too - all accessible from your fully customisable dashboard, making it the most secure communication powerhouse on the UK market.
If you're interested in deploying Click4Assistance, the UK's premier GDPR compliant live chat software solution, to digitally transform your health practice, give us a call on 08451235871 or send an email to theteam@click4assistance.co.uk and one of our experts will be with you right away. Not ready to reach out yet? Discover how it works, try a demo, or better yet, try Click4Assistance completely free for 21 days.