DATE
TAGS
AUTHOR
VIEWS
When live chat is not enough for healthcare practices
Healthcare, like all industries, has to be on the ball when it comes to patient communication, being as accessible and inclusive as possible. Unlike traditional business, healthcare manages patients from every walk of life, from young to old, from healthy to terminally ill, from poor to rich. Health impacts everyone, and anyone and it does not discriminate. This means that any solution for patient communication needs to be easily accessible, simple to use, and include features that support those who have varying degrees of communication and technology difficulties.
During the overwhelming pandemic, many healthcare practices shut their online access down to more effectively triage, and advised patients to self isolate, not visit their practice, citing the NHS website as a source of information in a bid to lower the number of phone calls to the practice. However, this had a massively negative impact on patient communication, as telephone lines became more inundated and patients grew agitated due to being unable to communicate with their healthcare practice, whether it was for a prescription followup or needing medical advice. As the lockdown eased, healthcare practices slowly brought some services back online, such as prescription renewals, but communication seemed to have a rocky road to recovery.
Web chat software can bridge the gap between patients and healthcare practices. Since administrative staff can speak with multiple patients simultaneously, it is the more efficient form of communication. Many patients have access to internet enabled devices and can use the live chat software with ease and experience a much shorter queue than over the phone, so this feature instantly becomes a win-win for the patient and your healthcare practice. You can then take your communication one step further and deploy an artificial intelligence chatbot which will immediately engage any patients and guide them, before human intervention is needed. This saves a lot of time for your healthcare administrative team and also helps your patients faster. Artie, Click4Assistance's AI chatbot, will be available for your patients 24/7, so you know that your patients will get a response at any time of day, even when you are closed, guiding them when they need help.
But what about patients who have difficulties typing or chatting online?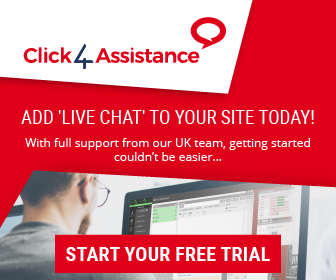 This is where Click2Call comes into play. With the click of a button, that patient can be connected to the administration team member they were chatting to online, skipping the telephone queues and continuing the conversation, rather than having to start all over again. The best thing about this service is that it is completely free for your patients, which is a massive bonus for patients who are in low income situations. Not only does Click2Call allow your patients to speak with you over the phone when they need to, because they skip the normal telephone queue, they are more likely to use this service, reducing your daily call volume and your walk-ins.
Another feature of Click4Assistance that massively changes the way your healthcare practice handles patient communication is video calling. This is fantastic when you have a patient who needs to self-isolate, cannot physically come into the practice, or does not require a physical appointment. Video calling supports remote patient appointments, reducing your walk in traffic and the spread of any contagions, as well as supporting patients who have difficulties with mobility, making Click4Assistance the most inclusive solution for patient communication.
Everything under hood, straight from the factory
Sometimes just web chat software is not enough. When it is stacked with other features like Click2Call, video calls, artificial intelligence chatbots, and social media direct messaging, you have a patient communication powerhouse. Additionally, you can also have your own CRM integrated, so you can quickly update patient notes from the Click4Assistance dashboard.
Built remote working ready, the Click4Assistance dashboard is accessible from any computer or laptop with a Chrome browser, allowing your administrative staff to work remotely or have the ability to assign a remote worker to monitor the online communication of your healthcare practice. The dashboard is also fully customisable, allowing your team to focus only on what's important and hide the distractions, instantly making them more productive.
If you're interested in deploying Click4Assistance, the UK's premier GDPR compliant live chat software solution, to digitally transform your health practice, give us a call on 08451235871 or send an email to theteam@click4assistance.co.uk and one of our experts will be with you right away. Not ready to reach out yet? Discover how it works, try a demo, or better yet, try Click4Assistance completely free for 21 days.