DATE
TAGS
AUTHOR
VIEWS
Virtual patient appointments are the future of healthcare
Healthcare best practices have changed post-pandemic, highlighting the many weaknesses of the industry and the vulnerabilities of those who are on the frontline of medicine every day. The biggest shift would be the way contagious disease and flu season are managed, on an individual level and as an industry.
Slow the spread, flatten the curve, for all infectious disease
Every year, flu season creates challenges for healthcare practices across the country, and while flu impacts everyone with little consequence, there are the unlucky few who succumb to it. Social distancing and self isolation measures were never widely practiced among the general public before the coronavirus pandemic, but they do make sense in managing the impact of flu season every year. Those who are experiencing flu symptoms or just recovered from the flu and could still be contagious, may now practice self-isolation and working from home for the recommended convalescence period, in addition to the annual flu jab, to reduce the spread of influenza, hopefully reducing the number of people who get ill every year.
Video appointment to replace physical follow-ups
One of the most effective methods of stopping the spread of infectious disease, is reducing the number of people that can come into contact with it, which also means reducing the number of patients sitting in your waiting rooms. A healthy person coming to your healthcare practice for a routine appointment but sits next to another waiting patient who has a contagious infection, has a higher chance of infection. Many appointments do not require a physical assessment and can be done with a remote appointment via video chat.
Click4Assistance's video chat allows doctors and nurses to speak with patients remotely, without them coming into the practice. This reduces the spread of infections in general, but also has the benefit of supporting patients who have difficulty getting to the practice. The video chats are free of charge to the patient, so it's a massively cost effective method for those patients who are in lower income situations.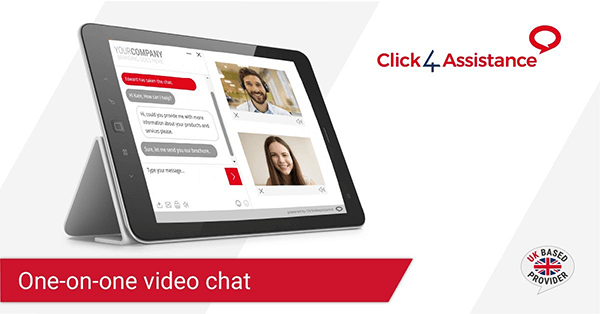 There is also benefit to your patients who have mobility challenges and cannot physically come to the practice without the help from the NHS patient transport system. Replacing those appointments that do not require a physical assessment can reduce the strain on the patient transport system, and the NHS in the wider scope. Video chat appointments can be a lot more effective and efficient for patients and healthcare workers overall, and Click4Assistance has over 15 yeas of experience working with healthcare agencies, including the NHS, so there are massive benefits to implementing a patient communication system such as Click4Assistance.
Using web chat software to create appointments
How can we make appointment booking and cancellation easier? While some healthcare practices have online booking systems, some patients prefer to call. Web chat software, like Click4Assistance, can provide a very simple and familiar method of booking and cancelling appointments that will reduce the telephone queues and increase the number of patients your administrative team can people with in a day. Over the phone, your team can only speak with one person at a time, whereas with live web chat software, they can speak with multiple patients at a time. This form of communication supports those who have difficulties speaking over the phone or in person, and it's a much more efficient form of patient communication as it's quicker, increasing your practice's patient satisfaction rate.
With an AI chatbot, like Click4Assistance's Artie, patients can even book or cancel appointments without any human intervention, since Artie can manage basic tasks and answer simple questions autonomously. Artie can also speak with an unlimited number of website visitors simultaneously, at any time of day, so there is always someone available online to assist your patients, even when your practice is closed.
Always secure, with an NHS stamp of approval
As with many technological solutions, you want to make sure it's safe and secure. Click4Assistance's web chat software is encrypted in transit, so that your conversations with your patients are as secure as a payment page.
Click4Assistance is uniquely positioned to help your healthcare practice with its patient communication system, with over 15 years of experience with developing software solutions for healthcare customer service, and is also registered with the NHS Data Security and Protection Toolkit and classified as 'exceeds expectations' for security protocols. If you're interested in deploying Click4Assistance, the UK's premier GDPR compliant live chat software solution, to digitally transform your health practice, give us a call on 08451235871 or send an email to theteam@click4assistance.co.uk and one of our experts will be with you right away. Not ready to reach out yet? Discover how it works, try a demo, or better yet, try Click4Assistance completely free for 21 days.