DATE
TAGS
AUTHOR
VIEWS
Make your healthcare practice more accessible
Running a healthcare practice in 2020 has presented some unexpected challenges. As we started the year with coronavirus, there are many new measures being put into place due to the COVID-19 pandemic. Patients are advised to self isolate, self quarantine and practice social distancing depending on their current situation, not to go to their local surgery without an appointment, and only go to the hospital or call an ambulance if they have trouble breathing or in an absolute emergency. Hospitals, doctor surgeries, and other healthcare practices have all been overwhelmed with various contact points from panicked patients who may or may not have had this contagious and sometimes fatal disease. Managing communication like this is difficult when it happens all at once, but there are solutions to ease the situation for both the patient and the healthcare practice.
Live chat for your website is one of the best ways to ease patient communication and streamline it into a more organised and efficient workflow. Customer service team members can chat with multiple patients at the same time with live chat, but can only speak with one at a time over the phone, making it one of the most efficient and productive forms of communication. This will instantly reduce your call volume and allow patients a much easier form of communication without having to wait on a telephone queue, improving your patient satisfaction rating. It makes booking appointments and making follow ups much more simple. Live chat also provides healthcare providers an inclusive method of communication to those who have difficulty communicating over the phone or in person.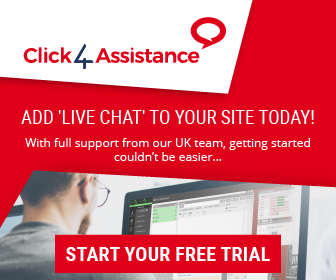 But even with live chat for your website, there is still a high volume of patients who need advice, especially when patients are being told to self-isolate and not go to hospitals or doctor surgeries unless it's an emergency. What if there was a way to filter all the incoming live chat patient queries to the relevant departments, and even have some of them managed without the intervention of your own staff? An artificial intelligence chatbot is a great solution to this problem.
An AI chatbot, like Click4Assistance's Artie, turns your live chat for your website into a communications machine. He does not get sick and does not need sleep, so he's always online, greeting patients, answering questions and assisting wherever possible. By immediately engaging an unlimited number of website visitors simultaneously, he takes the pressure off of your customer service team to respond to everyone immediately. Artie can respond first, gather basic information that your team might need, answer any questions they may have, and should they still need to speak with a real person, he can transfer them to the next available agent.
Sometimes, a chat is not sufficient and a patient needs to speak with someone. This is where Click4Assistance's Click2Call can help. It allows the patient to immediately speak with someone with just a single click at no cost to them, so it's beneficial for many patients, especially those who have lower income situations. Texting can be helpful, but there are those who aren't as tech-savvy and speaking to someone can be much easier for them. This solution is also great if you need to speak with a patient or even a supplier overseas as the rates are significantly lower, adding massive cost savings to your healthcare practice.
There are many situations where you would like to physically see your patients, rather than speak with them over the phone. Visual context is very important for medical diagnosis or followup appointments. This is where Click4Assistance's video chat feature excels. With many patients being forced to self isolate, video appointments are becoming a mainstay of modern healthcare, preventing the further spread of contagious disease but allowing healthcare practitioners to follow up regularly with their patients.
Remote working has gone from a trendy startup business work model to a widespread method of operations for many organisations, healthcare practices included. Healthcare workers and chemists can check in on patients who are at home self isolating via live chat for your website like Click4Assistance, and offer medical advice where possible, if a physical examination is not mandatory. With Click4Assistance's dashboard, your team can access it from any device with a Chrome browser, making it perfect for catching up with patients who cannot come into the surgery. Since all the data is encrypted in transit, you can relax knowing that your patient conversations are safe and your data is secure. Click4Assistance is registered with the NHS Data Security and Protection Toolkit and classified as 'expectations exceed' for security protocols.
Click4Assistance has over 15 years of experience working with organisations in healthcare, providing productivity solutions and improving patient communication. If you're interested in deploying Click4Assistance, the UK's premier GDPR compliant live chat software solution, to digitally transform your health practice, give us a call on 08451235871 or send an email to theteam@click4assistance.co.uk and one of our experts will be with you right away. Not ready to reach out yet? Discover how it works, try a demo, or better yet, try Click4Assistance completely free for 21 days.