DATE
TAGS
AUTHOR
VIEWS
Canadian University Partners With Click4Assistance
We have already been helping over 25% of UK universities to improve their student services, now a Canadian institute has procured our solution.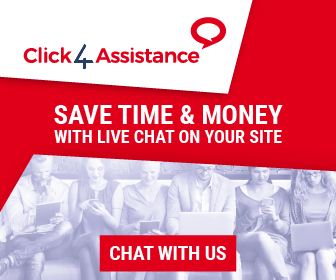 The University of Guelph is a research-intensive and learner-centred university, making it like no other university in Canada. They have a reputation for excellence in the arts and sciences, and their commitment to developing exceptional thinkers and engaged citizens.
They approached Click4Assistance earlier this year with the requirement to add an accessible chat tool to their website. The university has initially implemented the instant communication channel within 2 departments:
Open Learning and Educational Support (OpenEd) – An academic department that inspires and empowers excellence in teaching and learning. They are an integral part of the university's learner-centred and research-intensive mission.
Computing & Communication Services (CCS) – The university's central IT department that provides core IT services to the greater campus community.
Each department has a different style across their webpages; therefore the chat has been designed to reflect their individual branding as the Click4Assistance solution provides 100% customisability to all visitor facing aspects.
The buttons are the first element that students see in their chat journey; therefore it is important that they look a seamless part of the website and they convey what it is for. CCS has opted to use a blue coloured button matching the links on their page, whereas OpenEd have picked out the yellow they used for their menu and main call to actions.
CCS' Branding
CCS' chat journey continues with blue windows. The pre-chat form is the first window the visitor sees; therefore it has been customised with a short description (Have a Question? Chat with CCS IT Help Now.) and a text box for the enquirer to enter a message. As the chat is initiated the advisor can see the message alongside other details about the visitor and where they started the chat.
When there are no agents available, the chat button reverts to it offline status showing leave a message instead. The form that displays gathers the visitor's email address and their message. The university manages the enquirer's expectations with a note of when they will receive a response.
OpenEd's Branding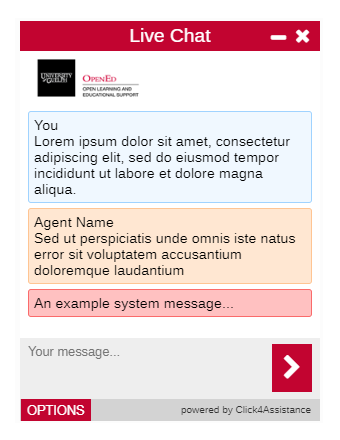 OpenEd have matched their windows to another colour used on the website, strongly representing their branding throughout the chat journey. Their pre-chat form has been kept minimalistic, asking for just the visitor's name. This increases their uptake opportunities as enquirer's are more willing to continue into chat when less personal information is requested.
The department has continued their branding by including their logo within the dialogue window where the main conversation takes place. This tailors the feel of the chat and helps visitors feel confident they are speaking with the right team.
When the OpenEd department are unavailable their offline form collects some additional details to CCS. They also gather the visitor's name and phone number, giving them more chance of completion as the enquirer has a choice of what contact method they prefer.
Why Click4Assistance is Successful within Universities
As touched on above, the customisability of the Click4Assistance solution ensures that not only is each university represented during chat, but each individual department can be too.
The intelligent chat distribution system works in several ways. Separate buttons can be used on different pages across the website, routing enquiries to the relating department, like the University of Guelph have implemented. Alternatively, one button can be displayed across the website or on selected pages, with the prechat form displaying a department selector. This allows a list of teams to be shown to the visitor who picks the most relevant.
The system has various options for how the agents of the relevant departments can be alerted to an incoming enquiry:
Alert all users and allocate – every available agent will be alerted that there is a chat, however it will be allocated to a user based on workload
Alert all users but don't allocate – all available agents are alerted to the new enquiry, but a user will have to manually take the chat
Alert only the allocated user – the system will select an available agent based on workload and alert them to the chat
Hunt each user but don't allocate – Each available user in turn is alerted (based on their order in the specific routing group). If the agent doesn't take the chat the hunting duration determines how long until the next user is alerted.
This enables your university to stay in control of how the department will handle new enquiries, and tailor it to suit their needs.
It's Not Just Live Chat We Offer
Click4Assistance also provides other online communication channels to universities to help them increase their engagement with students.
Meeting Rooms were developed to bring together multiple participants within a digital environment, regardless of their physical location. Universities have been using these to host virtual open days to attract potential students, and welcome groups for new international students to digitally meet others from the same country as them, helping them to fit into campus live more easily.
Another way, that universities have been help international students when choosing the campus/course, is with Click2Call. This is a free phone call to the visitor that connects them instantly with an advisor over the normal phone network.
Click4Assistance has been providing live chat for over 15 years. For more information on how we can help your university improve your online communication with students, contact our team on 01268 524628 or email theteam@click4assistance.co.uk.