DATE
TAGS
AUTHOR
VIEWS
Have You Got Christmas Covered?
Do you find that when you are feeling really ill, it happens at a time your GP or pharmacy is closed? During the evenings, at weekends or bank holidays, it can make us feel more poorly knowing we can't see a professional locally, especially when we start Googling symptoms and convince ourselves it's the worst case scenario!
With Christmas just around the corner healthcare services will be reducing their hours during the festive period; however it was reported by The Daily Express as the most dangerous time of the year leading "to extra accidents and injuries – plus a whole load of extra stress."
Did You Know?
One in 10 spill burning hot fat on themselves when dealing with the roast potatoes or turkey.
Nearly 20 percent cut themselves prepping the veg.
Three percent of people suffer an electric shock due to badly wired Christmas lighting.
One in 50 fall out of the loft trying to get the tinsel and baubles down.
2.6 million people have fallen off a stool or ladder whilst hanging up the decorations.
Eight percent of 16-24 year olds make a trip to A&E during the festive season.
600,000 have made the ultimate Christmas gaffe by getting burnt roasting chestnuts over an open fire.
700,000 people have been injured in a sale rush, whilst trying to snag a bargain.
These are just 8 of the scenarios that have occurred over the Christmas period, however when people don't know what to do or who to contact when healthcare services are closed, A&E has to handle the fallout.
Be Better Informed
Your healthcare organisation can help better inform your patients / audience by using your website in a smarter way. When experiencing staff shortages live chat is a great alternative to the phone or email, as representatives can handle multiple enquiries at any one time. Regardless of how many staff are present, the communication channel helps cover the workload and increase productivity.
Users can control their own workload through their availability status, switching to unavailable allows them to concentrate on their current chats when they have reached their personal limit, or ensure they won't receive any further chats if they leave their desk.
Multiple users can be logged into the Click4Assistance solution, as user licences and profiles can easily be added. This allows additional users to instantly log into the software and cover the chat for absent colleagues. A browser version is available, therefore any user temporarily filling in over the Christmas period can access the solution from any location (settings permitting) without the need to download the desktop application.
Chats can be distributed to teams of users with the use of Routing Groups. A primary group will have the chats routed to them first; if the users are unavailable the system will check the availability of the operators in the back up group(s) and direct the chat to them.
Sorry, All Our Operators are Busy
Over the Christmas period your staff will be taking time off. During out of hours periods or when all representatives are unavailable, the chat box for website system will default to its offline status. The chat button can be hidden, or an offline button can be presented, that displays a message informing the visitor of operational hours and emergency numbers or a call back / enquiry gathering form, allowing your organisation to route the collected details through to an assigned email address.
However, unless the email address is being monitored during the festive period, this may not be ideal to help those who require guidance immediately. Promotions are an image that displays on the visitor's browser based on a number of rules, such as the visitor browsed the website for a certain amount of time or hit a specific webpage. A URL can also be assigned to the promotion which will automatically redirect the visitor to the desired page when clicked.
Your organisation can optimise your promotions to appear on any page on your website. This ensures that visitors will be presented with your promotion regardless of their browsing journey. The image displayed can inform that your opening hours for the Christmas period will be reduced and any emergency numbers, the URL associated to your proactive can then redirect them to a page with more in-depth information, such as your operational hours etc.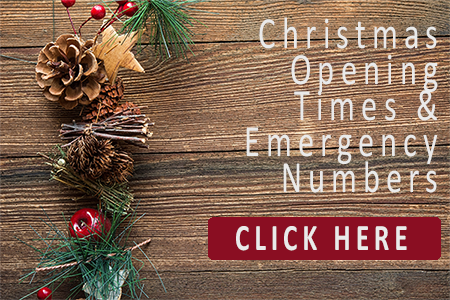 Optimising your website to inform your visitors of changes over Christmas and present any important contact information, helps to lessen your visitors worry if they need to speak with someone out of hours, it also lessens the impact the seasonal period has on A&E.
Click4Assistance has been operating for over 10 years and provides live chat to healthcare organisations such as BMI Healthcare, NHS Scotland and CWP NHS. For more information on how a live chat box for website can benefit your healthcare organisation, contact our team on 01268 524628.
Author:
Gemma Baker
Gemma is the Marketing Executive for
UK live chat software provider
, Click4Assistance, with a range of digital knowledge within PPC advertising, SEO practices, email campaigns and social media.