DATE
TAGS
AUTHOR
VIEWS
The benefits of video chat with your students
We live in strange times. 2020 started out with such great hope and promise, but within the first quarter of the year, we watched countries shut their borders and implement lockdowns in the hope of containing COVID-19 as it relentlessly swept across the globe. Businesses shut down, schools closed and universities across the world sent their foreign students home while trying to figure out how to resume classes and keep communication flowing amid an international remote working scheme.
No one could have predicted that remote working would be a fixture of 2020, and while some universities had remote working strategies in place, many did not and the lockdown meant no work for the unforeseeable future. While students would be grateful for the break, this has put a strain on the universities' calendars and student examination dates, which is reflected across every level of the education system.
Video calling and live chat are the best options to keep in contact with students during a period of physical distancing and government-mandated lockdowns. Classes can be remotely streamed online, while students, parents and general website visitors can contact members of the administration team via the live chat box for website, keeping your university communication flowing.
Open lecturer support hours
Lecturers have difficult jobs and long days. They have to do research, develop assignments, grade papers and council students. Some have flexibility, and some don't, but for those who have restrictions on meeting times for students, those students are at a disadvantage. Many students, full time and part time, have commitments outside of their lecturing schedule that can impact the time needed for counsel from their lecturer.
For illustrative purposes, take a business student named John, who needs some advice from his social economics lecturer. John has a packed daily schedule as he works two freelance jobs that he juggles in between his school assignments, one as a personal trainer at a nearby gym and another as a graphic designer and website developer, which keeps him on top of his bills. He works hard at work and school, but finds himself unavailable when the lecturer is available or vice versa in a vicious cycle. He does however have time in the mornings or in the evenings outside of typical work hours, but his lecturer does not have any facilities that allow for them to have a chat in an official capacity.
If the university had a communications tool like Click4Assistance, with video calling and a chat box for website available for students to get in touch with their lecturers outside of typical hours, but still operate in an official capacity, it would be much more convenient for both the students and lecturers. The students could have virtual meetings scheduled at a time that is more conducive to them, and the lecturers could have more relaxed hours at the university, allowing them to work from a home office and speak to more students via live chat and video chat as their time would be more flexible. This scenario is only one of many that highlight an important benefit of video calling for universities.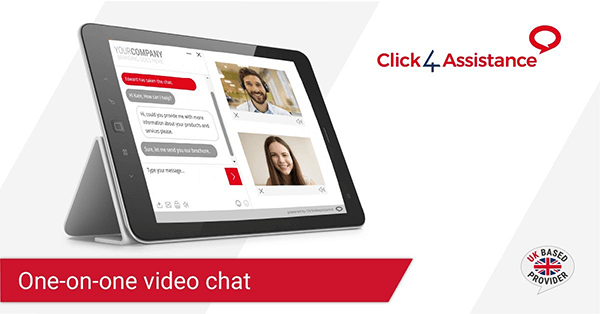 How Click4Assistance helps universities
At the core of Click4Assistance is live chat, and having a live chat box for website allows a university to keep in touch with students, prospective students, parents and general website visitors in a simple, user friendly way which allows administration staff to easily respond to messages and speak with multiple people at a time, increasing the team's overall productivity. To help with some of the basic questions and becoming the university's virtual assistant who never sleeps, Artie, the AI chatbot, can skyrocket the team's efficiency by immediately engaging users 24/7 and helping website visitors without human intervention, making him the most productive member of your team.
Click4Assistance's sleek dashboard is fully customisable for each user, giving individuals the power to bring their most needed tools to the forefront and focus on what's important to them. With live chat, an AI chatbot, social media integration, video chat, click2call, and a CRM integration module, all in one place, your team's productivity will increase massively, and the reports available will highlight those areas. It will also decrease your call volume, allowing your administrative team to speak with more people via the chat box for website integration.
With 256 bit encryption and state of the art server security, your data is safe and secure. If you're interested in deploying Click4Assistance, the UK's premier GDPR compliant live chat software solution, to increase your universities' productivity for 2020, give us a call on 08451235871 or send an email to theteam@click4assistance.co.uk and one of our experts will be with you right away. Not ready to reach out yet? Discover how it works, try a demo, or better yet, try Click4Assistance completely free for 21 days.