DATE
TAGS
AUTHOR
VIEWS
Why is Online Communication Important?
Click4Assistance online communication tools can streamline your operations and enhance customer experience. Discover the benefits of these tools here!
Thriving in today's experience economy can be challenging. Businesses are always focusing more on creating a long-lasting competitive advantage in their products and services, from racing to offer the lowest price to providing new, unique features.
But customers are often overwhelmed by the endless choice of products on the market, and what they are truly after is a business willing to engage, open to creating valuable relationships, and ready to put a face to a brand.
At the same time, communication has changed. While in the past, all businesses had the chance to leverage face-to-face communication with their audience, today, it is all done online, behind a screen. This is where the right communication tools can help you build a stellar customer experience and establish a sustainable competitive edge for your business.
At Click4Assistance, we put our 15-year experience in online communication at your disposal and help you enhance your customers' experience. Here's what to expect from a bespoke, fully-featured communication software.
Unparalleled Flexibility
Convenience is one of the most important features for any product or service - at least in the customer's eyes. And customer-business communication is no different. Thanks to a simple tool such as a chat on your website, you can provide your customers 24/7 access to customer service, technical support, and exclusive promotions.
And, since today, over 50% of all web traffic comes from smartphones, it has never been so important to provide your site's visitors with multichannel access. AI-powered chats, chatbots, and live video features allow your users to connect with your business at any time and from anywhere.
Reduces Business Costs
Reducing waste - of resources, labour, and materials - is vital for business survival. And that's where automation has been revolutionising. Over the past years, businesses have introduced software to regulate production, streamline internal operations, and leverage potential leads. But what about the most important feature - communication?
Online communication tools can do just that. They allow your business to make the most of the talents in your team.
Undoubtedly, skilled, experienced employees are irreplaceable and represent one of your most important assets. But using up their time to answer basic questions is a waste of resources and poor use of budget, energy, and creative power. Thanks to a live AI-powered chat or chatbot, you can redirect the unique talent of your employees towards core business functions while also providing your users with an unparalleled experience.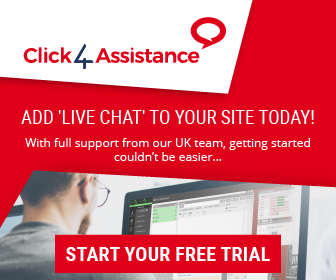 Streamlines Business Operations
No department in your business is an island. They have to work together to bring to life that well-oiled machine that is a successful business. The same is true for the software and systems you implement. Thanks to automation, you can now close the gaps, reduce waste, and provide any of your authorised employees with immediate access to documents, reports, and systems.
Online communication tools are the missing piece of the puzzle: they can enhance integration and streamline business operations. And, thanks to the Click4Assistance full range of features and integrations, you can ensure that your departments can access and monitor customer data at any time and from anywhere.
Provides Important Data
If your customer communication is still done manually, you might be missing out on important benefits that come from interacting with your audience.
Of course, any time one of your customer service operators engages with a user, you have the chance to start building an important relationship, resolve a problem, and win over their loyalty.
But the benefits of providing the right customer experience go far beyond that. Indeed, thanks to automation, you can gather important data from your customers. Aside from their contact details, you can learn more about the common issues your audience faces, their needs, and their desires.
You can also gain a better perspective on what demographics are interested in your business and their opinion (Voice of Customer Data, which can lead to a 10-time increase in business revenue.)
This kind of data is vital to enhance your customer experience - but it is also crucial for your marketing team, R&D department, and website developers. With Click4Assistance tools, you can visualise and access this data from a comprehensive, responsive, and fully-tailored dashboard.
Aligns With Your Business Goals
Undoubtedly, your customer service needs to be consistent. But what happens when your business grows? Is your customer relationship team able to cope with the increasing number of users?
Thanks to online communication tools and live chats, you won't have to worry about modifying your internal operations to deliver consistent standards of customer services. Indeed, Click4Assistance software is designed to align with your business goals. If you wish to expand on an international level, live chats allow your consumers to always have access to support from anywhere in the world.
If your goal is expansion, online communication tools allow for scalability and growth. So, you can find your customers' historical and new data in just one place - throughout your business's life.
Delivers Consistent Standards of Customer Service
Customer service can help you win over your customers' loyalty. And, undoubtedly, nothing works as well as a question or complaint professionally handled by a thoroughly-trained professional. At the same time, when your business grows, it is difficult for your customer service team to maintain such high standards and build meaningful relationships with your audience.
This is where fully automated, AI-powered tools such as a live chat on your website can help. It won't only act as a point of reference (or even as the first point of contact) for your customers; it will also allow you to deliver a consistent service throughout time.
Aligns With Your Brand Voice
Each brand is unique - and so your online communication tools should be. Thanks to fully customisable live chats, chatbots, and live video options, you can select the tone of voice and design you wish your brand to have. Since Click4Assistance software and tools can be adjusted to your needs, you can ensure that the communication with your customers is reliable, consistent, and in line with your brand goals.
Discover More Click4Assistance Solutions
At Click4Assistance, we know that the way businesses communicate with their customers is changing. But we also know that technology and automation can be your most powerful ally to create meaningful and long-lasting relationships with your audience.
Get in touch with us at 0845 123 5871 to discover more of the benefits of online communication for your business. If you are ready to implement your new live chat, book your demo or sign up for a free trial today.