DATE
TAGS
AUTHOR
VIEWS
Do your clients really understand the benefits of live chat for your website?
As an agency, whether you're in marketing, website development or business strategy, you are in a position of knowledge and your clients rely on your expertise to deliver them a comprehensive solution, no matter what problems they bring for you and your team to solve. Customer service is one of those departments that often gets neglected, but in the wave of digital transformation, every area of a business has to be made more efficient, especially a customer facing one. This gives your agency the opportunity to show a client how much money they can save by making their business more efficient, while improving their overall brand. While it sounds farfetched to have all these benefits and save money, Click4Assistance will show you how can with live chat for your website.
Live chat for your website reduces call volume
If your client has an established operation with more of a handful of customers, they most certainly have a busy telephone line. This is one of the key areas they can immediately improve on by making a very small addition to their customer service communication channels: a live chat for website. Their customers will gravitate towards the communication alternative immediately, since it would have a shorter wait time than waiting in the telephone queue. The ripple effect is equally positive, since with less people waiting on hold, those who are calling in have a reduced wait time.
Live chat for your website improves productivity
While reducing phone lines is a great step in the right direction, live chat for your website can massively improve your customer service agents' productivity, on an individual level and as a team. Your client's agents will be able to chat with multiple customers simultaneously with live chat software, unlike the one-on-one restriction of telephone calls, instantly making them more productive. The entire team will be able to speak with more people in a day through live chat software than with phone calls, making it incredibly more efficient and effective as a communication tool.
Live chat for your website is massively cost effective
Software normally costs an arm and a leg, but with Click4Assistance the value for money and the cost effectiveness outweighs any other options. No platform can give you the options that Click4Assistance can, with the same sterling service. Our live chat for your website can save your client's money in the short and long terms, since their team will be much more productive and able to speak with more customers in the same time frame or less, maximising efficiency without increasing their human resource overheads. It's a massive win win for them.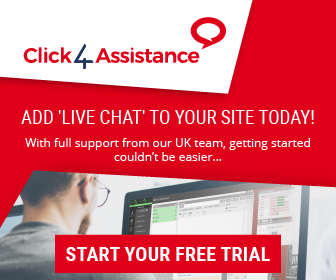 Everyone is a winner, including you
Did you think it was just your clients that benefitted from using the UK's leading live chat software? For agencies and consultancies like yours, the Click4Assistance partnership programme provides the opportunity to give your clients a robust solution while generating an income for your business simultaneously. You can decide how much or little involvement you want, by choosing a healthy commission for the subscription while we directly manage your clients, or a discount arrangement if you want to manage and bill in-house. The choice is yours.
For your clients, only the best live chat for your website
It's time to level up your clients' customer service and Click4Assistance is the way to go. With over 15 years of experience supporting businesses like your clients and working with agencies like yours, Click4Assistance is the premier live chat for your website. If you're interested in deploying Click4Assistance, the UK's premier GDPR compliant live chat software solution and best live chat provider, to make your clients more efficient and productive for 2020, give us a call on 0845 123 5871 or send an email to theteam@click4assistance.co.uk and one of our experts will be with you right away. Not ready to reach out yet? Discover how it works, try a demo, or better yet, try Click4Assistance completely free for 21 days. Find out more about the partnership program and how it can improve your business now!