DATE
TAGS
AUTHOR
VIEWS
Enrol Live Chat into Your Education Establishment
Missing deadlines can be disappointing for anyone, but when it is these deadlines that determine your future it can add unnecessary stress. Many potential students may have missed the cut off point for sending in their application or may not know when they need to complete certain stages by, for example their student finance claim.
Students will have questions throughout their education journey, but it is more important when they are so new to the entire system as it can be a confusing process. Therefore universities and other educational organisations need to ensure they can answer these enquiries in a timely manner, especially in busier peak times.
Live chat software is very beneficial to the education industry as it increases productivity whilst saving resources. Representatives can handle more than one chat simultaneously, decreasing their time spent on incoming enquires. It can also reduce how many advisors are needed to answer questions. The solution can be scaled to requirement; therefore, during busier times of the year members of the department can dedicate themselves to chat to help cover the workload. When it quietens down again, they can be allocated to other tasks.
Tailoring the Students Journey
The Click4Assistance solution allows organisations to set up multiple Experiences that define what the visitor will see and the journey they will take. These are completely customisable with some aspects optional to your needs.
For example a typical Reactive Chat Experience will consist of:
An online chat button, usually in a colour that is used on the website

This is followed by a prechat form to gather visitor details before they enter a chat.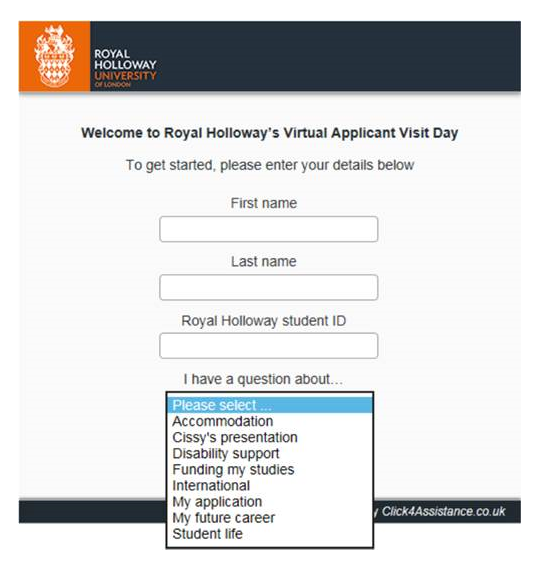 The prechat form leads to the dialogue window, where the main conversation takes place.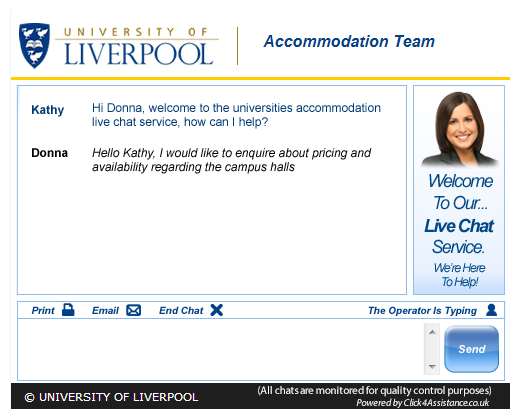 After chat a "thank-you" confirmation window can be presented, along with a post-chat survey to collect feedback instantly.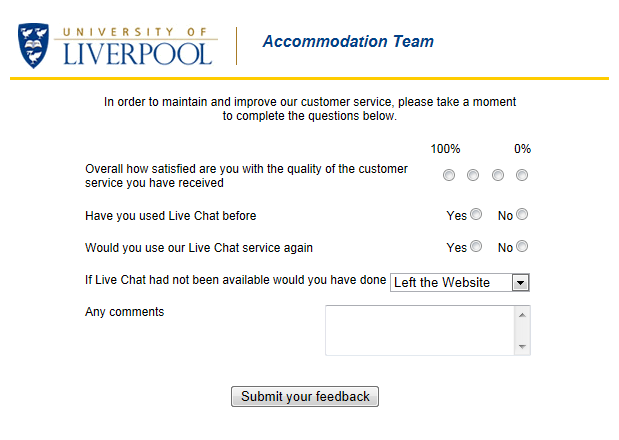 When unavailable an offline button can be displayed that can present a call-back form, information about your chat's operational hours or be hidden altogether.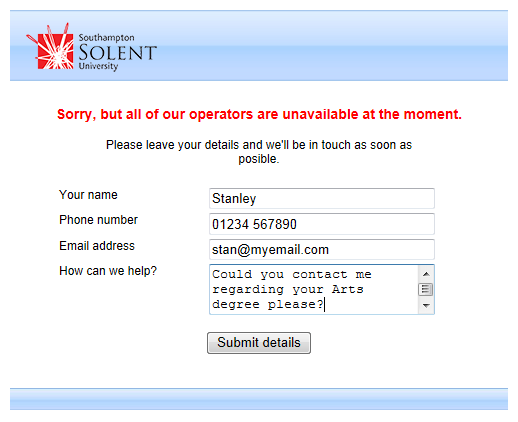 Directing the Students Journey
Multiple chat Experiences can be created for each department, allowing them to tailor the journey specifically to the information they need.
For example, Libraries may want to collect on the prechat form name, student ID and what the nature of the enquiry is e.g. availability of resource or overdue returns. Whereas general enquiries may want to include on the prechat form which department it relates to / nature of enquiry so that representatives acting like a switchboard can direct it to the correct area.
Potential students are more likely to make their first contact when they are prospecting courses. By having a customised live chat experience, the admissions team can show on first impressions that the university is a modern educational establishment and therefore attract them to apply. They can also include useful links within their window design to UCAS; therefore students going through the application process have access to the key dates whilst going through their options.
Groups can be set up within the solution that reflects your users within their department and / or their area of expertise. These routing groups are assigned to the Experiences to determine where the chat should be directed to.
If an Experience has multiple routing groups assigned to it, these can be presented in the prechat form for the student to select. If no user of that group is available the department can have an email option instead or can be set to not display in the drop down. Alternatively, the routing groups can be ordered so it will gauge each group's availability in turn and route accordingly.
For more information on how you can implement the best live chat into your Education structure contact our team on 01268 524 628 or email theteam@click4assistance.co.uk. Click4Assistance has been providing the UK's best live chat for over 10 years and works closely with education organisations within the UK.
Author:
Gemma Baker
Gemma is the Marketing Executive for
UK live chat software provider
, Click4Assistance, with a range of digital knowledge within PPC advertising, SEO practices, email campaigns and social media.