DATE
TAGS
AUTHOR
VIEWS
Has your local authority picked up video chat yet?
2020 was the year that forced all organisations to adopt communication technology that they had procrastinated for as long as possible. Video chat become one of those swiftly pandemic-adopted technologies, and it turned out to be one of the more productive adoptions for many local authorities. Not only has it improved communication with their customers, it also improved their customer experience and overall brand, since video chat is much more inclusive and accessible.
Virtual meetings are the way forward
Face to face will always exist, since we are social beings, but we have to admit: video chat is a much more productive meeting method, especially on a Monday morning. While we bask in the warmth of video chat meetings from the comfort of our homes, there is a real need for this communication technology to be more widely adopted. Less road traffic, reduced chance of being late, increased convenience, incredible time and money saving, and connecting with people around the world in seconds, are only a few of the great benefits that video chat can bring to your local authority.
Increase your meeting attendance
Putting the health advisories aside, video chat appointments and meetings are much more convenient, giving your customers an alternative to physically coming in to your office. Those customers who have restrictive jobs, difficulty with mobility or living in a lower income situation would be more likely to attend a video chat meeting, thus immediately increasing your potential meeting attendance. The logistics behind meeting attendance is not the same for everyone. Some of your customers may need to take time of work, sometimes unpaid, and for those who live closer to the breadline, this is much harder. For those who have mobility difficulties, they need to arrange a transport option that has availability and can support their needs. It's not always as simple as hopping onto a bus or into a car and getting to your office on time. For some living with mental illness, leaving the house is a challenge.
Video chat provides an accessibility friendly meeting option, making your local authority more accessible to those who need it, while supporting their needs in more ways than one, providing a better overall customer experience and increasing your potential meeting attendance rates.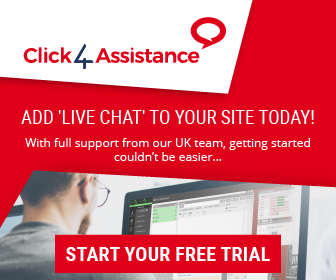 Stack your video chat with live chat website software
As your video chat provider, Click4Assistance won't leave you in the dark about the other communication goodies we have in store for your local authority. Live chat website software immediately streamlines your customer service communication and reduces your call volume, by simply offering an alternative communication channel. Many customers do not want to wait for an indefinite timescale in a telephone queue, and will opt for a live chat box for website since they can instantly speak with a customer service agent. Your customer service agents will also be much more productive, since they can chat with multiple customers simultaneously, unlike with telephone calls which is strictly one-on-one. If your local authority levels up their customer service with artificial intelligence chatbots, your customer service agents will experience a dramatic improvement in productivity and efficiency, since the chatbots can manage much of the basic tasks without human intervention, making your local authority more responsive and always online while being cost effective.
With the completely customisable dashboard, your customer service agents will be able to seamlessly access their workflows from any laptop or desktop computer with a Chrome browser, making Click4Assistance one of the best remote working live chat software options for your local authority.
For over 15 years, Click4Assistance has been supporting local authorities with their customer service software solutions. If you're interested in deploying Click4Assistance, the UK's premier GDPR compliant live chat software solution, to increase your local authority's productivity for 2021, give us a call on 0845 123 5871 or send an email to theteam@click4assistance.co.uk and one of our experts will be with you right away. Not ready to reach out yet? Discover how it works, try a demo, or better yet, try Click4Assistance completely free for 21 days.