How to set up live chat on websites in 2023
What is live chat?
Live chat typically refers to an online chat support system that is focused on text instead of voice. It's essentially like a chat box that you use to communicate with your customers whenever they have a support-related query. These systems can be managed by the company itself, but they can also be a cloud-based service that is managed by another company. Users can log on to a dashboard and then answer customer queries or assign operatives to specific tasks. The information can also be saved for reference or training purposes in the future, and customer data can be saved into different kinds of customer management software.
From a customer's perspective, live chat is usually a small button at the bottom right of a website. This button can then be pressed to open a chat window. Messages entered are sent directly to the live chat system which is usually visible to all support staff of a company. A customer support specialist is then assigned to that chat and will proceed to help the customer with their problems.
This saves time in the sense that an operator can get straight to answering the customers questions, rather than going through the tedious process and exhausting precious time hounding people for personal information instead of securing that all important sale.
Live chat for websites is a great way for businesses to handle customer support. Instead of needing to answer calls and make customers wait on hold due to a lack of staff, a single person can handle multiple support queries thanks to the help of a dashboard. These dashboards are excellent for managing multiple threads, and a support operative can escalate problems to senior staff if necessary.
The entire system is a lot cheaper and easier to manage than most support systems too. There's no need to set up multiple phone lines and you don't need to hire an entire team of staff that waits around on a phone. You also don't need to hire staff local to you. You can recruit support staff from around the world because it's a job they can do remotely.
What industries are using live chat and why?
Firms in a range of service industries stand to benefit significantly from webchat. These tools let them communicate easily and conveniently with potential customers while reducing overhead.
According to a Twilio study, more than 90 percent of people want to use messaging to interact with firms. 6,000 consumers from more than seven countries said they preferred it to phone.
Here are some examples of how specific service industries can benefit from webchat:
Consulting firms work more closely with their clients than practically any other business. Prospective clients don't always want to call consulting firms directly. But finding out precisely what they can deliver is hard to determine from a cursory examination of their web pages. That's where live chat can help. Leads can actively ask consultants questions about what they offer and get quick responses. They can then use this information to determine whether they are a match.
Live chat is also invaluable for healthcare. According to research, patients would much prefer to communicate with their doctors using text than via other methods. The benefits of this for online pharmacies are clear. Live web chat makes it easy for patients to ask questions about prescriptions and what they should do next. They can also talk to pharmacists about the over-the-counter medications they should buy to manage their symptoms.
Universities, schools, and colleges get asked questions by both applicants and their parents every year. During peak times, phones ring continuously, and staff often find themselves answering similar questions. Live web chat for website pages is the obvious way to reduce workload and provide students with the information they need efficiently. They simply log onto the site, type in their question, and then get a quick response, either from a human professional, or an automated chat service.
Insurance providers are another service that relies on vibrant communication with customers. Live web chat is a great way to break the buyer cycle. Reps can actively communicate with customers the moment they arrive on your site, asking them about their needs and then telling them about how they can help. Customers can then get answers to all their questions and find out more about pricing.
The release of ChatGTP also appears to have been a wake-up call for tech giants such as Google. Following the tool's release, the company called founders Larry Page and Sergey Brin to review its product roadmap and establish processes to speed up project approvals.
Google will also speed up the rollout of more than twenty AI-powered products in the pipeline this year, according to the New York Times. AI search features, the company claims, will arrive soon and provide users with a more conversational experience.
Direct competition from OpenAI is less likely. The Elon Musk-sponsored firm is not trying to compete with Google because its mission to "ensure that artificial general intelligence benefits all of humanity" is different. It just seems like a rival right now because of the sheer potency of its creation.
How to add live chat in
5

easy steps:
1. Sign up for a free trial account.
The best providers on the market today will offer a free trial that enables you to use the software without having to commit any money. The free trial enables you to use the solution without needing to enter your credit card information.
You should automatically receive two separate emails. The welcome email will confirm your account name, domain, email address and password. A download link for the desktop application is provided to make it easier to install the live chat software on multiple PCs. The other email will have the script attached and include contact details for our support department.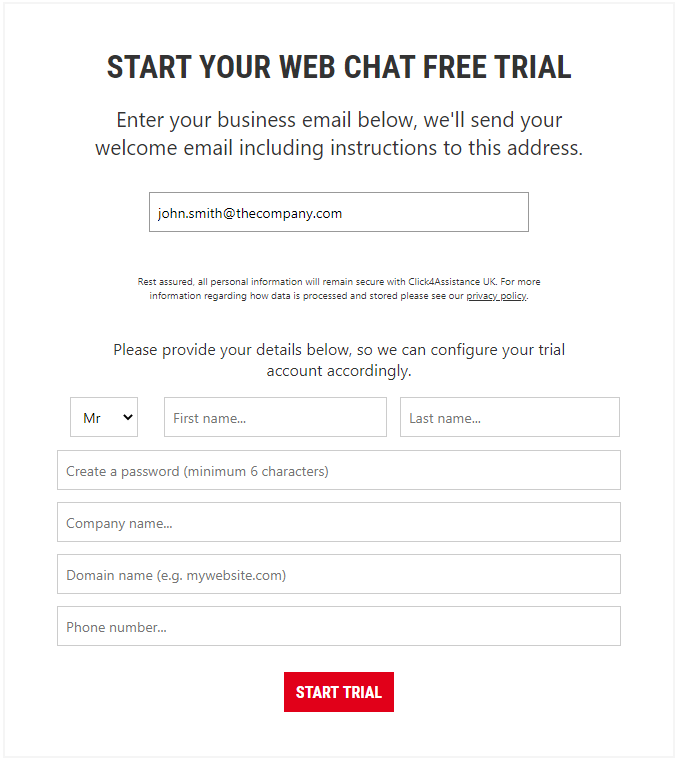 2. Customise the chat window.
You should always look for a supplier who provides you with a customisable visitor interface. We are living in a day and age whereby personalisation is now considered a necessity rather than a luxury. Whenever someone communicates with your business, they want an experience that is tailored to them. They do not want something too generic. Therefore, you need to make sure that the live chat experience offers the level of customisation that you need to keep your customers satisfied.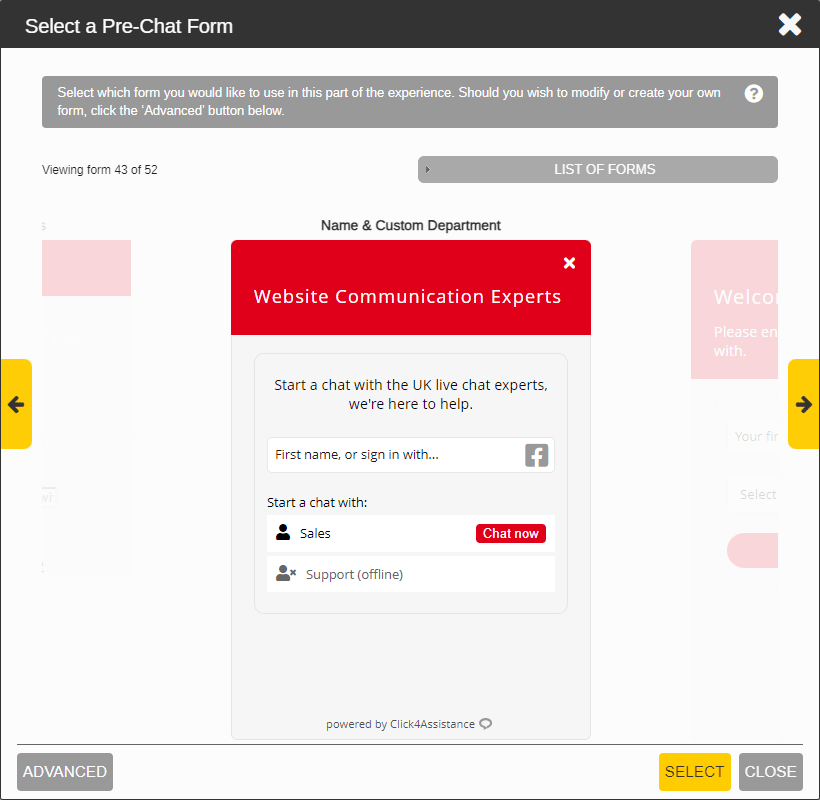 3. Add the script.
To get the chat button to display on your website, you are going to need to find the correct script. This is something that we have made easy for new users on our website. We have a pop-up window that will appear when you log in for the first time. Once you do this, you will simply need to copy the script and then you can paste it within the <BODY> and </BODY> tags on your website.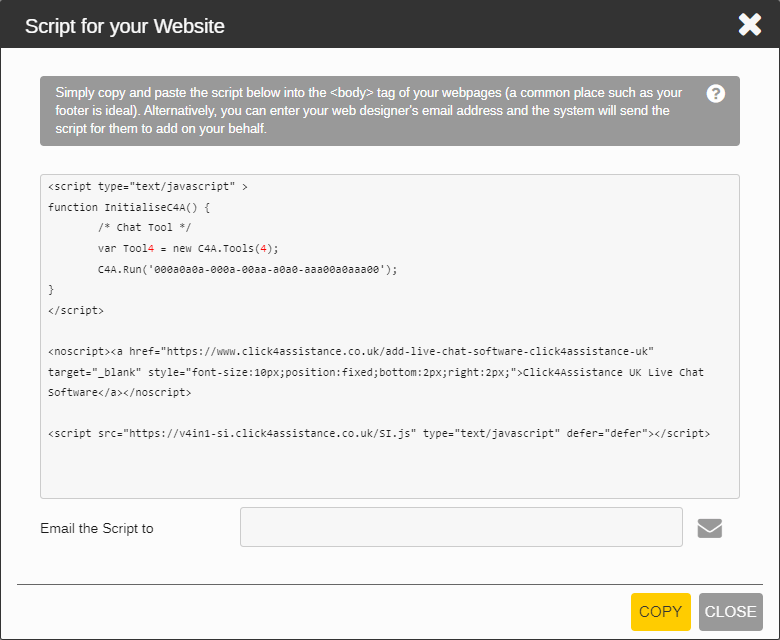 4. Install the desktop application.
Most users will select to download the simple install method but if you're a little more tech-savvy, and have a network of computers to set up, go ahead and download the .msi file for manual distribution. Install on your PC or the network respectively. You can also access this software online if you use a MAC or operate on a hot-desk system.
5. Integrate with other platforms.
Our live chat integration provides a seamless and continuous history of customer interaction. Our secure system is compatible with multiple platforms with full authentication, providing APIs using SOAP web services and JSON.
Full integration with Google Analytics enables 'Event' logging, providing direct recording of live chat goals within your GA reporting for comparison and analysis.
Integrating MS Dynamics 365/Salesforce directly into your customisable Click4Assistance dashboard provides agents with a 360° view of customer records, allowing access to the full context of all communications.
Now you're live!
Congratulations! Now you can ensure that agents are logged-in to the software, so that chats can be handled on the Dashboard or take enquiries whilst out of hours and receive the details so that you can contact visitors in your own time.
Here are some other things you may wish to consider after going live:
Why not add a Proactive?
You may want to configure an experience that automatically displays the chat widget after a certain amount of time. By default, you will have a reactive experience that generates a button on the page that dynamically alternates between an online and offline state, however a proactive can make the window appear automatically after a set amount of time based on defined rules.
Add a Chatbot?
The first thing you'll need to decide is what type of chatbot you want for your website. At Click4Assistance, we offer two types of chatbot: Artie, an AI-powered chatbot, and Coni, our smart formbot. Coni is our most cost-effective chatbot and provides a lot of great features for your site.
Your choice of chatbot will depend on the size of your business and the level of support you want to provide through your chatbot. AI chatbots are useful to answer a lot of common customer queries, while formbots can provide simple functionality to help you gather data ready for follow-up communications.
Unfortunately, it's not always economical to pay a human being to perform the role of agent, leading to disgruntled customers who go elsewhere. Chatbots are a solution to this problem. They can keep customer conversations going even when you're not there, improving service quality and maintaining brand reputation.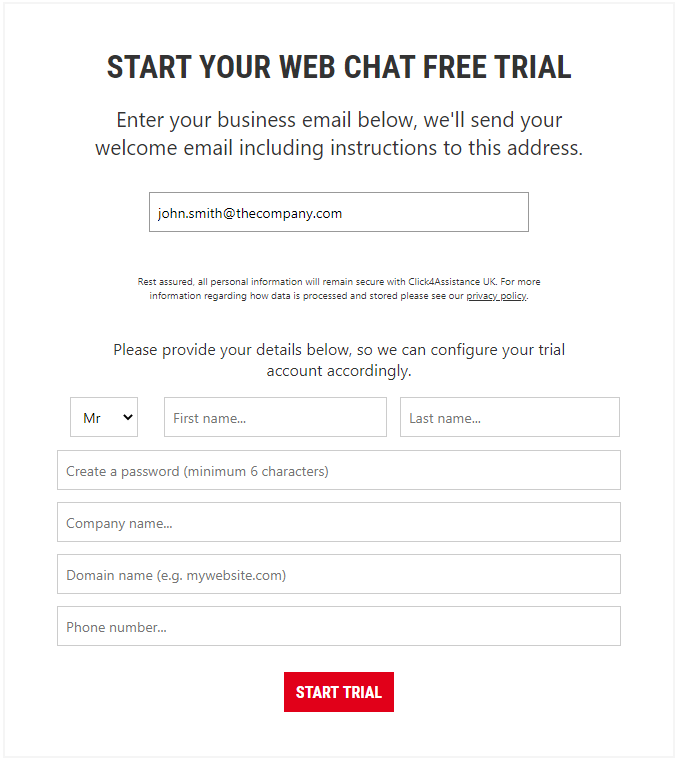 Reporting on visitor conversations
Over time you'll start to collect data and can report on the chat aspects such as the full transcript and details that were collected throughout the experience. These reports cover a range of summary statistics and performance analytic, all located in the Reports module.
Conclusion
Ultimately, adding live chat software requires following a simple, step-by-step process. All the hard work has already been done for you. Primarily, it is a matter of configuration and customisation.
Just to recap, the five easy steps to add live chat are as follows:
Sign up for a free trial account.
Customise the chat window.
Add the script.
Install the desktop application.
Integrate with other platforms.
FAQs
We understand you may have some burning questions after all this information. Below are a few of the most commonly asked and if your one isn't here, then please feel free to get in touch with our friendly support team either by phone (01268 280826) or email (support@click4assistance.co.uk).
How much does live chat for website cost?
The licences work on a concurrent basis - that means you can set up as many user profiles as required, you only need to purchase licences for the number of users that will be logged in at the same time. For a more in-depth breakdown of each package, see our pricing page.
Is it difficult to add chatbot for website?
Not at all. You can even follow our helpful article on creating a chatbot today, with very minimal coding knowledge required, and a visual drag and drop display.
How do I integrate with direct messaging platforms such as Facebook and WhatsApp?
Incoming messages from Facebook Messenger, WhatsApp and SMS can all be handled in one place and routed to specific or multiple departments depending on the size of your organisation. You also can automatically send welcome and unavailable replies based on your agent's availability. Please see our direct messaging page for more information.
How do I get an email of the conversation that took place?
You can specify an email address that will automatically receive a copy of the transcript in the experience settings, once the chat has been completed or manually enter the email when storing the chat on the Dashboard.