DATE
TAGS
AUTHOR
VIEWS
Live Chat for Website is Accessible for Everyone
Some people may have impediments that cause them to struggle with face to face or telephone communication. Mental phobias, visual and hearing impairments are something people have to deal with every day. Using a live chat solution ensures that people's lives are made that little bit easier when it comes to asking questions.
Being hearing impaired, or having mental phobias can lead to upset when talking on the phone – as it's not for everyone. They can also have an impact on face to face engagements which can lead to the avoidance of certain situations, considered in a negative manor.
Spreading Positive Vibes with Live Chat for Website
Customers can engage in a positive way with text based communication between two or more devices, which has become popular over the last decade and an essential to the majority of young people now.
Other alternatives are being considered when looking for help with enquiries on the phone isn't for them.
Talking via text eliminates the worry of talking on the telephone – for example, it gives the person a chance to think about a response. Help them out by implementing live chat for website!
What IS Live Chat?
A live chat solution is software that businesses can implement onto their website to assist with enquiries regarding their services. It also:
Generates more leads and sales

Offer support and advice

To improve customer experience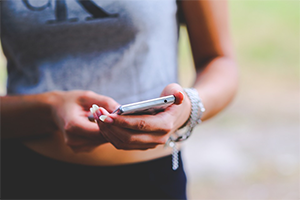 Anyone with learning difficulties or hearing impediments who find it easier to communicate via text can adapt to using live chat for website to engage with businesses. People who may have visual impairments are able to enlarge the resolution of the screen.
Bloom Hearing Using a Live Chat Tool
Bloom Hearing are a company that provides hearing aids and give advice to people who have hearing impediments. They approached Click4Assistance in early 2016, to assist with enquiries for people looking into purchasing hearing aids, or that may have after sales enquiries. A live chat tool is the perfect enhancement to their website, and has been well received by their audience.
Click4Assistance like to ensure that our live chat for website is accessible by everyone and have been working with all types of charities and organisations for over a decade. For more information about how our live chat tool can benefit your website, call us on 0845 123 5871 or email us at theteam@click4assistance.co.uk , or start a chat with us for a free information pack!