DATE
TAGS
AUTHOR
VIEWS
Be More Prepared for Key Dates with Live Chat for Website
We are now halfway through the year but for universities this schedules the start of a very busy season.
July starts with the last date to apply in Extra for 2017 entry, and the opening of clearing / late applications that sees university and course spaces made available, students can apply for choices they previously wouldn't have necessarily considered.
On the same day International Baccalaureate results are published. Students who have completed the career-related programme can consider higher education as one of their progression paths.
Middle of July sees universities and colleges having to make a decision on the applications submitted by 30th June, where potential students need to reply a week later.
August provides students with their results from SQAs and A Levels, armed with their actual grades students have a couple of weeks to meet with the remaining conditions and make adjustments before the deadline on 31st August.
September starts with potential students being able to submit completed 2018 entry applications to UCAS. Later in the month the final deadline is set for 2017 entry applications, with September finishing with clearing / late application vacancies being removed from search.
October is the last month of the year for key dates, with a deadline for 2018 entries for the:
University of Oxford
University of Cambridge
And for most courses in:
Medicine
Veterinary Medicine / Science
Dentistry
And the last date for potential students to add 2017 entry Clearing /late application choices and for universities and colleges to make decisions.
Improving Communication with Potential Students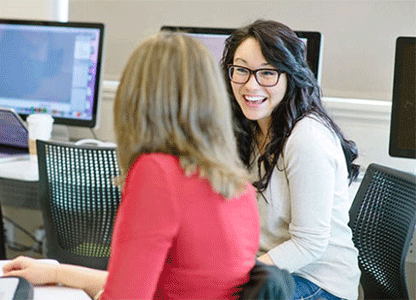 This is a colossal amount of communication between colleagues and with potential students in a short amount of time. Universities will receive a number of phone calls and emails during this busy period from thousands of students and not just located within the UK.
To deal with the sheer volume of questions universities can implement communication tools via their website to help answer repetitive enquires.
This can include one-to-one live chat for website that connects the potential student with a university representative in real time. The operator can handle multiple chats at the same time and use predefined replies to answer frequently asked questions. They can also open a new tab in the potential student's browser via the auto-navigate feature, this automatically redirects them to a page with more information to encourage them to self-help.
Meeting rooms can be used to chat with multiple potential students at the same time within one session. University representatives can provide information about a certain course or student aspect allowing students with the same questions to have them answered and other details explained. This can prevent the need for them to query it at another time, therefore reducing the staff member's time.
For potential students not located in the UK it can be costly to them to phone the university with their questions. Universities have been using Click2Call to reduce the cost to the high value individual. The visitor enters their phone number into a form, a representative is then notified that the potential student has requested a call, when it is accepted the operators and visitor are automatically connected over the normal phone network, therefore there is no charge to the potential student.
Click4Assistance has been helping universities to engage more productively with potential students for over 10 years, assisting staff from the Universities of Bradford, Essex and Royal Holloway through their busy peaks. For more information on the Click4Assistance solution and how it can benefit your university why not download our education case study from our Best Practice & Benchmarks support page.
Alternatively book a free demonstration with our education co-ordinator by calling 01268 524628 or emailing theteam@click4assistance.co.uk
Author:
Gemma Baker
Gemma is the Marketing Executive for
UK live chat software provider
, Click4Assistance, with a range of digital knowledge within PPC advertising, SEO practices, email campaigns and social media.