DATE
TAGS
AUTHOR
VIEWS
Show a Lot of Appreciation and a Little Bit of Love for Your Customers
Valentine's Day is a global tradition to show one another how much you care. It is not just couples that celebrate the day, friends and family can use the day to share their appreciation.
Many e-commerce sites can use Valentine's Day to offer deals and promotions to attract consumers to purchase. It may be a useful time for additional sales technique however; February could be used for organisations to show appreciation for their online visitors, by evaluating how they can improve their customer service.
Assess Your Communication Channels
When consumers have questions, they want to be able to contact an organisation easily and have their enquiry answered quickly. If they have difficulty finding contact details or have to wait a long time for a response they are not going to be impressed and will try other sites.
One of the best methods of serving your customers in timely manner is by implementing live chat for website software. Consumers do not need to hunt for contact details as the chat button remains in view as they browse. They also do not have to wait long for a reply as the visitor is connected with a representative in real time, via text based messages.
Consumers are able to directly enquire from the website without the need to swap platforms or device. More traffic to e-commerce sites originate from mobiles, therefore live chat is also completely mobile responsive so it seamlessly fits on your website and visitors have the best customer experience regardless whether they are browsing on desktop, mobile or tablet.
For visitors browsing your site on a mobile, it could be out of their call charges for them to call your organisation. Click2Call reduces these expenses as the individual can request a free phone call straight from the website that connects both the operator and visitor simultaneously. The great thing about this communication tool is that there are no queue's to wait in, visitors can continue browsing until their phone rings.
Tailoring Your Communication
For e-commerce sites that have offers in the run up to Valentine's Day, these can be displayed directly to consumers with the use of Promotions. They are images that present on the website when a visitor has met the selected rules; these can be timed or page based, for example an individual could have been on the website for 45 seconds, or have visited the homepage and 2 product pages. A Promotion can have a URL assigned, which if the image is clicked, the visitor will be automatically redirected to the relevant page.
All images, buttons and windows can be customised within 'Experiences' by Click4Assistance to tailor the experience for the customer. For an all year round look, the chat and call windows can simply be amended to have your company logo and corporate colours. For those with a bit of creative flair images can be created in applications such as Photoshop, uploaded into the solution and made into a form or window by modifying the html / CSS.
Why not try having a Valentine's theme this February: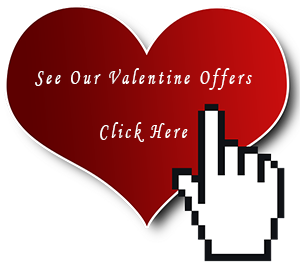 However you decide to customise your communication tools, there are guides available within the help system of the solution.
Click4Assistance has been supplying live chat for over 10 years to a range of industries and sized organisations. For more information on how your company can improve your customer service this Valentine's Day, contact our team on 01268 524628 or email thetam@click4assistance.co.uk.
Author:
Gemma Baker
Gemma is the Marketing Executive for
UK live chat software provider
, Click4Assistance, with a range of digital knowledge within PPC advertising, SEO practices, email campaigns and social media.