DATE
TAGS
AUTHOR
VIEWS
The importance of body language
Communication is the core of what makes us human. It allows us to connect on a level that is unparalleled to any other living beings. It makes us unique and allows us to develop deep, meaningful relationships with each other. Many communication experts have determined that 93% of our overall communication is non-verbal, through body language and eye contact.
When you're having a conversation with someone in person, there are so many subconscious non-verbal signals that we give which influences the direction and tone of the conversation. We would like to believe that our verbal communication is the most important facet, and while tone of voice does have a large part to play in this, our nonverbal communication is an entire conversation with another person that is fluid and effortless.
Get the full picture
In the financial sector, having a full context of what is being said and how a conversation is being understood is necessary to ensure there is clear communication. While this is important in every facet of life, it is especially important in finance. This is where video calling can bridge the communication gap left by audio and text only conversations. With Click4Assistance, you can access this at the click of a button in the middle of a chat with a client or customer, making the experience absolutely seamless, from the online chat software to the video calling.
Hand gestures, posture, eye contact and facial expressions are some of the most important nonverbal gestures we use, and without a physical meeting or a video call, we would lose that context, which is 93% of context according to many studies.
Video conference calls can help to provide a more clear picture of understanding, and build a deeper relationship with your customers. Those deep relationships create an environment of trust, which is absolutely critical to all financial agencies, regardless of size.
Save time and money
Every company loves the ability to save time and money, but sometimes this comes at a cost in efficiency or productivity. With Click4Assistance, you save time and money and increase productivity and efficiency instantly. Video conferencing with customers via Click4Assistance will reduce the time spent travelling or in traffic and for those who have to travel overseas for meetings, it saves the costs of flights and hotel. Because you've saved that time, you're instantly more productive since you can now do so much more with your day, and Click4Assistance's integrations make moving from live chat to video calling and updating customer records seamless, thus skyrocketing efficiency. This is a massive win-win for your financial agency.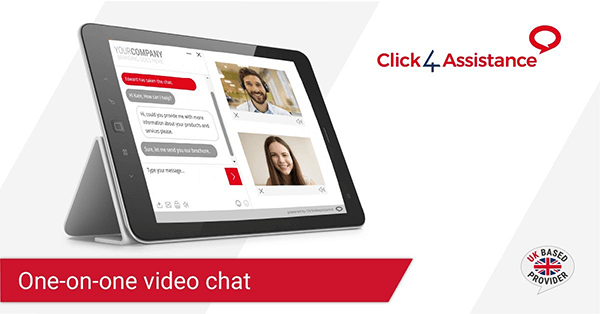 Click4Assistance has vast expertise in customer service communications in the financial sector as the UK's fully GDPR compliant online chat software provider with over 15 years of experience. We ensure your data is safe and secure, and you can have peace of mind knowing that your conversations with clients are 256 bit encrypted, therefore safe from prying eyes.
Along with seamless video calling with live chat, Click4Assistance also offers social media integration so all of your customer communication from social media and live chat are in the same place, reducing the need to switch apps to keep on top of incoming messages. There is also a seamless CRM integration, so your customer service team will have a comprehensive customer history when speaking to them, increasing productivity instantly.
The icing on the cake is Artie, Click4Assistance's AI ChatBot. He instantly engages all of your website visitors no matter how many or what time it is. He keeps your business active online even when your office is closed and because he's so engaging, your customer experience ratings on your online chat software will immediately improve while sharpening your financial agency's competitive edge. He's an ideal addition to your customer service team.
If you're interested in deploying Click4Assistance, the UK's premier GDPR compliant live chat software solution, to make your financial agency more effective in 2020, give us a call on 08451235871 or send an email to theteam@click4assistance.co.uk and one of our experts will be with you right away. Not ready to reach out yet? Discover how it works, try a demo, or better yet, try Click4Assistance completely free for 21 days.