DATE
TAGS
AUTHOR
VIEWS
How responsive is your social media instant messaging?
There is not an industry that has not been rocked by the social media wave and similarly the explosion of live chat for websites, the finance sector is no exclusion from that. While you don't think of social media when you think of finance, your customers are all there, always online, and engaging with hundreds of brands in the online space. Business has moved online, and it's time to face the music or be left behind.
More people are using social media messaging apps than the social networks themselves, indicating that instant messaging is now taking over from instant infinite scrolling media consumption. It means that business communication has moved away from phone calls to instant messages, alongside the shift from traditional office hours to always open, always online. No industry has escaped this shift in communication, and the businesses who don't evolve as technology expands get overtaken by tech-savvy competitors. But fear not! Click4Assistance is here to save the day! with a fully intgerated chat for websites with with your social channels implementable.
Increase productivity and save money
Usually, these two things don't always go hand in hand, but in Click4Assistance's case, it definitely does. Productivity is paramount for any customer service team, but especially for those in high stress industries, like finance or travel. When a customer sends you an instant message, they are expecting a response. If they have a stressful issue that needs rectifying, then the responsiveness needs to be within minutes, ideally immediately. Providing a 24 hour immediate customer service can get quite expensive if you're looking at expanding your internal team to accommodate this, but there are ways to achieve this, without the pressure on your customer service team.
Click4Assistance's AI chatbot, Artie, can respond to an unlimited number of people simultaneously, making him the ideal first point of contact, for both live chat for websites and social media messaging. He can answer basic questions and help navigate the website and knowledge base without human intervention, and provide limited support while awaiting an available customer service agent. Artie does not sleep, allowing him to be available to all website visitors and social media users, whenever they send a message, even after office hours and on bank holidays. Essentially, your customer service will suddenly become 24/7, always online. Using artificial intelligence, you save time, increase productivity and reduce costs by adding one simple feature.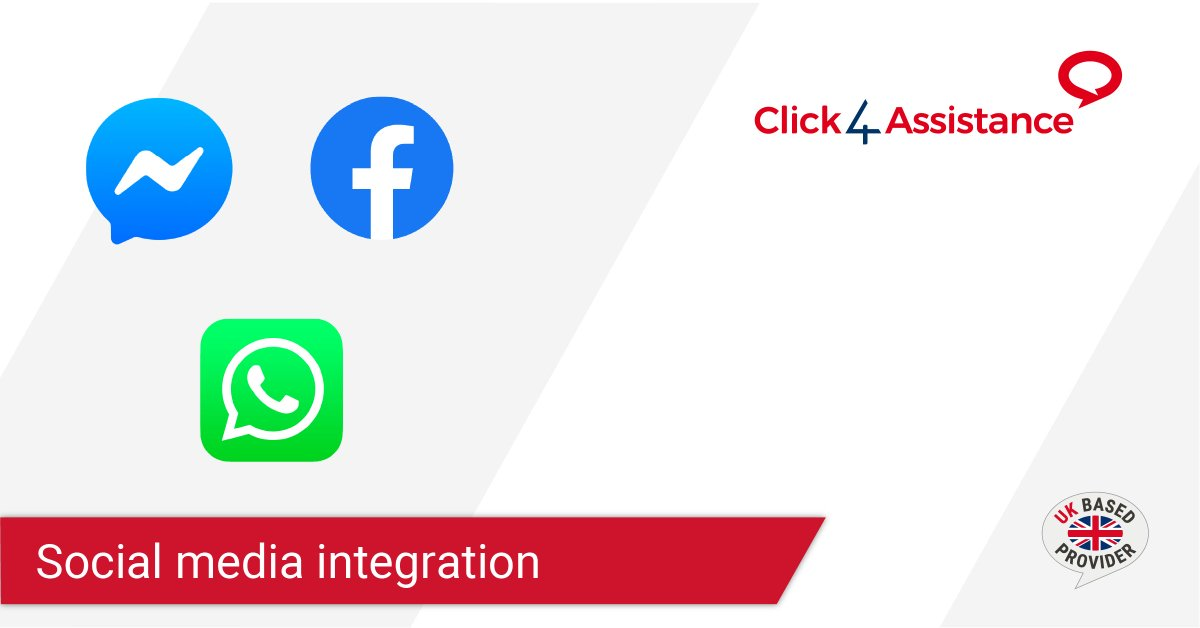 Stack with live chat for more privacy
Most customers trust secured payment pages with their financial data, but did you know that our live chat for websites solution is also secured to the same encryption level, making it just as private and secure? While social media messaging, like Facebook Messenger, is convenient, the data transferred can be intercepted by the network itself, making it an unfavourable option for many companies who have to deal with sensitive information. However, what if you stacked live chat with your social media messaging? How about when someone reaches out via social media, you engage, but when it comes to the more sensitive stuff, you move over to a Click4Assistance live chat window? Sometimes your customers prefer social media to reach out, so rather than ignore them, acknowledge them and move the chat over if needed. This is one method to get the best of both platforms, by using social media messaging where your customer lives, and using live chat for websites software that's private and secure. That is an instant messaging win-win.
It's all integrated
It sounds like a lot of work if you're using both social media messaging and live chat together, but it's not. With Click4Assistance's social media integration, your live chat and social media instant messages from WhatsApp and Facebook Messenger are all in one place, on one dashboard, from one application, right there on your desktop. No need to keep switching applications to check messages on different apps.
And when you add artificial intelligence, Artie, the AI chatbot, can engage all the incoming messages immediately, taking that pressure away from your internal customer service team. Artie also turns your business into an always online business, by being available online 24/7, to speak with an unlimited number of visitors simultaneously. He would make an excellent addition to your customer service team.
If you're interested in deploying Click4Assistance, the UK's premier GDPR compliant live chat software solution, to make your financial agency more effective in 2020, give us a call on 08451235871 or send an email to theteam@click4assistance.co.uk and one of our experts will be with you right away. Not ready to reach out yet? Discover how it works, try a demo, or better yet, try Click4Assistance completely free for 21 days.