DATE
TAGS
AUTHOR
VIEWS
Origin Housing Improves Communication with Residents via Live Chat
Origin Housing is a registered social landlord and an exempt charity who provides over 6,500 affordable homes in London and Hertfordshire as well as related care and support services to their residents.
They originally started in 1924 as St Pancras House Improvement Society, a charitable organisation with the belief that good quality affordable housing is a foundation for a successful life.
The charity introduced website live chat at the beginning of the year to make it easier for their customers to contact them about any enquiry.
They have implemented their website live chat in both a reactive and proactive manner. This helps to increase their chat uptake.
Start of the Visitor Journey
The reactive chat starts the journey with a button on their website. Origin Housing has enlarged the button in order for it to stand out on their website, whilst ensuring it complements their branding.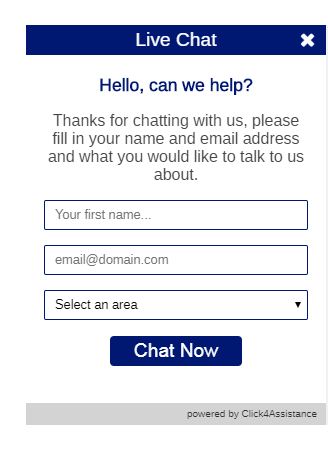 The proactive implementation appears after a few seconds of the visitor being on the website. It automatically displays a pre-chat form that gathers the visitor's name, email address and the area that the resident wants to discuss (general enquiries, hospital accommodation, pest control etc.) Once completed, they are routed through to the relevant advisor who can help with their enquiry.
When the visitor clicks on the reactive button a similar pre-chat form is presented collecting the same information as the proactive implementation as well as offering existing residents to enter their house number and postcode.
Adding the extra information on the reactive pre-chat form helps the agent know who they are speaking with straight away. This reduces the time spent in chat on identification. Requesting less information is more psychologically reasonable to individuals as they feel safer, therefore this increases the uptake of the proactive implementation as it's the organisation that's reaching out to them to start a chat.
The Conversation and Beyond
Both types of implementations then follow the same journey with the visitor being directed into the chat dialogue window. Origin Housing has continued using their brand colour in all the windows; in addition, their logo has also been included as this is where the main conversation takes place. It reassures the customer they are in the right place, similar to a welcome message given over the phone – good morning <insert company name> how can I help? Etc.
Once the chat has concluded, Origin Housing presents a post-chat survey to gather instant feedback regarding if the visitor's questions have been answered, how they would rate their experience on a scale of terrible to amazing, and what they would have done if website live chat wasn't available. This allows the social landlord to monitor their service regularly, ensure their agents are performing as expected and identify any areas for improvements.
Origin Housing's Opinion
Origin Housing's Digital Communications Officer has shared his thoughts on using the Click4Assistance solution; "We introduced live chat on our website to make it easier for our customers to ask us questions, and we're pleased with how it's going - we were able to fully customise the buttons and chat surveys and have used the data to help us make the website more engaging, and to provide a better service.
"The canned responses, ability to see what people type before they've sent it and ability to push people towards a webpage are really helpful for getting quick and good answers to our residents. Our operators like using the live chat dashboard, and the customisation is good."
Click4Assistance has been providing website live chat for over 15 years to a range of charitable organisations including housing associations, Citizen's Advice Bureaus and Mind. For more information on how we can help your company improve your website and provide better support online, contact our team on 01268 524628 or email theteam@click4assistance.co.uk.