DATE
TAGS
AUTHOR
VIEWS
The Only Reasons You Need to Partner With Click4Assistance
Click4Assistance is the UK's leading provider of live chat for small business and large enterprises. Established in 2004 Click4Assistance has been providing digital communication channels for over 15 years to improve online business.
From humble beginnings, an Essex developer took his endless nights working on code in a spare room to running a successful company. With ground-breaking technology and a cutting edge infrastructure, we regularly win large contracts with retailers, NHS organisations, police constabularies and local authorities etc.
Why Become a Partner
One-Stop Shop
When your clients ask about online communication channels with secure UK data storage, your partnership with Click4Assistance means you become the first port of call for your clients regardless of whether you specialise in web design, SEO services or other marketing practices.
Being a trusted provider means you can expand your portfolio of services and supply your clients with the latest ground-breaking technology helping you to forge stronger on-going relationships.
Increase Your Income
Our partnerships are flexible allowing you to determine the level of involvement, ranging from an affiliate model (attracts a share in the on-going profit), to complete ownership (implementation, customisation and development etc.)
With full support from our team, your revenue streams can include designing and branding services using HTML/CSS, integration and on-going update, and/or a percentage of the on-going monthly subscription.
What We Offer You
From initial enquiry to introducing your 10th or 100th client, we assign you with a dedicated account manager who is on hand to advise you throughout the process to ensure every client implementation successfully meets their needs.
For technical advice, our support engineers are also available to help with any enquiry regarding configuration, customisation or bespoke development.
Our team are based within the UK, along with all data. This ensures you and your clients are fully supported and comply with data protection regulations.
We continue to enhance the solution with additional functionality based on customer feedback and our own extensive knowledge. Our constant research and development ensures you have the latest technology to offer your clients.
'Experiences' by Click4Assistance
Released in 2018, 'Experiences' by Click4Assistance is the latest software developed by the UK provider; combining multiple communication channels in one intuitive digital solution.
With just a small piece of script to add to your clients' websites, you can offer and customise the following tools to maximise your income:
Live chat
A one-to-one communication channel, that instantly connects a website visitor to an advisor in real-time via text-based messages. Fully compatible with PCs, tablets and mobile phones; works with any website or CMS regardless of platform. Live chat for small business has been proven to increase engagement rates with online visitors, improve efficiency, help advisors to encourage visitors to complete online transactions and improve customer satisfaction rates.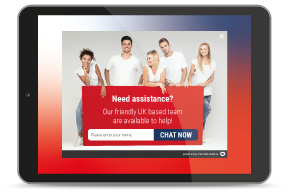 Video chat
One or two way, face to face live video streaming and voice engagement between your teams and visitors on your website. Have more meaningful interactions by seeing body language, qualify leads, close sales and improve customer service.
Chatbots
Powered by IBM Watson, our chatbots can prequalify a visitor with triage style questions and answer enquries it has learnt 24/7, with the ability to transfer to a real agent at any stage during the conversation.
smartContact
Collect visitor details using easy to add customisable enquiry forms. Launch a form via a button or proactively invite visitors to leave details all whilst they remain on the page as they complete their information, providing a smoother visitor experience.
Social media integration (Facebook, WhatsApp, text messaging)
Click4Assistance offers a full messaging system integrated with the platforms your clients are using on a daily basis. Simplify agent operations with all text based communication in one place and increase engagement.
Onsite Promotions
Display special deals, latest news or important information on your clients' websites and automatically redirect their visitors to crucial areas on the site. Present seasonal information and guide the customer journey to increase conversions and sign-ups.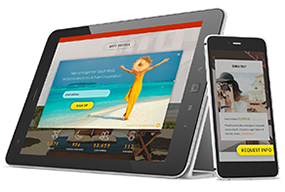 Meeting Rooms
Allows multiple participants to digitally collaborate in a single session regardless of location. Save time by presenting information to a group rather than on an individual basis. Offer virtual open days, host webinars, support groups, auctions and product launches.
Click2Call
Visitors can enter their phone number on your clients' website and instantly connect them with advisors using the normal telephone network. Automatically route calls to various departments within the organisation, overcome contact barriers and increase engagement.
Real-time activity and conversion tracking
Live monitoring of visitor behaviour as they browse your clients' websites provides full management insight for a clear picture of the customer journey. Conversion tracking notifies agents when a website conversion occurs; crediting the operator responsible if a chat took place.
For more information, take a look at our partner page or contact our partner co-ordinator by calling 01268 524628 or emailing theteam@click4assistance.co.uk.