DATE
TAGS
AUTHOR
VIEWS
Reports in Live Chat for Website Software
The reporting suite within the software is ideal for those who need to make decisions about chat operator productivity and visitor behaviour. For a higher level of management, information and key metrics aimed at larger chat operations.
Click4Assistance ensures the reporting suite achieves both summarised and detailed information using an extensive range of different reporting options. It's an effective way to provide data.
Reports can be run on demand; enabling the user to view the data instantly. It's beneficial for the user if already collating results or needing a quick performance review. Reports can also be scheduled for automatic delivery at the required frequency
How To: Run a Report
To access 'on demand' reports within the software, the user can:
Click 'Create new' to specify the parameters of the report

Name the report

Select the email address to send (if an email copy is required)

Refresh the view
Users can have reports automatically sent to them regularly instead of repeatedly running them, saving valuable time. The schedules can be accessed via the software under 'Reports/Schedules'.
Create new

Select type of report

Select frequency and output type

Enter email address
What are they used For?
Managers are able to highlight key information and identify aspects to help improve business operations and processes. The report suite holds over 60 reports and is broken down into simple sections to help users analyse specific areas.
Report groups reflect the modular structure of software that include; Tracking, Chat, Accounts and Proactives etc. The groups are structured in a logical way, enabling managers to query vital information that relates to the area of business. Marketing managers will have specific information for auditing and analysing purposes.
Tracking
Every visit to the website is stored and the reports provide in-depth analysis on visitor behaviour. Tracking reports present information including the time the visitor has spent on the website or specific page, the keywords they used to reach the website and information about the visitor themselves – where they're from, which pages they have viewed and much more.
Accounts
Managers will find collated data from call backs and website feedback forms. Historic operational information is also provided, regarding the online/offline availability and user audit relating to the complete account, specific routing groups or operators.
Proactives
Information on the number of invitations sent, received, declined and accepted can be monitored and analysed.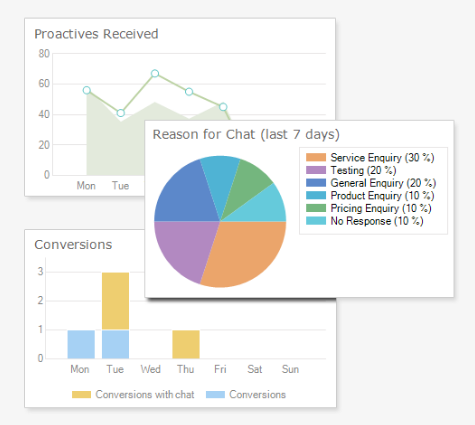 Chat
Information of all aspects of chat are presented here. Click throughs, aborted chats and operator productivity can be viewed historically. Both chat and operator KPI's can be analysed from the survey results to understand the visitor's perception while measuring performance to achieve greater customer satisfaction levels.
Visitor Management System (VMS)
When the conversion tracking is used, both summarised and detailed information is available. Particular reports for credited operators, referrers, keywords and search engines can be accessed. This section also includes reports pertaining to the internal contact system.
Popular Reports
Chat Details
This includes the categorisation of the chat and the transcript. The visitor details are also shown along with the feedback results and extra notes. The information displays all the details relating to each individual chat that has taken place. The filters include:
Frequency: Daily, weekly, monthly

Criteria: Operators, workflow and website

Output: HTML
Operator Productivity
Operator performance and overall productivity is measured to increased customer satisfaction and analyse operations. Workload, response time and chat duration can also be monitored and if there's a successful conversion, the operator will be credited.
Bespoke Reports
Click4Assistance can manage these types of projects through to implementation within the software.
Every company will have management requirements:
Datasets – the data required and provided within single or multiple reports

Presentation – visual presentation including the layout and design, using raw data and charts

Formats – including HTML or CSV or XML

Delivery – on demand, email delivery, sharepoint or other method of electronic communication
Click4Assistance offer a complete bespoke report facility which includes complete scoping and consultation to understand the company's exact needs providing a full project management service to ensure punctual delivery at a pre-agreed time.
Integration
Businesses may want to combine the Click4Assistance software with their own system streamlining processes. Larger organisations use a variety of internal business management systems including CRM, ERP or in house designed systems, managed by their own IT department.
We offer a range of data extraction APIs to achieve the required level of integration. Working alongside your IT department, Click4Assistance can develop automated plugin modules allowing full 2-way data exchange functionality across any platform.
For more information about reporting within the Live Chat for website solution, contact our account managers on 0845 123 5871 or email us at theteam@click4assistance.co.uk to request a free information pack.
Author:
Rae Boyling
Rae is the Marketing Assistant for
UK live chat software provider
, Click4Assistance. Rae produces content for articles appearing on the Click4Assistance website and email campaigns.