DATE
TAGS
AUTHOR
VIEWS
Small Families Holidays Answer Queries via Chat for Website Software
Small Families Holidays are the UK's first single parent holiday specialist established by Allan and Carole in 2001. Both have a wealth of experience in the travel industry, with Allan being the founder of International Adventure who are a business providing air and sea travel packages to Norway, Sweden and Finland.
Carole's career in the travel and leisure industry has seen her holding various senior management positions within the Rank Organisation, Solo's Holidays and most recently, as the UK's Operation's manager for Costa Cruises.
With many holidays aimed at a nuclear family, it's rare that companies will lower their offers for a single parent family. Small Families offer all-inclusive deals that single parent families can afford. Plus, everyone should be entitled to some personal time and going on holiday gives them the perfect excuse. Single parents taking their children away have limited time to themselves, Small Families organise holidays for groups, so parents don't have to travel alone and their children can make friends from day one!
Improving their Customer Service
Small Families Holidays use an instant communication channel on their website which enables visitors to ask questions directly through the website. Implementing Click4Assistance chat for website software in 2012, Small Families have been achieving more leads and offering great customer service with Live Chat ever since.
It was essential to Small Families Holidays that their chat for website provider was UK based, offered value for money and had a high standard of customer service. It's also significant that the software quality is outstanding. They did investigate two other providers however decided on Click4Assistance, as we are UK based and offer an exception level of customer service.
Small Families Brand
Small Families' implementation included using an embedded chat button next to their phone number. They have customised the chat windows with their brand colour and logo, which ensures their visitors can trust that they are speaking with the company agents directly, rather than a third party provider. Companies that customise their windows and button will find that customers are more likely to return to their site and use Live Chat again.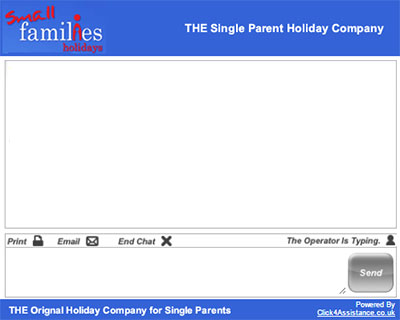 Why the Service is Helpful
Many travel companies experience high levels of demand during summer holiday seasons and throughout the year, seeing an influx of emails and never ending phone calls. However, some customers may have difficulty reaching the company by phone or wonder 'have they received my email yet?' Providing Live Chat for website means the visitor can ask questions straight away and receive an instant response from an agent. Live Chat reduces the amount of emails and calls; in addition agents can deal with multiple enquiries simultaneously.
What do Small families Have to say?
"We specialise in providing overseas holidays for single parent families, such a niche market generates a lot of questions and C4A Live Chat has proved a very popular method of instant contact as potential customers are much more likely to use the Live Chat than to phone us initially. We had a couple of ideas that we thought would improve the user friendliness for the operators in couple of areas and a full software upgrade soon followed which has fully addressed this. Another very big benefit is that C4A is UK based, so the product support has and continues to be brilliant which is so important." - Small Families Web Marketing Manager.
For more information and to receive a free case study, contact our friendly team on 0845 123 5871 or start a chat with us today.