DATE
TAGS
AUTHOR
VIEWS
Be part of the Black Friday phenomenon by using a Live Chat Facility on your website
Get Prepared with a Live Chat Facility for Black Friday which is 27 November 2015, will no doubt once again be the biggest shopping day of the year, when retailers offer drastic deals and discounts on their products to kick-stat the Christmas Shopping season. Traditionally Boxing Day was the day for big sales but that trend is changing.
In 2014, British consumers spent a staggering £810million on Black Friday which is a rate of £9,375 every second! This year that figure is expected to surpass a colossal £1billion, with some experts predicting that's how much shoppers in the UK will spend on online purchases alone.
How can your Company prepare and share in the £1billion sales?
Do you offer Live Chat on your website? Live chat services are proven to generate more leads and sales than other communication methods. The Click4Assistance Website Chat Software can also provide other useful tools such as conversion tracking and analytics tool enabling your Company to:
• Watch visitors in real-time as they browse your website
• Engage with visitors by pro-actively offering your assistance and help
• Allow potential new business leads to leave messages, even when off-line
• Gather vital feedback using customisable surveys
• Automatically push promotions and advertising materials
• Understand web visitors behaviours, by finding out how your website is found

Chat solutions have the potential to change your website visitor's perception of your business. Choosing to add a live chat facility to your website will give you a fantastic means for communication with your website visitors like never before. This leads to increased productivity as it enables operators to:
• Respond to commonly asked questions using short-cut keys
• Automatically navigate visitors to any page of your website
• Understand how visitors arrive on your website, together with the keywords they used
• Proactively engage with visitors when they require help or advice
Installing a live chat service is a cost effective channel too, as it means your operators can handle more than one chat simultaneously, they can multitask if the visitor goes quiet or takes a long time to respond, it can also save your operators time, as the software can send follow up emails during the chat rather than at the end of the chat thus saving time and leaving your team to move onto the next enquiry, therefore effecting resource savings within your various departments.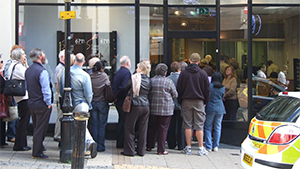 Prepare for Black Friday with our live chat facility 21 day FREE trial.
We believe no commitment should be made until you experience the benefits of website chat software and see the increased productivity for yourself. For this reason, we offer a 21 day free trial, with no obligation to subscribe. Once you have decided to subscribe, your commitment is based on a 30 day rolling agreement, with no lengthy contracts or big commitments. This is the perfect time to prepare for Black Friday 2015 and increase your sales, using our chat solutions.
Why choose Click4Assistance live chat solution
Click4Assistance are a UK based provider, who's dedicated Account Managers offer fantastic customer service and a fully customisable visitor interface. Click4Assistance really stand out from the rest as we have a wealth of experience working with clients in a wide variety of market sectors, providing a stable, robust and proven live chat facility, regardless of your company's size or requirements. We have worked with some of the UK's biggest and most recognisable names including The Economist, West London Motor Group and Oxford Brookes University to name just a few.
Our systems are located within Telecity UK, a company which operates some of the largest and most secure data centres in Europe. By managing all data here in the UK, it ensures we adhere to FCA regulations. Data is transmitted using 256bit encryption and stored using the latest secure algorithms.
What are you waiting for – there are 29 days until Black Friday!
For an informal chat to hear about how live chat service can help improve your productivity, customer service and increase your sales or to arrange a free no obligation software demonstration, without the pressure to subscribe, contact the team on Tel: 0845 123 8971 or email us on theteam@Click4Assistance.co.uk or start a chat.