DATE
TAGS
AUTHOR
VIEWS
What's the benefit of video chat for business?
Video chat software adoption rates have run through the roof globally in the last month as the world is swept by coronavirus, however, video chat has been widely used around the world for the last 30 years. In the early 1990s, universities, executive management teams, large sales departments and training teams started adopting video conferencing and purchasing web cams in order to streamline communication overseas. Home computer packages offered free webcams to sweeten the deal, and laptops later hit the market with integrated webcams in the mid 2000's.
Skype, Apple and Cisco were among some of the early players in video conferencing software, with Skype dominating the domestic markets and Cisco being a large player for commercial markets. But it wasn't until smartphone technology flooded the market and companies like Apple released video conferencing like FaceTime over mobile data networks that we saw a dramatic rise in the use of video conferencing, and its usage just grew at a fantastic momentum.
Today, video chat is used ubiquitously to connect the globe. Families keep in touch overseas, while businesses connect with teams half a world away like never before. Head offices have update meetings with offices in other countries, and companies can hire subcontractors and teams from abroad to manage workloads and reduce costs. Without the internet, video & chat for websites communications, business would not be the same.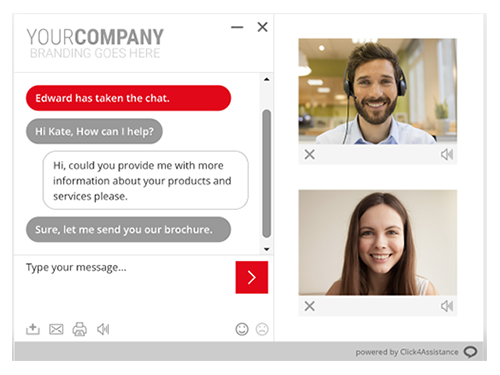 Meet more, spend less
The biggest benefit of video conferencing in business is the travel cost savings. Thirty or forty years ago, deals between businesses and vendors would have to be negotiated in person, which would mean a team of executives would have to fly to another country, stay in a hotel for at least a few days, and the company would have to cover the cost of food and any other expenses the trip would incur. Today, a company in London can easily meet with a team based in New York or Tokyo without even leaving their office desk. We can now speak with companies everywhere without the pressure or financial strains of decades ago, giving us more time to dedicate to critical work, and more cash flow to spend in key areas like employee enhancement.
With video conferencing being so widely used, it's not uncommon for many local businesses to also use this software to their advantage, as it saves a lot of time and money. Many small to medium businesses use video conferencing software like Click4Assistance to communicate with clients and suppliers on a daily basis, rather than physically meet them. This saves time in traffic and money from petrol, and increases productivity and reduces stress overall. It also allows for much high efficiency and provides an avenue for companies to work from home or work remotely. For some companies, working remotely can be done company-wide, eliminating overheads needed for an office space, furnishing and included bills.
93% non-verbal communication
Data shows that 93% of all of our communication is non-verbal, leaving only 7% to be heard over the phone, and less over text since tone of voice cues are absent in text based communication. Video calls give you as close to 100% communication as possible. People add a lot of context to a conversation by the way they gesture when speaking, facial expressions and subconscious body actions, like slouching when bored or sitting up when pay attention.
With voice only communication, you lose that context, but still have verbal communication with tones of voice, which allow you to orally "read" subconsciously what the person might be feeling based on their tone. This non-verbal data that we receive during a conversation is crucial to the way we reply. If someone is feeling uncomfortable, we can respond in a manner that relaxes them, not in an aggressive tone, unless the point is to make the person more uncomfortable. Eye contact is also a big factor when it comes to non-verbal communication and video chat for websites fills this gap well. In business, there are so many non-verbal cues that we use to make a client, customer or supplier feel more comfortable, which can be the make or break in sales and customer service. This is why you need a contextual form of communication to bridge the gap between 7% and 100% communication.
Click4Assistance offers reliable video chat alongside live chat software, artificial intelligence, social media chat integration and CRM integration all in one sleek desktop dashboard. It's reliable, robust and secure, complete with GDPR compliant state of the art data security. The software itself increases productivity as all of these features are in one desktop dashboard, and saves money as they are all bundled into one suite, ensuring that they all seamlessly work together.
If you're interested in deploying Click4Assistance, the UK's premier GDPR compliant live chat software solution, to increase your business' productivity for 2020, give us a call on 08451235871 or send an email to theteam@click4assistance.co.uk and one of our experts will be with you right away. Not ready to reach out yet? Discover how it works, try a demo, or better yet, try Click4Assistance completely free for 21 days.