DATE
TAGS
AUTHOR
VIEWS
Where do the public communicate?
Dealing with the public is hard, especially when you're a housing association. There are so many social dynamics at play when people come to you, and no two situations are the same. It can be an emotionally taxing role, especially if you have to speak with people over the phone all day. A telephone call can last 10 minutes or over an hour, and there are always more people to speak with than there are hours in the day. Often times, it can feel like you're fighting a losing battle, day in and day out, no matter how many calls you take, there will still be a long queue waiting to get through the next morning.
Some calls are easier than others, but you will always have the one call that no matter how you spin it, the person on the other end is still upset, and nothing you do seems to alleviate the issue, making them more annoyed and more likely to scream at you over the phone, depleting your own energy stores. We know what it's like sometimes, and it can be ruthlessly exhausting.
But what if there was a way that you could speak with multiple people at a time, one on one, in a less emotional environment that your customers are more familiar with? Live chat integration and social media messaging can provide this environment. With a live chat integration, you can speak with four or more people at a time, instantly making you 400% more productive by just using live chat software. Social media is already widespread and chances are your customers are already all social media every day. Since instant messaging has become a mainstay in communication, more customers are opting for text based communication options rather than sitting in a telephone queue for an unlimited time-frame.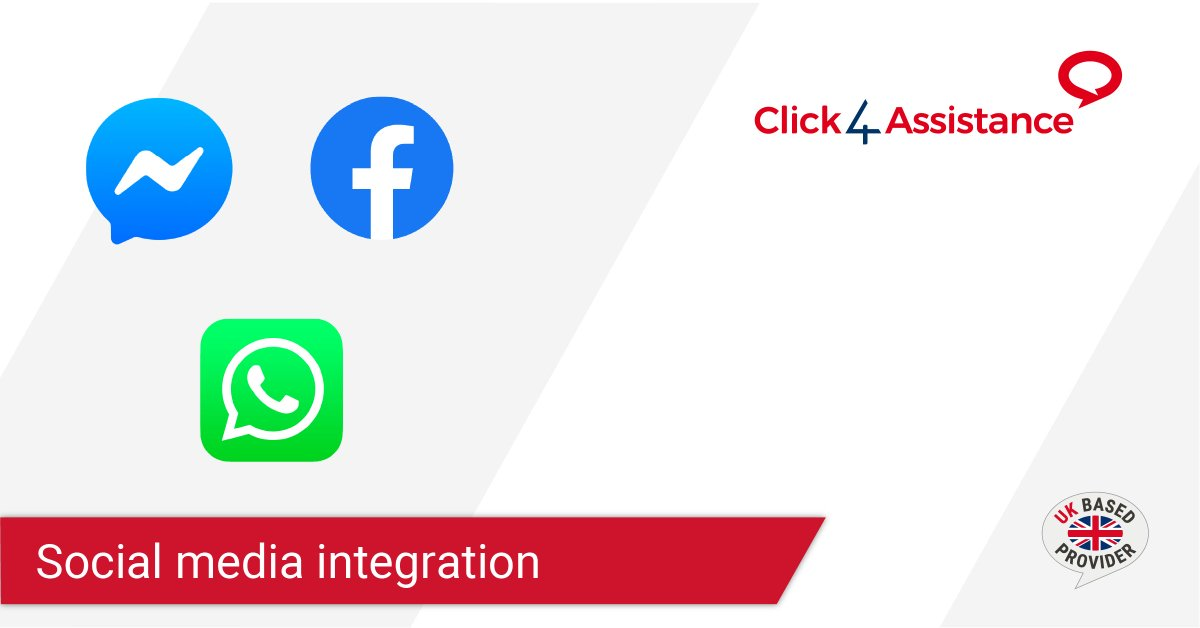 Instant messaging services, such as an integrated live chat software and social media, immediately reduce your call volumes, thus reducing the number of people waiting to speak with you over the phone. This in turn increases your internal customer service team's productivity, as they are able to speak with more people in a day than just using a telephone service. Also, this becomes much more cost effective for you, since your administrative team could spend this time more productively.
Instant messaging is more discreet and user friendly
Live chat is the most discreet form of communication since Click4Assistance's live chat software has 256-bit encryption, making it just as secure as a payment page. Both your organisation and your customer can relax, knowing that no one else but the two of you, are privy to that conversation. Sometimes, speaking over the phone can be difficult, as there may be work colleagues or friends around that you don't want overhearing the conversation, so a live chat integration gives the opportunity to speak freely without being overheard.
Text based communication gives users so many options, especially those who have difficulty communicating over the phone or in person. This also applies to social media instant messaging, not just on a live chat integration, as Facebook Messenger or WhatsApp may be more familiar to those with communication difficulties and reduce their anxiety about stepping into an unfamiliar digital space. Either way, instant messaging, through live chat software or social media messaging apps, wins on both discretion and inclusivity fronts.
Be available, even when your office is closed
Housing associations, like most office based organisations, have designated office hours, generally Monday through Friday, 8am to 5pm. But what about those who need to reach out to you, but can only do so outside of those hours? What about the people who could not reach you via phone during their lunch break and work the same hours you do but with no flexibility to make a phone call of an unknown duration due to telephone queues? This creates an unwanted communication barrier.
Let's look at a scenario with a tenant called Karen, who works at a strict organisation for minimum wage, and has a 30 minute lunch and cannot have her phone with her. You need to speak with her, but her working hours are the same as yours, and due to her strict work regulations, a phone call is difficult. She does try every lunch break for a week, with no luck in the telephone queue.
Imagine your housing association is now using Click4Assistance's live chat software, with social media integration. Karen can quickly send a message through to the live chat WhatsApp or Facebook Messenger where she can speak with an agent immediately, or worst case, within a couple of minutes. Alternatively she could be greeted by the polite AI chatbot who advised her that someone from the team will get back to her the next day, as the request was beyond his purview. It saves Karen losing money to take time off of work, and moves communication along rather than it be at a complete standstill.
If you're interested in deploying Click4Assistance, the UK's premier GDPR compliant live chat software solution, to make your financial agency more effective in 2020, give us a call on 08451235871 or send an email to theteam@click4assistance.co.uk and one of our experts will be with you right away. Not ready to reach out yet? Discover how it works, try a demo, or better yet, try Click4Assistance completely free for 21 days.