DATE
TAGS
AUTHOR
VIEWS
Time to increase the productivity of your customer service
When you think of customer service, you think of someone sitting at a desk, answering calls all day or managing customers as they walk in, but customer service goes so much further than that. Customer service is about a whole experience, from the point at which a product or service is imagined, until the last possible interaction a customer will have with that company. It goes much deeper than just what happens when you contact a company. Great customer service is engrained in a company's fibres, not just a couple lines of guidance in an employee leaflet.
Those employees who strive to improve customer service, because they believe in it and its vital role in keeping a company healthy, are consistently striving to make their work less time consuming and focused more on the most important facet: the customer. The quality required to maintain an influential customer satisfaction rate is high, and can sometimes be difficult to preserve, but not impossible. It takes hard work, persistence, dedication, consistency, and productivity.
Customer service can be time consuming
Anyone who has worked a day in customer service knows that it can be time-consuming, and occasionally even drawn out.
Live chat is one of the most productive forms of customer service communication out there, and Click4Assistance has made it even more productive with some incredible add-ons. With live chat, from the dashboard, as a customer service agent you can speak with three or more customers at a time, as opposed to one-on-one in many other communication methods. Instantly, your team is 300% more productive, just by switching to a live chat software like Click4Assistance.
When you add a chat on your website, your website visitors can easily send you a quick message if they have a question. It's important for them to be able to reach you while they remember as well, since once they leave the website, there is a high chance they may not return.
What happens when you're offline?
Imagine a customer who has a burning pre-sales question needs an urgent answer, but it's Sunday morning at about 2am, so naturally, you're offline. It's out of office hours for you, so there is no reason for you to be online, waiting for a prospect's message. This is where the benefit of an AI chatbot comes into action. AI chatbots do not need sleep, so they can be online, when you are offline, and that takes your business' customer service from being limited, to unlimited.
An AI chatbot can also answer basic questions, leaving the more complex issues for human intervention. Website navigation, opening hours, locations, basic pricing and other topics along those lines that customers might ask, do not have to be answered by one of your in-house customer service team members, which leaves that time free for them to provide a higher quality of service to the customers they are chatting with.
Since an AI chatbot can ask questions, they can also gather snippets of information, like account or contact details and a clearer idea of the issue the customer has. Information such as this can speed up the process for the in-house customer service agent, as when the chat is transferred to them, they have some background information to start with. While it seems like only a few minutes saved, imagine that across hundreds or thousands of chats; that's a lot of minutes!
And artificial intelligence does not sleep, take lunch, get ill, go on holiday or step away for coffee. The chatbot can speak to an unlimited number of people at the same time and can even filter chats to specific specialist departments or agents, saving both the customer and the agents a lot of time.
Do you have the data to back it all up?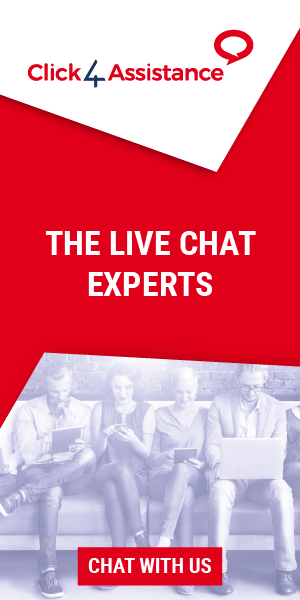 So, you have spent a lot of time, money and effort into making your customer service more productive and efficient. The heavy lifting has been done and you're reaping the rewards, but, do you know if it's working, and how well is it working? Reports hold the key to refining your customer service system and ensuring that it's working at its peak. Data shows where your department is excelling, plateauing and failing, so you can refine your targets and aim to improve the areas of weakness.
The interesting thing about data like this is it also shows you which members of your team are the most or least productive, so that you can re-train or provide additional support to those who need some assistance. Click4Assistance makes your team holistically stronger, and that's a competitive edge every company needs.
If you're interested in deploying Click4Assistance, the UK's premier GDPR compliant live chat software solution, to increase your business' productivity for 2020, give us a call on 08451235871 or send an email theteam@click4assistance.co.uk and one of our team experts will be with you right away.