DATE
TAGS
AUTHOR
VIEWS
Easily Handle Student Enquiries Over Easter
After a busy start to the year, many students will be using the Easter break to study for the upcoming exams. During this time, students may have questions about returning to campus or when the library will be open, however if the university is working with skeleton staff, they can be placed under pressure to handle these enquiries.
Your website can help remaining staff to continue supporting your students even when they are unavailable, by including 'Experiences' by Click4Assistance, a new enhanced solution containing multiple engagement tools.
Student Prefer Text-Based Channels
Students are drawn to using live chat, as young adults between the age of 16 and 25 prefer to communicate via text-based means rather than traditional methods such as telephone. Live chat allows students to instantly connect with a representative to get their questions answered. Staff can handle multiple chats at the same time, allowing them to increase their productivity, which is particularly useful during periods of high volumes of enquiries with lower staff levels.
To answer enquiries efficiently, representatives have access to a library of predefined replies. These are pre-agreed answers to frequently asked questions, users can select and alter the response to fit repetitive enquiries. Alternatively if the information is readily available on the website, operators can automatically redirect the students to the page of interest, reducing the time spent duplicating information.
Live chat also makes it easier for representatives to get a full understanding of what the visitor's enquiry regards. They can see Ghost Text that shows what the visitor is typing in real time allowing the operator to be prepared to what is going to be asked next. If the student wants to clarify information presented on the website, the representative can view a replica of the page they are on with co-browse, enabling to see exactly what the student is referring to.
Supporting Your Students and Your University
When operators are unavailable whether they are concentrating on their tasks at hand or it is out of hours, the live chat will default to its offline status. The channel can be hidden altogether or it can continue to support the university by gathering students' enquiries and emailing them to an assigned email address. These enquiries will also be displayed within the solution so that operators can follow them up and mark them as actioned when done.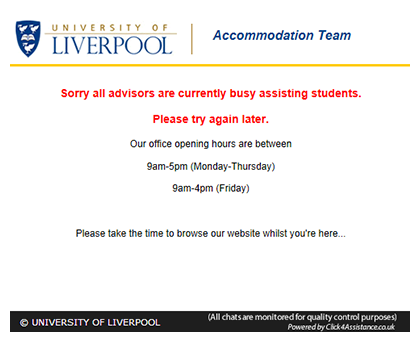 Whilst students are browsing on the university website, they can be automatically redirected to pages with important information and latest news with the use of promotions. This is an image with a URL assigned to it, universities could design their promotion to encourage students to click through to a page with key dates and library opening times etc. This allows the individual to self-help and find answers already available on the website for simpler questions.
New international students that are enquiring may not have the same holidays as the UK therefore their enquiries are not likely to decrease. In which case the university can set up meeting rooms to answer multiple students' enquiries at the same time. This allows the minimum amount of representatives to answer enquiries productively.
Click4Assistance has been providing live chat for over 10 years and supplies the solution to numerous universities in the UK, including Liverpool, Royal Holloway and Bradford. Using the range of communication channels, these universities amongst others have successfully improved student engagement across Accommodation, Student Services and Admissions, and even streamlined the workload involved in Clearing.
For more information on the Click4Assistance solution and how to add chat to website, contact our team on 01268 524628 or email theteam@click4assistance.co.uk.