DATE
TAGS
AUTHOR
VIEWS
Are you providing your clients with the right live chat website software?
There are many live chat software options out there, but they are not all created equally and it can be a hard decision to make on behalf of a client. Some aren't GPDR compliant (Click4Assistance is fully GDPR compliant), some are based in another country with developers scattered all over the world (Click4Assistance is 100% UK based) and some are aren't even encrypted, leaving your conversations open and vulnerable to digital eavesdropping (Click4Assistance is 256-bit encrypted in transit). Sometimes you'll try a software solution and it just does not work for you, but you have no alternative so you tack it on and hope no one notices. With Click4Assistance, you don't have to keep searching. We have everything you need, right there in the same box, with no hassle.
Always secure, always online
When looking for software solutions for your clients, you have to find the right one that fits their direct needs and meet your client's security requirements. Click4Assistance's data security system has been aggressively penetration tested by an independent accredited authority, and has surpassed the security standards of most organisations to date. In times of need and overwhelming incoming traffic, Click4Assistance has measures in place to keep it as robust as ever, ensuring your client's customer service stays online even during a high volume of communication.
Live chat website software: the best alternative to the telephone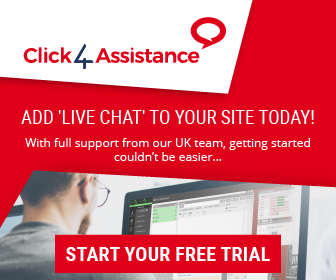 When it comes to remote working for customer service, telephone calling systems can become tricky to navigate, especially when they are submerged in a high volume of incoming calls. The best alternative to this live chat website software, as it will allow your client's business to stay online during a crisis and provide their clients with a simple and familiar method of communication without having to wait indefinitely in a telephone queue.
With Click4Assistance, your client can also automate their customer service with an AI chatbot called Artie. Artie can assist your client's customers on behalf of their customer service team, and even assist customers without human intervention, allowing your clients customer service team to be more effective and productive. Artie does not sleep or get ill, so he can engage your client's website visitors immediately, no matter what time of the day it is, so there is always someone online to assist them, which massively increases your client's customer satisfaction rating. And because Artie can speak with an unlimited number of website visitors simultaneously, he is the most efficient member of your client's customer service team.
Support when you need it most
One of the most daunting aspects of using a cloud based software solution is they are usually based overseas, mainly in the US or in Europe, with the technical team scattered all over the world in various timezones with language barriers. With Click4Assistance, our entire operation, storage and development team are based in the United Kingdom, so you get support, when you need it most, in your timezone, and delivered quickly and efficiently by our in-house experts. We go above and beyond to ensure that our clients and partners are satisfied with our quality of support and ensure that our robust system is always online, so your clients will be satisfied with the quality and standard of service received.
It's hard to find a partnership with a company that benefits everyone involved. With Click4Assistance, the proof is in the pudding. If you're interested in deploying Click4Assistance, the UK's premier GDPR compliant live chat software solution and best live chat provider, to make your clients more efficient and productive for 2020, give us a call on 08451235871 or send an email to theteam@click4assistance.co.uk and one of our experts will be with you right away. Not ready to reach out yet? Discover how it works, try a demo, or better yet, try Click4Assistance completely free for 21 days.
Or find out more about the partnership program and how it can improve your business now!