DATE
TAGS
AUTHOR
VIEWS
A new revenue stream during COVID-19 for Click4Assistance Partners
COVID-19 made the business world much more difficult to navigate, with many businesses scattered into remote working while frantically trying to figure out how that works, and many other businesses either in stasis with teams on furlough, or worse, facing cessation. While some financial experts are comparing this crash with the Great Depression of the 1930's, others are unsure of the extent of the damage to the economy as it can take at least a year to comprehend the economic repercussions of the global lockdown.
With the tourism and hospitality industries collapsed, there are many non-essential businesses that have found ways to stay afloat during the crisis, some through diversification of product and service offerings, and others through redirecting their businesses to e-commerce. There are many options to keep your business running, even in a national lockdown. For instance, many retail companies are still operational via website purchasing and home delivery, while clothing manufacturers and printers are producing essential care items like gowns, masks and face shields. While there are some industries that require physical contact and lockdowns lifted, like domestic construction, restaurants and recreational venues, some businesses, your clients included, can shift the focus from brick and mortar to online with home delivery.
After COVID-19, the world will have to focus on economically recovering while businesses will spend time looking into how to keep their cashflow rolling while working remotely. Disaster preparedness plans are now coming into focus since many businesses, public and private sector, were not prepared for lockdowns and remote working. One of the factors your clients will concentrate on would be a comprehensive solution for remote working customer service agents. Wouldn't it be great if your client's customer service could be running 24/7, even when your office is closed? What about a completely remote solution, allowing team members who are isolated to work from home? Click4Assistance's live chat software solution allows teams to work from anywhere, keeping your client's customer service online, even during a lockdown.
Click4Assistance has been supporting agencies like yours with customer service solutions for over 15 years. Working with agencies of all sizes and from varying industries, Click4Assistance has leveraged the power of robust customer service software and partnered it with the best features possible for live chat for small business and large business.
Live chat allows your client's customers to quickly get in touch with them when their telephone queues are too long or jammed. With an AI chatbot, like Click4Assistance's Artie, your client's customers can get an immediate response, even when all their customer service agents are busy or offline. That will allow customers to get information about the status of your client's product or service offering and the AI chatbot will be able to collect information and answer questions without human intervention, giving your client's customer service agents ample time to adjust to their new work structure. Click4Assistance also provides video chat and Click2Call features, both of which are free to your client's customers, allowing them to continue working as normal and even provide a form of visual communication, increasing their competitive advantage.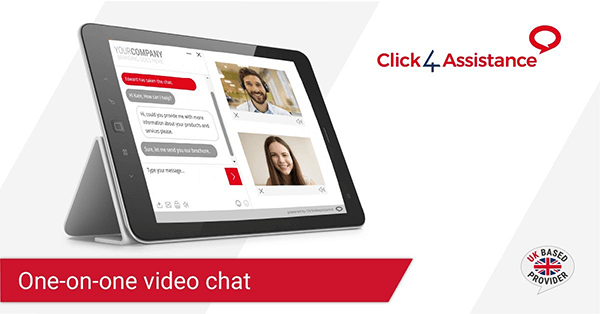 With the fully customisable dashboard, your clients can make the software work for them, by prioritising the features they need, and getting the information they want at their fingertips. Live chat software paired with an AI chatbot will turn your client's websites into a 24/7 always online business, giving them more revenue and a competitive advantage over their competitors, and also generating more revenue for your business as well. It's a financial win-win for you and your client!
If you're interested in deploying Click4Assistance, the UK's premier GDPR compliant live chat software solution and best live chat provider, to make your clients more efficient and productive for 2020, give us a call on 08451235871 or send an email to theteam@click4assistance.co.uk and one of our experts will be with you right away. Not ready to reach out yet? Discover how it works, try a demo, or better yet, try Click4Assistance completely free for 21 days.