DATE
TAGS
AUTHOR
VIEWS
How secure is your live chat integration?
Live chat has become one of the most sought-after customer service communication methods since the pandemic lockdowns rocked the world earlier this year. There are many live chat integration solutions out there, but they are not all created equally. With many of them being cheaply made and freely available, many companies have opted for these more "cost effective" methods, not realising the dangers involved.
As long as the internet has existed, we have had concerns with cyber security and the industry has always been progressing with new technology that can help stop cyber criminals but that's often thwarted by the mass public who don't want to invest as they cannot see the invisible threat. Because cyber crime often feels intangible, most people do not view it the same way as they would a physical threat. Today, cyber criminals are mainly after information that they can use for leverage, or just for the fun of stealing personal data to then leak it in a public space. Sometimes it's a sophisticated, elaborate plan like you see in films, and other times it could be someone just sat at home listening in on someone else's unprotected conversation. While much of it can be considered "harmless", it can become a vulnerability for a company of any size, so why would anyone take the risk of a free or cheap solution that does not protect their customer's data?
Choosing the right live chat integration for your customer service team is really important. You have to look at security, support, reliability and of course, the available features and how they all work together. Also having a solution that may be able to provide a bespoke service for you to tie in another existing communication method might be something you'd like to have available long term. There are many customer service communication software solutions out there, but they are not all the same, and many don't offer localised support, like Click4Assistance can if it's needed.
How secure is secure?
One of the most important aspects of software today is if it is secure, as security holes invite the wrong sort of attention. With Click4Assistance, your data is encrypted in transit, so the live conversations you're having with your customers are as secure as a payment page. You can trust that level of security, and Click4Assistance is consistently working on the security aspect of their solution, always exceed expectations and raising the bar.
With remote working on the rise, Click4Assistance is the perfect solution for your customer service communication. The dashboard can be easily accessed from any device with a Chrome browser, making it remote working friendly, right out of the box. It also means that your entire customer service department can seamlessly shift to a remote working model should the need arise. And because your data is secure and conversations are encrypted in transit with Click4Assistance, your customer's information is just as safe as if it were accessed from the office's secure network.
All the bells and whistles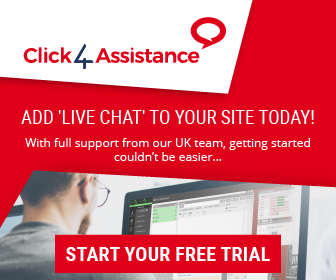 As with many software solutions, Click4Assistance does offer lots of bells and whistles, but they all work together to make your customer service agents more productive, efficient and effective, while reducing your incoming call volume and customer telephone wait queues.
Live chat integration is one of the best alternatives to telephone calls and emails for any business. By levelling up your customer service game, you're reducing the time spent waiting in a queue, but also giving those customers with difficulties communicating over the phone or in person an alternative method of contacting you, making your business more inclusive and improving the customer satisfaction rates.
When you pair your live chat with other features like video chat and artificial intelligence, your customer service team will be at their peak productivity, and your business's customer service will be operating much more effectively. AI chatbots, like Click4Assistance's Artie, allow your live chat and social media to be automated, giving your customer service agents the time needed to focus on the quality of their work, rather than feeling pressured to engage every incoming message immediately, since Artie takes care of that without human intervention.
The best chat integration for your business
With over 15 years of experience developing customer service communication solutions for businesses like yours, Click4Assistance's live chat integration is one of the best in the market. Remote working, fully secure, and all the features working in sync with each other, your customer service team will be more productive and effective than ever.
If you're interested in deploying Click4Assistance, the UK's premier GDPR compliant live chat software solution, to increase your business' productivity for 2020, give us a call on 08451235871 or send an email to theteam@click4assistance.co.uk and one of our experts will be with you right away. Not ready to reach out yet? Discover how it works, try a demo, or better yet, try Click4Assistance completely free for 21 days.