DATE
TAGS
AUTHOR
VIEWS
Buckinghamshire County Council's Chat Integration Success
With budgets changing due to recent cuts, it can be hard for Local Authorities to save money, those that add live chat to website has seen resources and funding stretch further.
Buckinghamshire County Council are the upper-tier Local Authority for the non-metropolitan area of Buckinghamshire in England. The Council is a large employer in the County and provides a variety of services, including:
Education (schools, adult education and youth services),

Social services

Highways

County Archives

Libraries

Record Office

The County Museum

Consumer services some aspects of waste disposal and planning.
The Finance department enables visitors to view accounts, council tax and budgets.
Why Decide to Implement a Live Chat Facility?
Buckinghamshire County Council approached Click4Assistance in October 2014. They initially implemented the solution to identify areas of difficulty with navigation or lack of information on the website. They also want to make the Council more accessible to the residents of the county. The Council found Live Chat was a popular method of communication for visitors, and decided to continue to offer the service as 'business as usual'.
With school admissions resulting in high levels of enquiries during July and August, this was the first area of the website to receive the solution. A Click4Assistance representative attended the council offices to provide onsite training to key members of the customer services team, and they've since cascaded the information to the wider organisation as required. Due to the success of the solution, the council have begun a wider roll out to additional departments including Libraries.
They have customised the visitor interface to include the colour scheme and logo, for a seamless fit with the website. A sticky chat button remains in view, and when clicked, the pre-chat form allows the visitor to choose which department they'd like to speak to, ensuring the correct team member is allocated the chat.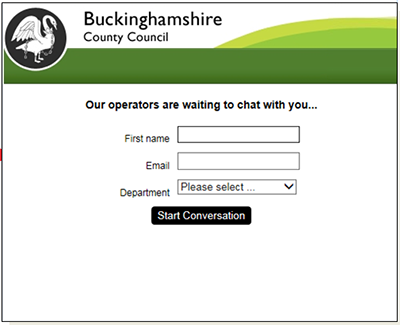 The Council is working towards digitalising more services online. In the future, they intend to remove the telephone number from online forms, allowing the Live Chat tool to become the main communication channel to help guide the visitors through the online process, signposting visitors to the correct area of the website where required.
The auto navigation functionality allows operators to automatically change the visitors' browser to the correct page, ensuring there is help available should they experience any difficulty navigating the online process.
The solution is also used by the Council as part of the disaster recovery process, on occasions when the phone lines have gone down, the button is added to the homepage to receive all enquiries.
Implementing Live Chat isn't as costly as some think. In fact, many local authorities are surprised to learn the solution can be provided for less than £5000 a year! For more information, contact our local authority coordinator today on 0845 123 5871 or email us at theteam@click4assistance.co.uk.