DATE
TAGS
AUTHOR
VIEWS
Our Year in Review
2019 has been an incredible journey of growth, challenges and achievements, and we would love to share this with you. We've had new additions to the team, lots of updates and bugs squashed and have a few things to share with you coming next year!
All about growth
Global dominance starts with baby steps and small strides… well, we'd like to hope so (haha!). We've expanded to now serve 25% of universities in the UK (is your university one of them?), and we have increased our work with the NHS and across the charity sector. If you want to deploy the best chat box for website in the UK, contact one of our team experts and they will be happy to help you.
Major movements
In the latter half of this year, we achieved the Cyber Essentials Plus certification and undertook a massive project to migrate our users onto the new Experiences software. We've only got a handful to go, but 99% have successfully been migrated.
We've also had a few new faces this year, including a new Head of IT and Infrastructure, Stephen Exelby.
For the good of the community
This year, we completed the 925 challenge for MSUK. The target was to raise £925 in 9 weeks, 2 days and 5 hours. We surpassed that figure and raised £1000 from a raffle, 5K fun run, boot sale and sponsored sobriety. Our raffle prizes were donated by our generous clients.
Bug squashin'
This year we did not have that many bugs to squash. Most were exterminated before summer but we've always got our swatter ready in case the odd one pops up!
Updates! Updates! Read all about them!
Our Meeting rooms feature got an update which now allows moderation; a huge help for those who host lots of meetings.
We replaced our old physical servers with a new virtual environment making our back office system more resilient and massively improves performance. The back office system is now in line with our Cyber Essentials certification standard, and has been extensively penetration tested by an independent accredited body.
Our phone system has also been replaced with a new Avaya system, allowing better integration with the back office systems, and gives our clients better access to the department they need, such as support, finance and account management. We have also added more lines to assist with a great client demand.
You asked and we listened!
Our clients are vital to our growth and development. You help us to make Click4Assistance a more superior software through your feedback and suggestions. Here are three client requested improvements you asked for and our awesome development team made happen!
Qwest Services video chat customisation:
We designed some new chat windows, for one of our clients Qwest Services (Cheshire West and Chester), centred around our video chat feature and recently upgraded from Adobe Flash player to WebRTC, drastically improving the quality of the video stream and making it more compatible and stable for mobile devices.
Giant Group offline department selector:
We have added a new functionality to the offline/call-back form, based on feedback received from one of our clients, Giant Group, which allows the visitor to choose which department the offline/call-back form is sent to.
Honeywell dynamic proactive:
We developed a piece of HTML code, as requested by one of our clients, Honeywell, that will allow proactive forms to be changed dynamically in order to show additional fields/elements once the visitor engages.
But this year's winner goes to <drumroll>
Artie the ChatBot!
This year we introduced our cute AI ChatBot mascot, Artie. He's our bubbly AI helper who doesn't sleep, can chat to multiple users simultaneously and looks cute doing it. You can depend on Artie to be there when you're not, and keep your customers engaged when your agents are busy.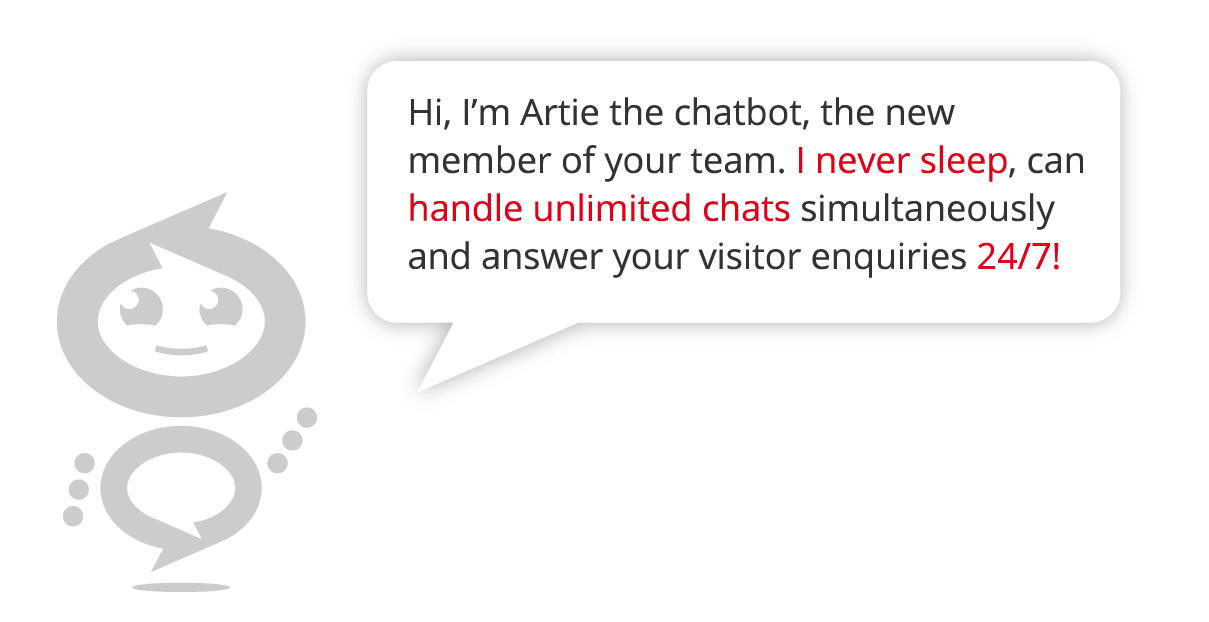 Bring on 2020!
Now that we have recapped this year, here are a few things in development for next year that we can tell you about:
At the end of our first quarter, we will be completing our ISO 27001 certification, which will be an assurance that we're operating at accreditation level standards.
There are plans in the pipeline to revamp the social media integration feature. This will not just improve the overall experience of this feature, but will also include WhatsApp and text message capabilities.
As AI technology develops, so will Artie's own capabilities. This will improve the overall service, expand the potential, and make the feature much more useful.

If you're interested in deploying Click4Assistance, the UK's premier GDPR compliant live chat software solution, to make your business more efficient, productive and increase your revenue, give us a call on 08451235871 or send an email theteam@click4assistance.co.uk and one of our team experts will be with you right away.