DATE
TAGS
AUTHOR
VIEWS
Destinology's Night of Success
"The British Travel Awards is the largest and most influential poll of consumer opinion on the performance of enterprises operating in the leisure travel and visitor attractions sector." The 2017 ceremony took place on 30th November, where consumers had previously registered their details and made considered judgements as they voted.
Luxury Travel Company and Click4Assistance customer, Destinology has previously won at the British Travel Awards in 2012, 2013, 2015, 2016, and 2017 is no different! It has been another successful year for Destinology, winning gold in two categories: Best Weddings and Honeymoons Company and Best Holiday Company to Southeast Asia, and winning Silver in four categories: Best Luxury Holiday Company, Best Holiday Company to Middle East, Best Holiday Company to Indian Ocean, Best Holiday Company to Caribbean and Barbuda. They just missed out on making it a home run as they were also nominated for Best Online/ Call Centre Travel Agency.
Senior Project Manager at Destinology shared "I'm really pleased to be able to confirm that we were successful at [the] awards ceremony in London, […] thank you for your support and here's to another successful year in 2018!"
A-Z and all the Other Destinations In-between
Before travellers experience these destinations via Destinology and are able to vote, their journey begins the moment they land on the travel experts website. First impressions show a very sleek and modern look, setting the scene for high expectations.
The travel company comes across as very contactable, as wherever visitors are in their journey, they have access to a travel expert. Their chat button and phone number are common elements within their header, help panel and contact us section, which also includes a call back option. Having these contact methods available in several areas show visitors that Destinology are friendly and are encouraging visitors to get in touch. Having this approach the travel company is optimising every opportunity to increase their contact rate, as more visitors are likely to speak with their experts.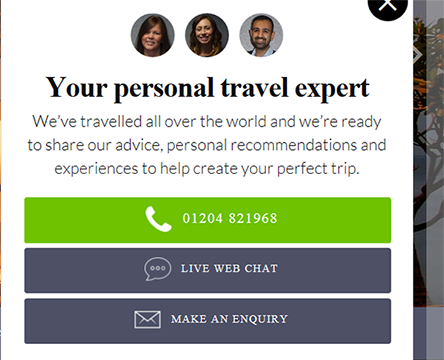 With their visitors in mind, Destinology switched their live chat for website provider from US based to Click4Assistance as their data is stored securely in the UK. The travel company also ensured that their designs could be uploaded into their new system and a simple switch could be made to their website, so there was no interruption to the visual journey.
"Good Value and Excellent Functionality
"My dealings with Click4Assistance have made a refreshing change from our previous chat solution provider and were a contributory factor in our decision to switch. In particular our account manager has been particularly helpful, running demonstrations for various business stakeholders and getting our questions answered quickly and concisely.
"We are finding the process relatively simple and stress-free."
-Senior Project Manager at Destinology
Visitor's opinion of a travel company can last a lifetime and at any point in their journey it can affect their perspective. Whether they found a really good deal on the website and found booking easy, whether they had reliable travel transfers, the actual experience of their holiday, and then telling everyone about it. The whole experience will remain with them, so ensure it starts on the right foot with your website.
Click4Assistance has been providing live chat for website software to the leisure, travel and tourism industry for over 10 years. For more information on how your company can become instantly contactable just like Destinology, contact our team by calling 01268 524628 or email theteam@click4assistance.co.uk.
Author:
Gemma Baker
Gemma is the Marketing Executive for
UK live chat software provider
, Click4Assistance, with a range of digital knowledge within PPC advertising, SEO practices, email campaigns and social media.