DATE
TAGS
AUTHOR
VIEWS
Is your financial organisation really capitalising on direct messages?
Social media is a big deal - just ask any marketing professional and you'll hear at least 20 minutes of why social media is the best thing since sliced bread. It's a fantastic tool that can change the way you do business and communicate with your customers. Technology is constantly evolving and communication has evolved beyond telegrams, letters, and in many scenarios, phone calls. As a global society, we are now sending more texts than ever before, many of them over social media platforms. This indicates that social media is playing a much larger role in our communication than we give it credit for.
Social media is here to stay
In the earlier days, many experts claimed that social media was just a fad that will die out, with the media giants, print, radio and television, remaining at the helm of communication. Since, we have watched social media decimate the media giants, forcing them to adopt this interactive media platform or face certain death. Social media has not just taken the throne, but it is the driving force behind global communication. We have seen how widely adopted the platforms are, so why shouldn't businesses be capitalising on this as well?
As customers, we have changed the way that we communicate with brands. If a customer has a problem with a purchase, rather than calling, many will use social media platforms to reach out and speak with a customer service agent directly. This has a more direct feel, and customers prefer to send a message on a platform they are familiar with rather than make a phone call. One of the best things about social media direct messaging is that it's much more efficient than phone calls. Not only will it improve your customer service experience, but it will also reduce your call volume drastically when paired with a live chat on your website, also improving the experience for those who are waiting in a telephone queue.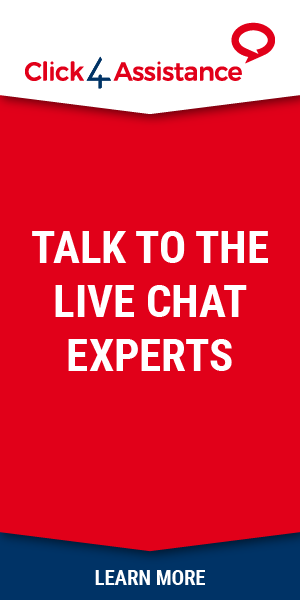 Keep track of all of your messages
Customer service agents have a lot of incoming communication that they need to keep on top of. Direct messages from Facebook Messenger and WhatsApp, live chats, video chats, emails, and more, all coming at them from different angles. What if there was an option where your customer service agents could have most things in one place, saving them the time normally spent flipping through applications, trying to find the information they need? Click4Assistance's dashboard does just that; it's a home for everything they need to work with, including our complete suite and your CRM integrated, so they never have to hunt for the messages or notes they need. This makes your agents much more productive and your customer histories more comprehensive.
Remote working, but seamlessly
Remote working is all the rage since the 2020 pandemic, and as a result many businesses are looking at software options that support seamless remote working, not just remote logging in, which has many pitfalls. Click4Assistance's dashboard is completely remote working ready, accessible seamlessly from any laptop or desktop with a Chrome browser. 256-bit encryption for data in transit makes your live conversations as secure as a payment page, regardless of if your customer service agents log in at the office, or from home. With no transatlantic data transfers, your data is securely protected under EU data protection regulations, so you never have to worry about your data being compromised.
The best chat on your website
Click4Assistance is the market leading chat on your website, supporting financial organisations like yours for over 15 years. If you're interested in deploying Click4Assistance, the UK's premier GDPR compliant live chat software solution, to make your financial agency more effective in 2021, give us a call on 08451 235 871 or send an email to theteam@click4assistance.co.uk and one of our experts will be with you right away. Not ready to reach out yet? Discover how it works, try a demo, or better yet, try Click4Assistance completely free for 21 days.