DATE
TAGS
AUTHOR
VIEWS
Click4Assistance Releases Messenger Chat Integration
We have recently released 'Experiences' by Click4Assistance however the work doesn't stop there. Our developers will continue to implement enhancements to benefit your organisation. In this article we will be discussing their latest release to 'Experiences': Messenger.
How many platforms does your customer service representatives have open right now 5, 10, even more? These can consist of:
Emails
Customer Relationship Management (CRM) Systems
Facebook / Messenger
Twitter
Click4Assistance
WhatsApp
Phone System
The list goes on. Accessing all these different systems can really test the most efficient multitasker, therefore to streamline your operations the Click4Assistance developers have integrated a way to consolidate social media platforms into one solution starting with Messenger.
So, What Does This Mean?
'Experiences' can now receive the messages visitors send to your company using Messenger. Your operators can reply directly from within the solution that will feed through Facebook back to the visitors, they will see it exactly how they expect to via Messenger, having no knowledge that the representative is replying via another application, therefore continuing the flow of conversation.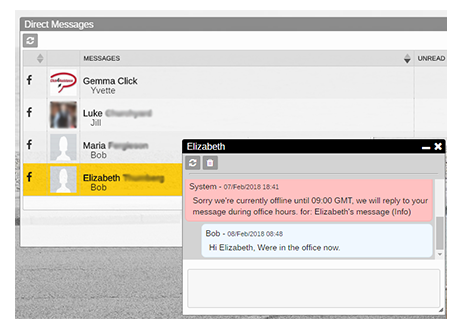 This can improve your team's efficiency as they are already handling chats and other communication requests via 'Experiences'. Facebook messages will be available in the Dashboard – the main control centre for your communication operations. Users can efficiently optimise their time, by viewing and responding to Facebook messages simultaneously alongside web chats and other communication methods available within the solution.
The system will display which operator has sent the latest response, as some organisations prefer to allocate a dedicated operator to handle that visitor's enquiries to help build lasting relationships with the customer. Where on the other hand, some companies will allocate enquiries based on the representatives' workload to help increase productivity. Whichever way your organisation decides to respond to enquiries, the system accommodates for both.
How to Setup
To set up your 'Experiences' account to receive messages from Facebook, we have put together an easy to follow step by step guide explaining how to configure your Facebook company page, click here to request your copy. Our support team will be on hand to help you complete your chat integration.
Once your account has been configured, your Facebook messages can be accessed within the Dashboard / Social Media – Direct Msg's. This will open a window within the main control centre where operators can respond at their convenience.
Future Implementations
You may have noticed that to access your Facebook Messages the Dashboard sub module is called 'Social Media' rather than 'Messenger Enquiries', this is because the next enhancement in the pipeline is to integrate another popular social media platform. This will allow it to work in the same manner, being able to easily distinguish the source of the enquiry and reply directly via the Dashboard.
Click4Assistance has been providing communication tools for over 10 years, for more information on our social media enhancements or to discuss bespoke chat integration projects, contact our team on 01268 524628 or email theteam@click4Assistance.co.uk.