DATE
TAGS
AUTHOR
VIEWS
How does Click4Assistance Compare as a Live Chat Provider Alternative to LivePerson?
One question that we are asked time and time again is how does Click4Assistance as a Live Chat provider compare as an alternative to LivePerson? We thought we would share the answer with you…
Unlike many live chat software providers, Click4Assistance offers a complete web and desktop application. This means that you can log in very quickly from anywhere even when you are not at your own desk but you need to access the software. In this day and age of working in different environments this could be very useful. The desktop application also means that you do not have to remember the web address each time you need to log in as it can be set up to automatically log you in every time your switch your PC or laptop on and likewise it doesn't automatically close by accident meaning you will not miss any urgent notifications. In fact these notifications appear on top of whatever application you are working on, which saves time and effort having to open the browser each time you have a notification.

Click4Assistance can work with any CRM system by using APIs to pull the information from your Click4Assistance web chat solution into your CRM system. You can share previous chat history, exchange leads and call back requests which unlock your full customer engagement potential and strengthens the value of your data. By choosing Click4Assistance over Liveperson you are choosing a fast-tracked customer help desk resolution which can even include intelligent canned responses saving your operatives time and effort.
Click4Assistance web chat solution has over 60 reports that you can access in the reporting suite.
It is designed to give stakeholders important vital statistics to make informed decisions regarding chat operations and visitor behaviour. Using vital information, managers are able to highlight strengths and weaknesses, identifying aspects to help improve business processes and operations. There is also a potential of providing bespoke reports based on individual customer's requirements.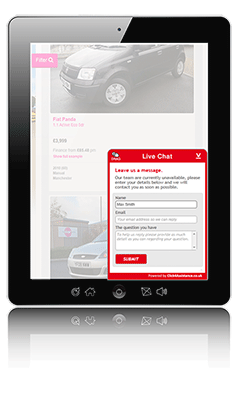 Why choose Click4Assistance as your live chat provider?
Click4Assistance are a UK based live chat provider, who's dedicated Account Managers offer fantastic customer service and a fully customisable visitor interface. Click4Assistance really stand out from the rest as we have a wealth of experience working with clients in a wide variety of market sectors, providing a stable, robust and proven web chat solution, regardless of your company's size, or requirements. It doesn't matter how long or short a time you may have been with us, our Account Managers go out of their way to ensure your software really works for your business and how you expect it to and there is also opportunity to input your ideas for future development of the systems. We have worked with some of the UK's biggest and most recognisable names including Harvey's Furniture, Mazda and the University of Liverpool to name just a few.
Our web chat service systems are located within Telecity UK, a company which operates some of the largest and most secure data centres in Europe. By managing all data here in the UK, it ensures we adhere to FCA regulations. Data is transmitted using 256bit encryption and stored using the latest secure algorithms.
We will let you make your own mind up as to how the Click4Assistance online help chat compares to Liveperson by offering a 21 day free trial, with no obligation to subscribe. Once you have decided to subscribe, your commitment is based on a 30 day rolling agreement, with no lengthy contracts or big commitments. We believe no commitment should be made until you experience the web chat services and also the benefits of the web chat solution and see the increased productivity for yourself.
For an informal chat to get your free 21 day trial without the pressure to subscribe, or to find out more about our online help chat, contact the team on Tel: 0845 123 8971 or email us on theteam@Click4Assistance.co.uk or start a chat.