DATE
TAGS
AUTHOR
VIEWS
Cruise and Maritime Voyages Increases Bookings with Chat on Your Website Software
Cruise and Maritime Voyages provide 'no fly' cruising holidays on small to mid-sized ships, with a traditional British cruise experience.
They want to offer a more 'home from home' style of cruising and maritime experience with friendly service to ensure passengers return home with many lovely memories and choose to cruise with them again!
Many passengers choose to cruise from the UK, 1,789,000 passengers from the UK and Ireland chose to take an ocean cruise in 2015. Due to this, Cruise and Maritime experienced a multitude of passenger enquiries!
Let's Turn the Enquiries to Bookings
With the strain on resources as travel companies' deal with growing levels of enquiries, it only makes sense for businesses to find ways to help. The perfect answer is the implementation of live chat on your website. The instant communication channel means operators can answer questions from visitors directly from their website in real time. Within the software, operators are able to:
Send any document to a visitor during the chat using the file transfer system, for example, brochures, booking confirmations, or information sheets

Automatically direct the visitor to specific website pages to advise on the best trip to suit their travel requirements

Deal with multiple enquiries simultaneously
Approaching Click4Assistance early 2015 with intentions of improving their customer service, Cruise and Maritime implemented live chat on your website software to assist with the fast paced growth of online enquiries and bookings. Introducing the solution enables Cruise and Maritime to maintain the highest levels of customer satisfaction and service.
How Cruise and Maritime Designed the Solution
The visitor interface is 100% customisable, and Cruise and Maritime designed the solution to suit their brand, adding a sticky button with an embedded pre-chat form which asks the visitor to provide:
Their first name

Email address

Department that's relevant to their enquiry (customer service or shore excursions).
Why the Need for a Department Selector?
With the use of a department selector, visitors can be transferred straight to the correct department instantly, where their queries will be answered without delay. Operators can be assured that they are receiving the most relevant chats saving valuable time and resources.
What happens after the Chat?
When the chat is finished, a feedback form is displayed to monitor the satisfaction of the visitor. This may include questions like:
How satisfied are you with the customer service you received?

Have you used Live Chat before?

Would you use this service again?

If online chat was not available, what would you have done?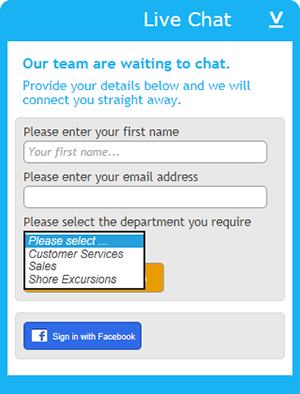 All chats can be categorised and stored by the operator, ensuring all information is available for full reporting. Chat transcripts can be retrieved in the archived chats module or within the reporting suite, which contains over 60 management reports.
If you would like to know more about how Live Chat has benefitted other travel companies including Small Families Holidays, Orbital Travel and Travel A La Carte, contact us on 0845 123 5871 or email us at theteam@click4assistance.co.uk. Alternatively, start a chat with us to receive a free information pack!