DATE
TAGS
AUTHOR
VIEWS
Improving your customer service
Customer service is the centrepiece for your business's brand and sales. It's not uncommon for a negative customer service experience to end with the customer never returning to the business, but there are ways to avoid this entirely, and methods to neutralise the issue, should it occur. How a customer service agent approaches this type of situation makes all the difference in the outcome. This is why your customer service experience has to be top notch, from the very first interaction or click to the very last one. An angry customer can be turned into a brand ambassador with a few tips and tricks.
Be human
Humanity has been lost in the flood of robotics. Customer service agents today tend to sound very scripted, which can work in your customer service agent's favour as a time saver, but from the perspective of the customer, it sounds your customer service is completely automated, even when it isn't. The goal here to sound more personal and friendly, in an effort to build a rapport with your customers, rather than just give scripted answers in the least time frame possible. Use their names, be patient and empathetic and don't be afraid to say "I don't know." Many customer service agents are afraid of saying that they don't know something, but by saying that you don't know shows the customer that your customer service agents are working in their favour, not just limiting themselves to what is on a script.
Go above and beyond
Listen intently to what your customers have to say and respond accordingly, while repeating their issue back to them to ensure that you have the correct information and nothing got lost in translation. Always remember to ask your customers if they understand or need something clarified. Often times, customer service agents can get caught up in the speed and efficiency of the task and forget that some customers won't instinctively know and understand the details, and may not ask, leaving them more frustrated after the interaction than before. Always go above and beyond for your customers, explain everything to them at their pace and try your best to resolve the issue as quickly as possible.
Being responsive is key to great customer service but it is difficult to keep on top of everything. This is where the right customer service software can support your business. There are multiple ways to improve your customer service with a simple switch to Click4Assistance. Live chat for your website will instantly improve your customer experience and reduce your call volume, reducing the time spent on hold by the customer and the number of calls your agents will have to take. Your customer service agents can chat with multiple customers simultaneously with live chat for your website, thus increasing their productivity and allowing them to speak with more customers in a single day.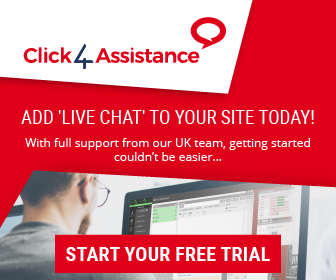 Improve your customer service agents' workflows
Managing this volume of incoming communication can be difficult for even the most organised customer service agents, which is why Click4Assistance has developed the leading live chat for your website dashboard, built with seamless remote accessibility and allows your customer service agents to work from any laptop or desktop computer with a Chrome browser. The 256-bit encryption for data in transit ensures your live conversations are as safe as a payment page, whether your team is in the office or working remotely. But the best part about the dashboard is being able to access everything in one place: live chat for your website, video chat, artificial intelligence chat bots, social media direct messages, Click2Call, and even your own CRM integrated. Everything that your team will need, they can access, no matter where they are working from, so your customer service can be online, always.
If you're interested in deploying Click4Assistance, the UK's premier GDPR compliant live chat software solution, to increase your business' productivity for 2021, give us a call on 0845 123 5871 or send an email to theteam@click4assistance.co.uk and one of our experts will be with you right away. Not ready to reach out yet? Discover how it works, try a demo, or better yet, try Click4Assistance completely free for 21 days.