DATE
TAGS
AUTHOR
VIEWS
Is direct messaging the right fit for your housing authority?
Social media direct messaging once seemed like it was a fad for the kids of the 2000s and it would never permeate into daily life, but looking at the world today, we can see that social media has done just that: infiltrated the very fabric of our world. The impact and impression that social media has on our daily communication could not have been predicted, since at the advent, no one believed that the world could be really changed by one guy with a laptop and a big idea. With technology dominating every industry, we have to ask the question: is social media direct messaging the right fit for your housing authority and will it yield a more fruitful relationship with your customers?
Social media is at the very centre of all of our daily communication as a global population. In the UK specifically, social media and instant messaging play a massive role in keeping family, friends and work connected, 24/7. Facebook, Twitter and WhatsApp are three major social media platforms that you'd think of when contacting a business, if you are unable or don't want to call. If a customer wants to follow up on a purchase or make a complaint, social media gives them instant access to send a message so that the team can start working on it and provide an update in real time.
Since social media direct messaging is ubiquitous, how can organisations like your housing authority capitalise on this, and what are the benefits?
Your customers are already using social media, so why not meet them where they are, rather than force them to use something that they are unfamiliar with or don't want to use? This can greatly improve the relationship you have with your customers, since they will be able to easily get in touch with you. But this isn't all about the customer - it's also about your housing authority. Customers don't always check their email and they don't always answer their phone, but there are some who periodically check their social media direct messages throughout the day, so direct messaging provides an additional communication channel that you can easily reach customers on.
Direct messages are exactly as they say on the tin - direct. One of the best things about social media direct messaging is that it is as instant as a live chat for websites, but it's native on the customer's phone. Say you need to confirm an appointment or need to follow-up on a task, all you then need to do is send a quick message to your customer through WhatsApp and they can immediately reply. It is a much more tactile and intimate experience than just an email that gets lost in an inbox or junk folder.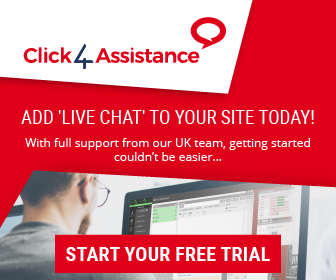 The best chat for websites and social media direct messages
Social media direct messages and live chat for websites are among the most immediate communication channels that are not disruptive to a customer's day. Sometimes a customer can respond quickly to a message, but are unable to take a phone call. This is where direct messages can play a much larger role in your housing authority's customer communication.
With Click4Assistance, your housing authority's customer service can instantly become more productive with the customisable dashboard, and your team can seamlessly access the dashboard remotely from any laptop or desktop computer with a Chrome browser as safely as a payment page, whether they are in the office or working from home.
If you're interested in deploying Click4Assistance, the UK's premier GDPR compliant live chat software solution, to make your housing authority more effective in 2020, give us a call on 0845 123 5871 or send an email to theteam@click4assistance.co.uk and one of our experts will be with you right away. Not ready to reach out yet? Discover how it works, try a demo, or better yet, try Click4Assistance completely free for 21 days.