DATE
TAGS
AUTHOR
VIEWS
Why cyber security should be on your housing association's radar
Our world is the most interconnected it has ever been, and as technology advances, we are only becoming more and more reliant on internet connected services. But nothing is perfect and where there is something valuable, there will be thieves. The internet is no different, and the precious jewel of incredible value is data. While the world of data protection and cyber security will continue to strengthen systems and make encryption standards more complex, companies will have to update themselves with every iteration, ensuring they are operating at best practice. Can you guarantee that your current software solution is operating at best practice? Is your customer data safe?
Why worry about cyber security?
For EU/UK based organisations, there is another layer of data protection protocol that they have to be mindful of. Since the fall of Privacy Shield earlier this year, it's safe to say that while software companies over The Atlantic strive to keep your data safe to their highest standards, it may not be compliant with EU data protection standards, and while your data is transferred overseas, it may be vulnerable as it is not protected by EU data protection policies. This is not an ideal situation, but all is not lost.
Click4Assistance is the only UK based GDPR compliant online chat software that does not have any transatlantic data transfers, so your valuable customer data is safe and secure, right here at home. And with the entire operation locally based, there is always someone to help you, in your own timezone. Say goodbye to waiting until it's 9am PDT and hello to ringing up Click4Assistance's helpful team if you ever get stuck.
Why choose Click4Assistance for online chat software
Security is a big focus for Click4Assistance, especially with more housing associations digitally transforming to accommodate remote working models. Unlike alternative customer service online chat software options, Click4Assistance was built remote working ready and compliant with the EU data protection protocols. Your customer service agents can access their dashboard from any laptop or desktop computer with a Chrome browser, and because it's 256-bit encrypted for data in transit, your live conversations are as secure as a payment page, whether your team is in office or working remotely.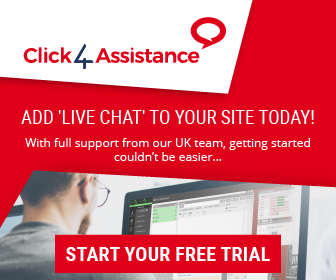 The Click4Assistance dashboard is interesting, as it's fully customisable for your individual agents, allowing them to design their workflow how they want to, making them instantly more productive. Everything is accessible from the dashboard: live chat for your website, video chat, social media messages, artificial intelligence chatbot and formbot, Click2Call, and even your own housing association CRM integrated, ensuring customer records and notes are comprehensive.
With over 15 years of experience working with housing associations just like yours, Click4Assistance is in a unique position to support your organisation's digital transformation goals while keeping your customer data safe, secure and protected under EU data protection regulations. No other customer service software solution can support your housing association the way we can.
If you're interested in deploying Click4Assistance, the UK's premier GDPR compliant live chat software solution, to make your housing authority more effective in 2020, give us a call on 0845 123 5871 or send an email to theteam@click4assistance.co.uk and one of our experts will be with you right away. Not ready to reach out yet? Discover how it works, try a demo, or better yet, try Click4Assistance completely free for 21 days.