DATE
TAGS
AUTHOR
VIEWS
Are your clients being efficient during peak periods?
When the busy peak periods of the year come around, that's when businesses can see the cracks of their organisation start to show. In retail, peak seasons such as Black Friday and Christmas are known for their hectic days, double work loads and long queues, but what a lot of businesses don't realise is how much these peak seasons impact their customer service departments. On a good day, let's assume a customer service agent can speak with 60-100 customers through a live chat integration. When the peak season hits, that number could easily quadruple. This is why it's important for your clients know how to maximise their available tools to ensure efficiency during busy periods.
Live chat integration is always the best
Live chat is always the best alternative to telephone calling during peak seasons. Customer service agents are inundated with a high call volume every time that busy season rolls in, and it is definitely a solvable problem. As a customer base grows year after year, companies don't always think about the efficiencies they can provide their customer service department. Often, if the team is overwhelmed, they will hire someone. But with live chat integration, it's significantly cheaper than hiring a new customer service agent, and provides an excellent alternative to phone calls, instantly reducing your call volume. Your client's in-house customer service agents will instantly become more productive, as unlike telephone calls, with live chat software an agent can chat with multiple customers at a time. This provides your clients with an instant productivity boost without increasing their team.
Time to automaaaaate!
Automation is where the real magic happens. With live chat integration, your clients will experience an instant productivity boost, as customers will opt for a quick live chat rather than an indefinite telephone queue. But for the system to be revenue generating for your client, engaging website visitors becomes a focus. To do this simply and effectively, an artificial intelligence chatbot, like Click4Assistance's Artie, would be perfect. He's always online, can speak with infinite website visitors simultaneously and engages everyone that comes to your website. By answering basic questions, helping with navigation and even suggesting products or services, they can help customers without any human intervention. This practice alleviates your client's customer service department of the simple questions and Artie will transfer all the complex queries that require human intervention to them. Your client's customer service team will not only become a productivity powerhouse but also increase their revenue potential just from using Artie, Click4Assistance's AI chatbot with live chat integration.
Everything in one place, right where you need it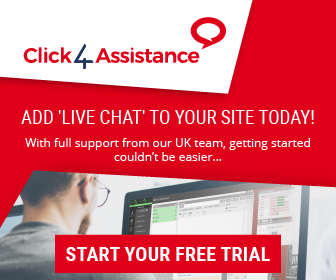 The most effective method of efficiency is the Click4Assistance dashboard. Your clients' customer service agents will have everything in one place: live chat, video chat, social media direct messages, AI chat bot, AI form bot, Click2Call, and even your client's CRM integrated. This fully customisable dashboard instantly improves productivity, since customer service agents will no longer have to search through multiple applications to find information. The Click4Assistance dashboard was also built with remote working in mind, so it's accessible from any computer or laptop with a Chrome browser, allowing your clients to even hire temporary remote agents to manage their increase of customer service communication.
How Click4Assistance's Partnership Programme works
Everyone wants a great service, but with Click4Assistance your clients get a great service that will immediately impact their productivity and open a new possibility for revenue generation through their chat integration. This will improve your relationship with your client, but as a marketing or development agency, you will also generate revenue as a partner. This is an instant win-win for both your business and your clients.
If you're interested in deploying Click4Assistance, the UK's premier GDPR compliant live chat software solution and best live chat provider, to make your clients more efficient and productive for 2020, give us a call on 08451235871 or send an email to theteam@click4assistance.co.uk and one of our experts will be with you right away. Not ready to reach out yet? Discover how it works, try a demo, or better yet, try Click4Assistance completely free for 21 days.
Find out more about the partnership program and how it can improve your business now!