DATE
TAGS
AUTHOR
VIEWS
Are your clients aware of the benefits of conversational marketing?
Conversational marketing seems to be the latest cool kid on the block in the marketing world. With the rise of chatbots and a greater concentration on human conversation, the way we engage customers has begun changing. Twenty years ago, this technology only existed in children's cartoons and were imagined to be physical robots that came to the customer in the store and assisted without human intervention. The idea of purchasing on the internet was not yet formulated, far less with the idea of purchasing or speaking to a robot on an internet-connected always-online live chat for small business.
The robots of today are a lot less physical than previously imagined, and they are much more widespread than we currently realise. Apple's Siri and Amazon's Alexa are two great examples of widespread artificial intelligence chatbot technology. But in Alexa's case, you can see directly how it has increased Amazon's shopping sales, and they are so easy to use, even a pet parrot has learned to make orders with Alexa! We are already using artificial intelligence chatbot conversational technology every day, so why not take a closer look at the way we manage new customers and transform the way we do business?
When we talk about conversational marketing, we're talking about live chat and direct messaging. Having a conversation is the most effective way of generating a sale, as that personal, one-on-one approach, is what many customers connect with. Technology has allowed us to now have a conversation with customers, 24 hours a day, without human intervention. With artificial intelligence, it allows us to automate a part of the sales process that improves the customer experience while decreasing the workload for your client's customer service agents.
When someone visits your website, our AI chatbots will immediately welcome them and ask if they need any assistance or have any questions, very similar to a customer service representative in a shop. This relieves that pressure from your client's internal customer service team, and increases the likelihood of a sale, since the website visitor has already been engaged. Click4Assistance's AI chatbot team, Artie and Coni, can speak with an unlimited number of website visitors simultaneously, are always online and don't sleep, so your client's business website will always have someone to speak with their potential customers, no matter what the time is.
Having a conversation immediately improves the customer experience as it is a more human purchasing experience, shortens the sales cycle and increases the probability of converting into a sale. Customers who use live chat are four times more likely to purchase, so if you have a system where customers are immediately engaged and assisted, 1 in 4 of those visits are likely to become a sale. Chatbots can offer alternative products or services and provide a more enriched experience by asking certain questions. They also act as a buffer between the customer and your client's customer service team, transferring the customer to the right customer service specialist department.
Speaking one on one with customers can also allow your clients to learn more about their own customers, which can be used internally to improve their product and service offering and their sales process. There are many benefits to conversational marketing and it's an interface that customers are very familiar with, increasing the adoption rates and revenue.
Live chat for small business, big business and more business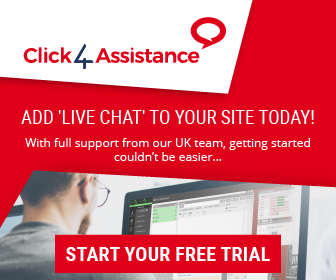 Click4Assistance has over 15 years of experience helping businesses like your clients' with their customer service software solutions. By pushing the boundaries on customer service standards, Click4Assistance and your clients can create positive change within the customer service industry. Built remote working ready, our dashboard can be easily accessed from any laptop or PC using a Chrome browser and your customer service agents will have full access to live chat, video chat, artificial intelligence chatbots, direct messages from Facebook Messenger and WhatsApp, and even your own integrated CRM. No other live chat for small business in the UK offers this.
As a Click4Assistance partner, or reseller, your clients will instantly become more productive and it can have a positive impact on revenue generated for them, while being a source of revenue for your business and positively impacting your brand's reputation by association. If you're interested in Click4Assistance for your clients, the UK's premier GDPR compliant live chat software solution and best live chat provider, to make your clients more efficient and productive for 2020, give us a call on 08451235871 or send an email to theteam@click4assistance.co.uk and one of our experts will be with you right away. Not ready to reach out yet? Discover how it works, try a demo, or better yet, try Click4Assistance completely free for 21 days.
Find out more about the partnership program and how it can improve your business now!