DATE
TAGS
AUTHOR
VIEWS
NHS Medical Practice Improves Booking Process with Live Chat for Website
Lea Vale Medical Group is one of the longest established NHS medical practices in Luton. They have three surgeries across the town serving a population of over 24,000. They were shortlisted for two categories for the General Practice Awards 2018, this included Managing Workload and Improving Access, and the General Practice Team of the Year.
As part of improving access to patients, Lea Vale implemented live chat for website earlier this year to provide more support online to their patients and reduce the stress on their administrative staff. Phase 1 has seen the practice integrate chat within their booking procedure, allowing patients to arrange appointments via the instant communication channel and receive confirmation in real-time.
Patients of any GP surgery have notoriously been frustrated at traditional methods of booking appointments via telephone as they have experienced the navigation of interactive voice response (IVR) systems and lengthy queue waiting times to battle other patients for limited spaces.
Live chat for website enables them to instantly engage with a receptionist, as administrative staff are able to handle multiple chats simultaneously reducing the pressure that telephone bookings experienced with the build-up of queueing patients. Therefore, this helps to improve patient satisfaction as it lessens the frustration that individuals may have felt before even getting through to the practice.
As part of receiving booking enquiries, the chat service has been implemented across the practice's homepage and 'rooms' including reception and enquiries, treatment and travel. This gives patients easy access to the communication channel as they browse. The chat button reflects their strong brand presence as it uses a colour that is optimised within their logo and imagery used upon their website.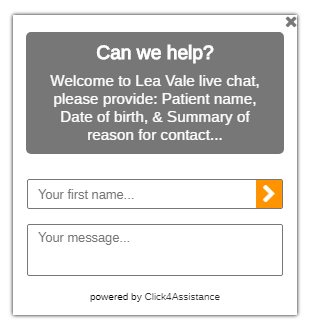 When the practice's representatives are available and the online chat button is clicked, the online visitor will be presented with a pre-chat form. This has also been customised with their corporate colour scheme, helping the service to seamlessly fit within their website. The form requests the visitors name so that the operators can personalise the chat by addressing the individual. It also collects the patient's date of birth therefore enabling the receptionist to identify the enquirer and bring up their associated record.
Lea Vale's Business Support Assistant commented on their initial implementation:
Great Service! This is a service that was easy to implement with great support provided. From the first weeks of use it has started to make a difference to the patient care we provide.
Live Chat Benefits Booking Systems
Lea Vale is not the only practice to implement live chat for website into their booking procedures. NHS Vale of York is an NHS organisation made up of member GP practices. They are led by clinicians who are responsible for the monitoring of commissioned healthcare and the planning and design of many of the health services; this includes planned hospital care, urgent and emergency care and community health services.
They procured and implemented live chat for website in 2018 for their GP member Priory Medical Group, who provides a broad range of NHS and private clinical service covering the whole of city of York and the surrounding areas.
The Contact Centre Manager at NHS Vale of York commented
"Really impressed with the product and its simplicity to use. The support has been fantastic and when I have needed assistance or queries answering, I have benefitted from people who take ownership and follow up personally. I look forward to a longstanding business partnership."
Phase 2 for Lea Vale
Phase 2 of Lea Vale's strategy will be to hold consultations with consultants via the chat channel. The Click4Assistance solution is completely secure and is in line with NHS compliance guidelines, therefore is the perfect environment for 1 to 1 discussions about personal medical conditions and advice.
Identifiable information including the full chat transcript that has taken place between the patient and representative is encrypted at rest and uses SHA256 in transit, ensuring the highest levels of protection.
Click4Assistance has been providing live chat for over 10 years, and with our expertise have become a trusted partner within several NHS organisations including CWP, NHS Scotland and Arden and GEM CSU. For more information on how from the instant communication channel can seamlessly fit within your patient strategies, contact our team on 01268 524628 or email theteam@click4assistance.co.uk.