DATE
TAGS
AUTHOR
VIEWS
Offer Superior Pastoral Care to Students via Live Chat for Website
This time next week all clearing choices would have to be added to students' selections and for the final time this year, universities would have to accept or decline Clearing applications.
At this point in the month many students will be settling into university life, however some might not be too happy with the choices they have made.
Accommodation
Some students may not be too impressed with their halls of residence or roommates, for those wanting to enquiry about alternative housing options; The University of Liverpool includes a chat button on their accommodation pages. The button routes the student directly to the department where they can speak to a member of staff instantly via text based messages, allowing them to make their enquiry quickly and easily.
Finance
Students could have many questions regarding their finances, such as, whether their grants or bursaries have been received from their student loan provider. To reduce the impact of new students enquiring at the beginning of the new term, chats can be routed through to the finance department, where representatives can handle more than one enquiry at a time. A library of agreed responses to frequently asked questions can be set up. Using predefined replies during a live chat can speed up response rates, reducing the amount of time spent answering repetitive questions.
Courses
After trying the course of their choice, some students may decide it's not the right subject for them; therefore they can either try and get accepted on another course through Clearing before the deadline, or speak with the admissions team.
Many universities including Suffolk, Bradford and Glyndwr have their chat button placed on their courses pages and during Clearing, where students can chat directly with the admissions team. Being able to converse in real-time reduces the amount of time bouncing emails until the right option is found, as any suggestions can be sent in chat via the auto-navigate feature. This opens the page of interest in a new tab on the student's browser, allowing the representative to visually aid the individual through each possibility.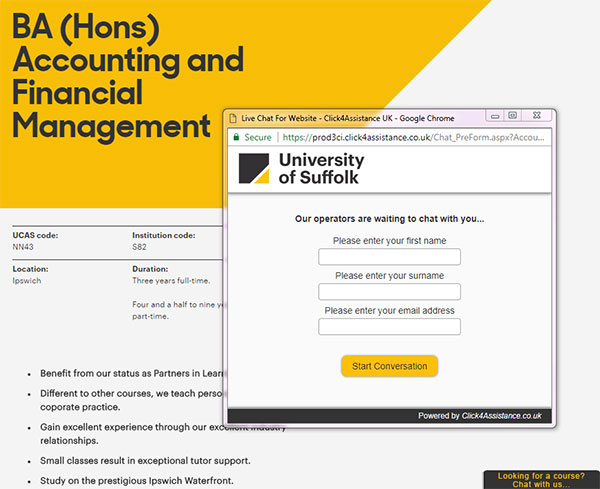 General Enquiries
Just like a university switchboard that transfers student phone enquiries through to the correct team, representatives in chat can see who is available in each department and transfer the chat in its entirety to that member of staff.
For those wanting to keep control of the chat but need their colleagues advice, can either invite another operator into chat to share their expertise, or can privately communicate within the Training Room, where the original chat handler can copy and paste any information provided straight into chat.
Why Students Prefer to Chat?
Students can use the instant communication channel at a time that is convenient to them, whether they have some down-time, in the library or in a lecture. We don't recommend having a chat during a lecture as the individual should be concentrating on their studies, but live chat for website is so discrete they wouldn't interrupt anyone in the room like they would with a phone call! They can even be away from the University and in another country, as chat can connect the student to a representative regardless of their location.
Independent research continues to show that young adults between the age of 16 and 25 prefer to communicate via text-based means rather than traditional methods such as phone. The younger generation, Millennials are known for being "telephone-phobes", this is due to aspects such as social media allowing them to express themselves in 140 characters or less, and telephone calls have the potential to be lengthy.
Millennials fear being publically embarrassed or social failure, a telephone call presents too many opportunities of saying the wrong thing, being misunderstood or hurting someone's feelings. Text based communication is a safety net as they have more time to craft their response and ensure they will be understood. With a whole university filled with this demographic, it can be a strain on departments email inboxes, however chat can reduce this stress.
With many UK universities using live chat for website, it has proven to be the preferred method that increases engagement with students. Click4Assistance has been supplying live chat for website for over 10 years, to book your free demonstration of the solution, contact our education co-ordinator on 01268 524628 or email theteam@click4assistance.co.uk.
Author:
Gemma Baker
Gemma is the Marketing Executive for
UK live chat software provider
, Click4Assistance, with a range of digital knowledge within PPC advertising, SEO practices, email campaigns and social media.