DATE
TAGS
AUTHOR
VIEWS
Remote working for Local Authorities
Local authorities have a challenge when it comes to remote working and customer service. Many local authorities have built internal systems that are only accessible in-house, making remote working in a pinch, such as during pandemic lockdowns, difficult at best. Our post pandemic world has brought remote working into the forefront, and more local authorities are making the digital transformation internally to support remote working for their members of staff.
The benefits of remote working go far beyond pandemics and natural disasters. Being able to stay online when your customers need you most is the most important benefit. In a crisis, your customers are panicking, need reassurance and want critical information from your team. If your customer service team is offline, your customers will not have any response, leading to compounded frustration. This is why having your customer service communication software accessible remotely is of paramount importance.
A better way of remote working for your customer service team
Remote working can be a little tricky for customer service agents since many of them rely on the communication services that are built into their in-office workflow. Click4Assistance was built with this in mind, so the dashboard is accessible remotely to any of your customer service agents who have a laptop or desktop with a Chrome browser. This allows your customer service agents to work from anywhere, and gives your local authority the ability to temporarily hire remote working customer service agents when you are expecting a peak in communication during a typically busy season.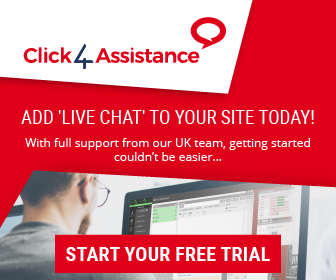 How about a remote meeting?
If 2020 taught us anything, it taught us the existence of video chat software and how helpful they are for running an efficient organisation even in the midst of a global pandemic. Click4Assistance has video chat built in, allowing your customer service team to have video chats with your customers should they not be able to attend a meeting or appointment, or not have access to transportation. This is also very beneficial when hosting appointments for those with difficulties with mobility, since they can attend the meeting without having to leave their home. This keeps the communication flowing between your team and your customers, no matter what their circumstances are. Additionally, it boosts the productivity of your customer service team, and increases their efficacy since appointment attendance will be much higher through video chat than in-person meetings.
What happens if phone lines go down?
Customer service agents and customers both rely on telephone lines for communication. Picking up the phone and making a call is still one of the more popular forms of communication today since it can lead to a direct response in a few minutes should the telephone queue allow, unlike emails or contact and support inboxes which can take hours or even days. But what happens when your local authority's telephone lines go down? What alternative form of communication does your organisation have that customers can reach you in just a few minutes? This is one of the great benefits of live chat for your website, since customers can easily contact your local authority directly without any hassle. It's a simple, easy to use method of communication that customers are familiar with and accessible right from the Click4Assistance dashboard, remotely or in-house.
Beyond live chat for your website
Live chat and remote working are not the only things we do. Click4Assistance's entire suite supports the major areas of customer service communication, and everything is accessible right from the dashboard from any laptop or computer with a Chrome browser. The 256-encryption for data in transit ensures your live conversations are as secure as a payment page, and our entire operation including data storage is based in the UK, so no unsecure transatlantic data transfers.
We have been working with local authorities just like yours for over 15 years and our GDPR-compliant UK based data security protocols give you the peace of mind needed in a remote working world. If you're interested in deploying Click4Assistance, the UK's premier GDPR compliant live chat software solution, to increase your local authority's productivity for 2020, give us a call on 08451235871 or send an email to theteam@click4assistance.co.uk and one of our experts will be with you right away. Not ready to reach out yet? Discover how it works, try a demo, or better yet, try Click4Assistance completely free for 21 days.