DATE
TAGS
AUTHOR
VIEWS
Live Chat on Website: Analytics and Proactives
Many companies who operate a Live Chat solution know that it's the best way of providing excellent and instant customer service. But do they know about the functionality within the software, including tracking and the ability to proactively engage with website visitors?
Click4Assistance Live Chat software isn't just a place to answer enquiries; businesses can also see who is viewing their website, where they're from and much more.
Tracking
Just by adding a small piece of HTML script to the website, operators are able to track the visitors' activity by viewing the analytics page within the software. Representatives can view tracking information on any visitor without being in chat.
The activity which operators can monitor includes:
Date and Time of Visit

Duration of Visit

IP Address

Number of Pages Viewed

The Keywords to Find the Page

Browser Used

Region/Country of Visitor

Number of Previous Visits
As well as viewing who is on the website in real time, historical information about visitors and the pages they are visiting can also be monitored. Representatives can look even further into information such as the individual pages visited, previous visit details and location of the visitor on a map.
Hotspots
These can be placed on specific areas or pages within the website, and the company can be alerted when that hotspot is visited. For example, new landing pages or product launches can be closely monitored and visitor activity analysed. Proactive invitations can be presented should a visitor linger on a hotspot.
Conversions
When a visitor completes a call to action on your website, this functionality identifies if a chat has taken place and how the visitor found you, crediting the appropriate operator or referrer accordingly. Reports are available to further analyse these valuable website visitors.

Visitor analytics goes hand in hand with proactive invitations. By seeing the activity upon the website, operators can identify where a visitor may be struggling on the page, depending on the amount of time they've spent browsing.
What are pro-actives and why use them?
Promotions
Proactive Promotions allow the solution to direct and advise your visitors 24 hours a day without need for chat representatives' intervention. The system can issue a promotional image that's able to redirect the visitor to a specific page of the website. Organisations can define certain rules that will trigger a promotion, for example:
Product A is being viewed, but there's an offer on Product B, so a promotional image is directed to the visitor including a link to the offer. Enabling businesses to cross sell, upsell and promote products.

A visitor is on the Blog page, so a promotional image asking if they want to sign up to the newsletter can be displayed. If they accept it, they will be directed back to the signup page.
Chat Invitation
An image can be automatically presented to the visitor inviting them into chat if they're in need of any help, which reduces abandonment on the site. Visitors can either accept or decline the invitation.
KC Using Proactive Invitations to Help with Product Selection
KCGroup have Click4Assistance Live Chat solution implemented on five of their major websites including; Eclipse, KCBusiness, Karoo. When a visitor is presented with a proactive invitation, they'll see what it's like to be in chat, as KC have cleverly designed their proactive to look like a chat window.
Multilingual invites from Honeywell
Honeywell implemented the chat solution across 12 of their international websites, with invitations presented in the appropriate language based on the visitors' location.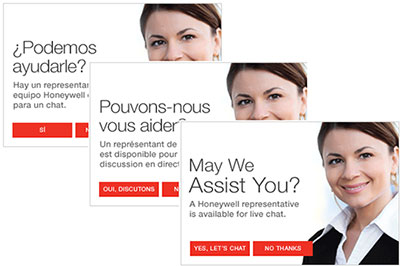 IT Online Learning add the personal touch
Adding the teams' photographs to the invitations not only presents a unique and attractive image but also personalises the chat before it has even begun.
Testing Success
Experimenting with the proactive invitations means that representatives can work out where, when and how the invitations will be presented. Ensuring they have set a suitable placement, time and action for a proactive to appear, the company will receive a substantial increase on uptake.
Why not find out whose viewing your website by trialling Click4Assistance Live Chat solution and view the analytics within the software? Got a limited time only offer? See how proactive invitations and promotions work for you!
For more information, call our account managers on 0825 123 5871 or start a chat with us today.
Author:
Rae Boyling
Rae is the Marketing Assistant for
UK live chat software provider
, Click4Assistance. Rae produces content for articles appearing on the Click4Assistance website and email campaigns.